WILLIAM DENNETT (1780-1864)
SOPHIA BALLENDINE (1791-?)
(Last Updated: July 01, 2016)
In 1780 William DENNETT aka DUNNET was born in Rohaldshay (Orkneys, Scotland).
 
Hudson's Bay Company
1796
In 1796 William was recruited by the Hudson's Bay Company (HBC) in the York District. For the next 25 years he worked the inland rivers as a voyageur. Typically, ships arrived at York Factory in the summer with trade goods and the voyageurs transported them by canoe to the remote inland trading posts where they were traded for furs. In the late summer and fall they returned to the Bay with furs acquired during the winter, for shipment to European markets.
** MORE ABOUT WILLIAM DUNNET in HBC ARCHIVES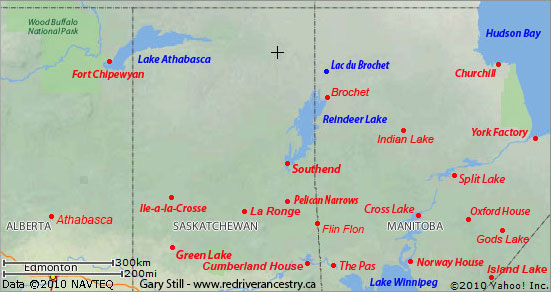 William & Sophia BALLENDINE
1803
Around 1803 William began a lifelong relationship with Sophia BALLENDINE, the daughter of Jane FAVEL and John BALLENDINE (1758-1817), an HBC accountant from the Orkneys. In 1804 daughter Isabella was born.
In 1804 William sailed home on a furlough leave, but in 1805 he returned again to York to resume his work as a voyageur in the Saskatchewan District. Four more children were born; Andrew in 1807, Elizabeth in 1811, Margaret in 1814 and Jessie in 1815.
In 1815-16 William went home again due to ill health.
In 1818 he was back in service in the Swan River District until 1820 when he was sent to Ile a la Crosse in the Cumberland District until he retired.
In his character references,  at the age of 37 William was described as 5' 6" in stature with black hair and a dark complexion; "A good runner after Indians", "Sober, honest, ready, willing, obedient and active."
Union of the North West Company with the Hudson's Bay Company
The DENNETT family settles in Red River
1821-1822
In 1821 the union of the North West Company (NWC) and the Hudson's Bay Company (HBC) occurred, ending years of bitter rivalry for dominance of the fur trade in Western Canada. George SIMPSON (1786-1860) became the Governor of Rupert's Land. Also at the time of the Union, Reverend John WEST (1778-1845) arrived from England as the first Chaplain in the northwest.
After the merger, almost 1,300 employees lost their jobs since the single HBC organization that emerged had no need for most of the voyageurs and retired fur traders. By 1822-23 William DENNETT was a 'freeman' (fired or retired). He and his family settled in Red River (St Andrews Parish).
Around 1822 daughter Isabella married Dr William TODD (1784-1851 in Red River), an HBC Surgeon and fur trader from Ireland. ** MORE ABOUT DR WILLIAM TODD
In 1823 youngest daughter Sabina married George TAIT at York Factory, son of Mary AULD and William TAIT (1790-1872) from Orkneys.
In 1826 daughter Elizabeth married John SLATER (1799-1873) from the Orkneys.
In the Red River Census of 1827 William was recorded on River Lot 177 as a 45 year old Protestant from the Orkneys with a wife, two young sons and two young daughters at home. He had a house and a cow and had two acres of land under cultivation. The two sons would have been Andrew (age 20) and William (age 1). The daughters would have been Margaret (age 13) and Jessie (age 12).
In 1831 daughter Margaret married John SPENCE, probably a son of Catherine CREE and George SPENCE(1773-1859) from the Orkneys. ** MORE ABOUT GEORGE SPENCE
In 1831 Reverend William COCKRAN(1798-1865) and his wife moved to "The Rapids" (now St Andrews) where he built the first Anglican Church (a log structure). On May 1, 1832, the Church was opened and dedicated. Construction of Lower Fort GARRY was begun under the supervision of Alexander CHRISTIE (1792-1872).
In 1833, daughter Jessie married John HOURIE, son of Margaret BIRD and John HOURIE SR (1779-1857) from the Orkneys. ** MORE ABOUT JOHN HOURIE SR
Around 1837-38 son Andrew married Ellen MOORE who died upon the birth of their daughter ( Isabella) that same year. Ellen was a daughter of Mary TRUTHWAITE and George MOORE (1796-1846). Andrew then re-married to Mary MARTINEAU of uncertain origins.
In 1844 son William Jr. married Margaret CALDER, daughter of Margaret (Indian) and Marcus CALDER.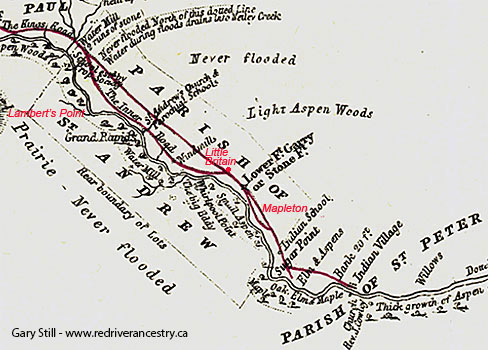 St Andrews Parish from Hind's map of 1857
On April 13, 1864 William DENNETT died at the age of 84. He was buried in the St Andrews Anglican Church Cemetery.
Comments and queries at this link: FORUM DISCUSSING the WILLIAM DENNETT FAMILY
========================== Family Details ==========================
Children:
1. 1804 ISABELLA DENNETT (m. Dr. William TODD)
2. Dec 25, 1807 ANDREW DENNETT (m1. Ellen MOORE, m2. Mary MARTINEAU)
3. 1811 ELIZABETH "BETSY" DENNETT (m. John SLATER)
4. 1814 MARGARET DENNETT (m. John SPENCE)
5. 1815 JESSIE DENNETT (m. John HOURIE)
6. c1826 WILLIAM DENNET JR (m. Margaret "Maggie" CALDER)
7. 1833 SABINA DENNETT (m. George TAIT)