JOHN HOURIE (1779-1857)
MARGARET BIRD (1787-1847)
(Last Updated: December 05, 2016)
John HOURIE was born 1779 in the Orkneys of Scotland (South Ronaldshay).
Eileen Horan: John HOURIE, an Orkney man, joined the Hudson's Bay Company (HBC) for service in the fur trade. ** Unable to verify this – no such record in the online HBC Archives.
Marriage to Margaret BIRD
1809
Around 1809 John HOURIE married Margaret BIRD b-1787, a Shoshoni (Snake) Indian who had been adopted by James Curtis BIRD (1773-1856) at Rocky Mountain House.  At the time of this union, JC BIRD was an HBC trader at Edmonton House, and he was in charge of inland posts.  Margaret's step-mother was a half-breed woman whose maiden name was Elizabeth MONTOUR. ** MORE ABOUT JAMES CURTIS BIRD
Their first child (John Jr) was born around 1810 on Hudson's Bay, and their second child, Robert, was born 1815 in the Red River Settlement. 
Union of the North West Company with the Hudson's Bay Company
1821
In 1821 the union of the North West Company (NWC) and the Hudson's Bay Company (HBC) occurred, ending the years of bitter rivalry for dominance of the fur trade in Western Canada. After the merger, almost 1,300 employees lost their jobs since the single HBC organization that emerged had no need for most of the voyageurs and fur traders.
At the time of the HBC-NWC union, (Sir) George SIMPSON (1786-1860) became the Governor of Rupert's Land. On May 20, 1822, SIMPSON reported to the board of governors of the HBC that he had established a fort at the junction of the Red and Assiniboine Rivers. He named it Fort GARRY (the Upper Fort). Around this fort was to grow the city of Winnipeg.
Around 1824 Margaret's step-father, JC BIRD, became the Governor of Rupertsland and Assiniboia and retired to the Red River Settlement.
Red River Census of 1827 - Lot 174:  John HOURIE, age 48, Protestant, Orkney, a married man and woman with four young sons. He has a house and stable, a horse and mare, and six cows and an ox. He also has a cart, a lough and two canoes. He has five acres under cultivation. The four surviving sons, and their ages are presumably John Henry (age 17), Robert (12), Thomas (7) and George (age 2).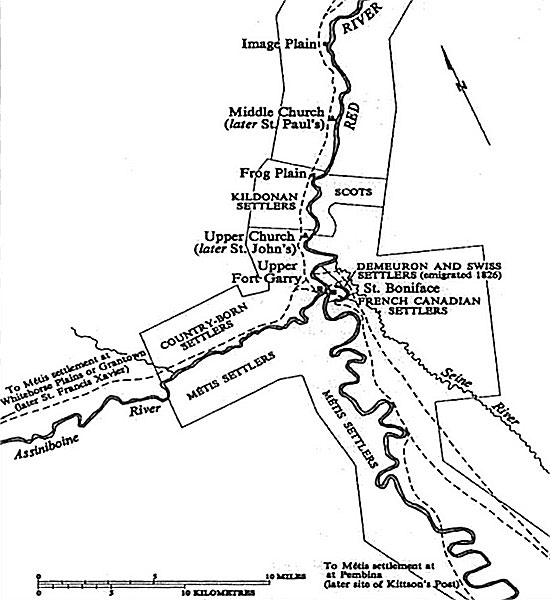 Red River Settlement in 1835 (From L.G. Thomas - The Prairie West to 1905)
Census of 1835 – Lot 58 in St Paul Parish: Eight persons in the household of John HOURIE SR. He has a horse and 28 cattle; four farm implements and a cart. He now has seven acres under cultivation. This suggests he has six children which would be John (age 25), Robert (20), Thomas (15), George (10), Peter (8) Betsy (6) and Philip (age 2).
Actually, by 1835 son John Jr. was married to Jessie DENNETT, the daughter of Sophia BALLENDINE & William DENNETT (1780-1864). ** MORE ABOUT WILLIAM DENNETT
In 1837 son Robert was married to Christiana ANDERSON, daughter of Mary Suzette DEMORAN and James ANDERSON (1775-1856). ** MORE ABOUT JAMES ANDERSON
In 1845 son Thomas married Mary Ann SINCLAIR in St Francois Xavier, daughter of Elizabeth ANDERSON and William SINCLAIR (1790-1862). ** MORE ABOUT WILLIAM SINCLAIR

Also in 1845 son George married Eleanor COOK at Grand Rapids (Lockport), daughter of Ellen SPENCE and Jeremiah COOK (1804-1872). ** MORE ABOUT JEREMIAH COOK
Around 1854 son Peter married Sarah WHITFORD in Touchwood Hills (SK), daughter of Marie GLADU and Francois WHITFORD (1800-1860).
Around 1856 son Phillip married Euphemia (Neptune) COOK-HACRO, the adopted daughter of Charlotte KNIGHT and Thomas HALCRO (1815-1854). ** MORE ABOUT THOMAS HALCRO
On Aug 15, 1857 John HOURIE SR. died in St Andrews Parish, Red River.
In 1859 son George, widowed, remarried to Elizabeth KNIGHT in St Paul, daughter of Sophie HALLETT and James KNIGHT (1783-1854), an HBC voyageur from the Orkneys of Scotland.
Comments and queries at this link: FORUM DISCUSSING JOHN HOURIE AND HIS DESCENDANTS
========================= Family Details =========================
Children:
1. 1810 JOHN HOURIE (m. Jessie Janet "Jane" DENNETT)
2. 1815 ROBERT HOURIE (m. Christiana "Christy" ANDERSON)
3. 1818 JAMES HOURIE (Died young)
4. 1820 THOMAS HOURIE (m. Mary Ann SINCLAIR)
5. 1824 JANE HOURIE (Died young)
6. 1825 GEORGE HOURIE (m1. Eleanor COOK, m2. Elisabeth KNIGHT)
7. 1827 PETER HOURIE (m. Sarah WHITFORD)
8. 1829 BETSY HOURIE
9. Aug 13, 1833 PHILIP HOURIE (m. Euphemia (Neptune) COOK/ HALCRO)