JACOB CORRIGAL (1775-1844)
MARY GOODWIN (1788-1823)

(Last Updated: September 01, 2016)
** Inspiration to develop his lineage comes from descendant Donald FOWLER who made a donation and is cooperating in its production.
Jacob CORRIGAL was born Oct 18, 1775 in Kirkwall or Birsay, Orkney, Scotland, son of Marion ANDERSON and Magnus CORRIGAL.
On May 17, 1790. Jacob entered the service of the Hudson's Bay Company (HBC) at the age of 15. He served his apprenticeship as a labouerr at Fort Albany.
Donn: According to a confirming record obtained from an Orkney archivist, Jacob was born in 1775 not 1772. This means that when he became indentured at Stromness, he lied about his age. He was not 18 years old, but rather 15. Nevertheless, the HBC recorded his age as 18. So, the CORRIGAL brothers left Scotland in order to get into the lucrative fur- trade business.
In 1794 Jacob was sent on a journey from Albany to Osnaburgh House and back. That was the year that the competing North West Company moved their St Joseph Post a few miles from the HBC post at Osnaburgh. In August that year Jacob CORRIGAL reported that North West men threatened to shoot HBC men if they tried to take furs from the Indians if they were first at them. Also that year, Jacob was the cartographer of an HBC map titled "A draught of a Journey from Osnaburgh House to Sturgeon Lake, Ontario. ** Sturgeon Lake is located midway between Fort Frances and Fort William.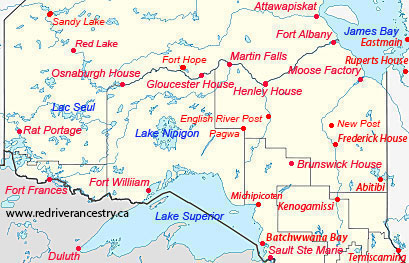 From 1794 to 1799 Jacob was Master at Lake St Ann (now Lake Nipigon) in the Albany District; then from 1802 to 1812 at Martin Falls in the Albany District.
Marriage to Mary GOODWIN
1800
It was around 1800 that Mary GOODWIN became Jacob's wife at Martin Falls. She was the daughter of MISTIGOOSE and Robert GOODWIN (1761-1806). ** MORE ABOUT ROBERT GOODWIN
In the fall of 1812 Jacob returned to Europe, presumably on a furlough leave. He returned the following year aboard the Eddystone.
From 1814 to 1821 Jacob was recorded as District Master at Albany Post (Old Factory), Albany District.
Union of the North West Company with the Hudson's Bay Company
1821
In 1821 the union of the North West Company (NWC) and the Hudson's Bay Company (HBC) occurred, ending the years of bitter rivalry for dominance of the fur trade in Western Canada.
In 1821 Jacob was comissioned a Chief Trader at Albany, then in 1822-23 at Martin Falls.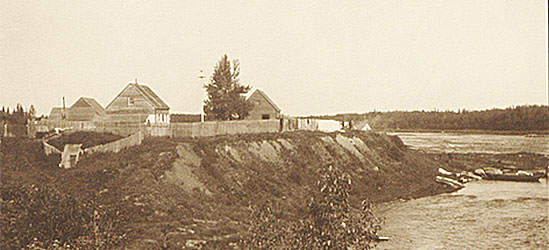 Martin Falls Post
In 1822 eldest daughter Ann married William NOURSE (1794-1855) in Martin Falls, an HBC clerk from Edinburgh, Scotland.
Donn: On Sep 23, 1823 Mary (nee GOODWIN) CORRIGAL died in Martin Falls at the young age of 35. She was buried at the old Martin Falls (sic) now defunct Hudson's Bay Post on the Albany River, which was before the relocation of the Martin Falls First Nation Band to Ogoki, Ontario, about 40 miles down the Albany River where it meets the Ogoki River. It is about ten mile from where Mistigoose's body was found and buried beneath a Scottish Cairn erected by my great-great HBC grandfather, Robert SCOLLIE of Orkney. SCOLLIE worked for Jacob CORRIGAL.
== MISTIGOOSE on the 6 August 1788 gave birth to dizygotic twins named William and Mary GOODWIN, fathered by the HBC Surgeon-Trader Robert GOODWIN, formerly of Yoxford, England. By the year 1796 the twins were separated permanently by their father, much at the expense of their beloved mother, MISTIGOOSE, who drowned, in 1796 or 1797, in the Albany River. Robert was in England for that year, with William now an only son age eight and a healthy "half-breed" Indian boy, and therefore not legally a British Subject, but also neither again to see his mother nor his twin sister, Mary (GOODWIN) CORRIGAL, who was my great, great, great grandmother, but she had died, at age 35, on 123rd September of 1823.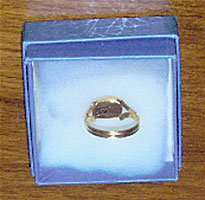 Gold ring inherited by descendant Donn Fowler
Engraved with the words: "Mary Corrigal Ob.23 September 1823 at age 35"
In 1824-25 Jacob returned to Europe and came back on the Cambden.
From 1825 through to 1830 Jacob served as Chief Trader at Moose Factory, Eastmain and also Waswanipi Post.
From 1830 to 1840 Jacob served his last years with the HBC as Chief Trader in Charge at Albany Post.
From Don Fowler: - - and with his three spinster daughters and one bachelor son, William CORRIGAL, the CORRIGAL family were about to move south to a "...Colony of Great Britain". They finally arrived, in 1840, in the tiny Hamlet of Amherst, which soon became the Village of Hamilton, and later still the Town of Cobourg located in Hamilton Township of the Northumberland and Durham United Counties, in the huge District of Newcastle. Subsequently, these extant indigeneity families lived and ranged, after 1840, not only in Northumberland, Peterborough, and Frontenac Counties, but also as far north as the present American State of Minnesota. It all began in August of 1788, with the birthing by MISTIGOOSE, the beloved mother of William GOODWIN and Mary (GOODWIN) CORRIGAL, my aboriginal ancestors, not excluding one PUCKETHWANISK ancestor.
Jacob was a younger brother of William CORRIGAL (1774-1832) who Donn refers to in the following excerpt from the Metis Voyageur publication: Unfortunately, William, his native wife and his aboriginal (mixed-blood) children were slaughtered by starving Eastmain natives who wiped out the entire William CORRIGAL family at Hannah Bay, south of James Bay in the winter of 1832. The desperate "Indians" were seeking food, which was in very short supply at William CORRIGAL's HBC Post. Fourteen years prior to this tragedy, Jacob had named his only son after his older brother, William.
In 1834 daughter Mary, named after her mother Mary (GOODWIN) CORRIGAL, married Robert SCOLLIE (1799-1888), an HBC voyageur and carpenter from the Orkneys of Scotland. ** MORE ABOUT ROBERT SCOLLIE
Jacob retires to Cobourg, Ontario
1840
On June 1, 1840 Jacob retired to Cobourg, with his four children, to the new and first Province of Canada in 1840/41.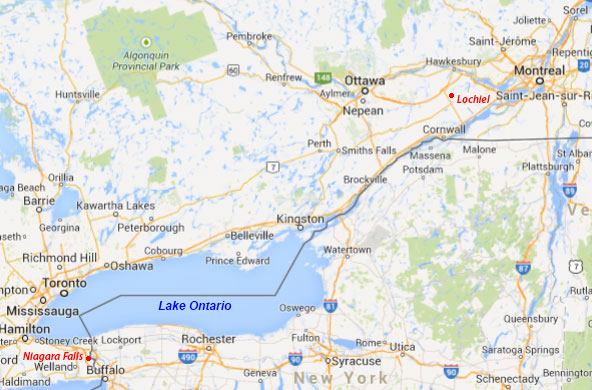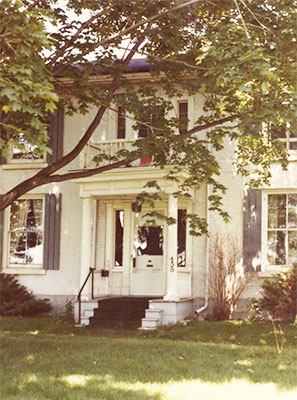 This Ontario cottage style house was built in 1841/42 by Jacob Corrigal,
after he retired from the Hudson's Bay Company. (Cobourg Images)
Donn: Land cost £75 sterling expanded by £225 sterling, and a loan $8000.00 owed to Robert and Mary Scollie expected from Corrigal children's estate, which was never allowed to them personally —as "Indians"--  by the Crown.
On Mar 8, 1844 Jacob CORRIGAL died in Cobourg, and was buried by the Reverend Alexander Neil Bethune beneath a huge monolithic sarcophagus, erected beside St Peter's Anglican Church, just as the wooden frame Church was being dismantled and as a stone Church was being constructed; however, Jacob CORRIGAL's total and substantial estate—despite their father's bequeaths to them—was not of direct benefit to them because the Crown, at that time, did not recognize Indians, and especially "Half-Breeds" as British Subjects; therefore, the four CORRIGALs were never allowed to receive the direct benefits that were clearly intendedfor them in their father's State probated holograph Will. The result was tragic for the four CORRIGALs from 1844 to 1909 when Catherine was the last to die. But that is another decade long story to 1854 and after.  
Donn on Ornkey Genealogy Website Guest Book: They homesteaded, later, in Otonabee Township, of Peterborough County. Only one other daughter-- of the original five daughters and one son,(William)-- ever married; namely, Anne CORRIGAL (1802- ) who married William NOURSE, also a commissioned officer with the HBC. The remaining three daughter and the son--all unmarried-- are buried with their father, Jacob CORRIGAL, in a crypt in the east churchyard of St. Peters Anglican Church in Cobourg, Ontario, Canada. (I have twice visited Orkney and met William and Mary SCOLLIE of Kirkwell, and also a widow of the CORRIGAL clan at Kirkwell). /dmf
Donn: Jacob and Mary CORRIGAL had six children: Ann (husband, William NOURSE); Charlotte (un- married); Mary (husband, Robert SCOLLIE); Elizabeth (unmarried); Catherine (unmarried) and William, who died a bachelor in 1890.
Comments and queries at this link: FORUM DISCUSSING THE JACOB CORRIGAL FAMILY
========================== Family Details ==========================
Children:
1. Oct 2, 1804 ANNE CORRIGAL (m. William NOURSE)
2. 1806 CHARLOTTE CORRIGAL
3. 1811 MARY CORRIGAL (m. Robert SCOLLIE)
4. 1813 ELIZABETH CORRIGAL
5. 1815 CATHERINE CORRIGAL
6. 1818 WILLIAM CORRIGAL