ROBERT GOODWIN (1761-1805)
MISTIGOOSE (?-1797)
PUKETHEWANISK (1802-1798)
(Last Updated: September 20, 2016)
** Inspiration to develop his lineage comes from descendant Donald (Donn) FOWLER who made a donation and is cooperating in its production.
Around 1761 Robert GOODWIN was born in Yoxford, Suffolk, England, son of Margaret CUPPER and Robert GOODWIN SR (b-1736).
Hudson's Bay Company
1781
On May 3, 1781 Robert (age 20) signed his first contract to work for the Hudson's Bay Company (HBC) as a surgeon, and a few weeks later he sailed from London aboard the King George III to Hudson Bay – James Bay where he spent his first winter at the Eastmain Post. In 1782 he was moved across the Bay to Fort Albany where he spent the next four years.
** MORE ABOUT ROBERT GOODWIN in HBC ARCHIVES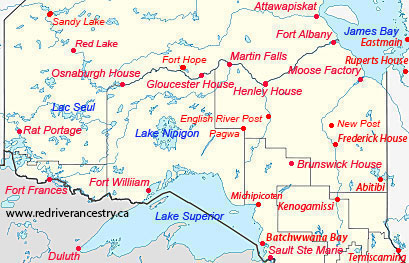 Robert and MISTIGOOSE
1783
By 1783 Robert was married 'a la facon du pays' to an Indian woman named MISTIGOOSE, a possible child of PUKETHEWANISK, possible Ojicree of the Lake St Ann area (now Lake Nipigon). Their first child was Caroline, born at Albany sometime around 1783-85, and died Aug 23, 1832.
In the fall of 1786 Robert returned to England aboard the Seahorse III. In 1787 he returned to the Bay, this time as a Surgeon/ Trader at Gloucester House (inland along the Albany River).
Osnaburgh House
1788-1794
From 1788 to 1794 Robert was the Master Trader at Osnaburgh House. During this period he made annual trips downriver to Albany. On Aug 6, 1788 son William Adolphus Barmby and his fraternal twin sister, Mary GOODWIN, were born at Osnaburgh House.
Brandon House
Another Trip to England
1794-1796
From 1794 to 1796 Robert was a Master Trader at Brandon House.
In the fall of 1796 Robert embarked for England aboard the King George III, taking his son William with him.
Donn: When the young dizygotic twins had reached age eight, Robert had already pre-arranged to take "...two passengers..." with him on a year's furlough, to England in 1796. But Robert changed his mind and took only William to Yoxford, Suffolk where he would leave the boy permanently in the care of his Lawyer, Mr. Adolphus Bramby and William never again to see his beloved mother or twin sister. Lawyer A. Bramby eventually saw the marriage of one of his daughters to William Goodwin which solved the legal and money problem of William's non "British Status" as a recognised half-breed Indian "Metis" from Canada.
In the fall of 1797 Robert returned to the Bay (Albany) to learn that his wife MISTAGOOSE had drowned in 1796 during his absence.
Donn: Sadly, MISTIGOOSE had drowned herself because of Robert's personal indigenous folly in taking their eight-year old only son, William, purposely to leave him permanently in England.

Brandon House
A Second Indian Wife, Jenny GOODWYN
1798-1801
In 1798 Robert was back at Brandon House as a Post Master. Around this time he acquired a second Indian wife (Jenny).
Donn: Robert GOODWIN married, secondly, "Jenny" who had two daughters with Robert and they were named respectively Anne and Marguerite GOODWYN, who seem to have been deliberately surnamed by Robert as being his two "GOODWYN" daughters, as distinct from his four GOODWIN born children. I am not proud of doctor/trader Robert GOODWIN by any means thus far.
Second in Charge at Fort Albany
1801-1804
In 1801 Robert was appointed as second in command to John HODGSON (1763-1826) at Fort Albany. Not long after they arrived there, Robert's teenage daughter Caroline began a connubial relationship with HODGSON's eldest son, James HODGSON. ** MORE ABOUT JOHN HODGSON
Around 1802 a daughter Mary GOODWIN married Jacob CORRIGAL from the Orkneys, Donn's great-great-great grandparents.
By 1802, birth of their first daughter Ann occurred near Lake Saint Ann (Now Lake Nipigon) when Mary was 14 and Jacob 27. ** MORE ABOUT JACOB CORRIGAL
Osnaburgh House
1804
In 1804 Robert became the Post Master at Osnaburgh House.
On June 22, 1805, the ill Robert GOODWIN died on his way to Martin Falls, where his daughter Mary, age 17, was now a wife and mother of children fathered by Jacob CORRIGAL.
A Codicil to his Will of 1782, dated Apr 22, 1803 (two years before his death) Robert includes the following words: I give and bequeath to the said John David TOWSE, John BARMBY and Robert PURVIS the Executors under my Will the Sum of Five Hundred Pounds £3 percent Consols in Trust for the following purposes to pay the Interest thereof being £15 per Annum into the hands of the Hudson's Bay Company London to be equally divided between Caroline, Mary and Margaret my Natural Daughters by MISTIGOOSE an Indian Woman deceased. Jenny is the Daughter of PUCKETHEWANISK an Indian the Woman I at present cohabit with and Anne my Daughter by her, the said Jenny, share and share alike to be paid in Goods out of the Company's Warehouse at Albany Factory during their natural Lives and at their decease the principal to revert to my natural Son William Adolphus Barmby GOODWIN the residuary Legatee under my Will. [No mention is made of Jenny's other daughter, Marguerite GOODWYN – Why?]
After 1805 Widow (Jenny) PUCKETHEWANISK re-married to John FLETT, an HBC blacksmith who was born about 1782 in the Orkneys of Scotland.
By about 1810 daughter Margaret was the wife of Jacob DANIEL, son of an unknown Indian woman and Jenkins DANIEL (1750-1824), an HBC employee who was born in Glamorganshire, Wales.
.
Comments and queries at this link: FORUM DISCUSSING ROBERT GOODWIN and his GOODWYN FATHERINGS
============================ Family Details ============================
Children with MISTIGOOSE:

1. c1784 CAROLINE GOODWIN (m. James HODGSON)
2. Aug 6, 1788 (Twin) WILLIAM ADOLPHUS BARMBY GOODWIN
3. Aug 6, 1788 (Twin) MARY GOODWIN (m. Jacob CORRIGAL)
4. 1795 MARGARET "PEGGY" GOODWIN (m. Jacob DANIEL)
GOODWIN's Second Wife's Children: (Daughters of Robert and Jenny Indian (GOODWYN)
1. Jan 1, 1802 ANNE GOODWYN
2. MARGUERITE GOODWYN