ROBERT SCOLLIE (1799-1888)
MARY CORRIGAL (1811-1862)

(Last Updated: September 24, 2016)
Robert SCOLLIE was born on July 7, 1799 in Westray (Orkney Islands), Scotland, son of Edith and William SCOLLIE (b-1762).
From the HBC Archives: In 1818 SCOLLIE was engaged by the Hudson's Bay Company (HBC) as a Laborer. At this time he is noted as being from the Parish of Westray in the Orkney Islands. In 1829 he is recorded as being 30 years of age.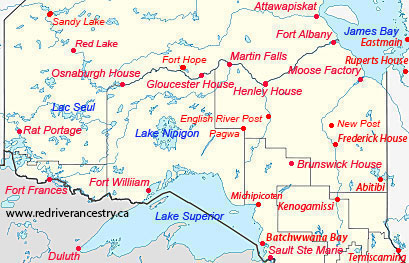 Marriage to Mary CORRIGAL
1834
On March 1, 1834 Robert married Mary CORRIGAL at Albany, daughter of Mary GOODWIN and Jacob CORRIGAL (1775-1844). ** MORE ABOUT JACOB CORRIGAL
Robert served the Company as Bowman, Middleman (voyageur) and Carpenter in the Albany River District until 1836, at which time he returned home to Scotland. Their first child, George, was born in the spring of 1837 at Moose Factory, it would seem while his father was in Scotland.
From Don Fowler: ...while his father was in Scotland." Retiring from the HBC as Jacob CORRIGAL's son-in-law, and with Robert having first been assumed "lost-at-sea" by CORRIGAL, SCOLLIE came back from Orkney directly to Lachine, Quebec where he met Mary and their two children, as pre-arranged. They then made their way from Lachine by rivers and lake to Otonabee Township, where they settled and built their "Bluebell Farm", and where they also had raised their eight children. By 1888 both Mary and Robert had been interred in an Otonabee churchyard cemetery marked grave.
Peterborough, Ontario
1840
By 1840 Robert had settled in Otonabee Township, Peterborough, Ontario. Son William was born there on June 9 that year.
From Don Fowler: The years of 1840/41 were the first years ever of a ratified "Province of Canada" , which was the real start of the end of British colonisation in what today has become the Confederated Canada of provinces and territories, within the Commonwealth Realm, as a loyal "Constitutional Monarchy".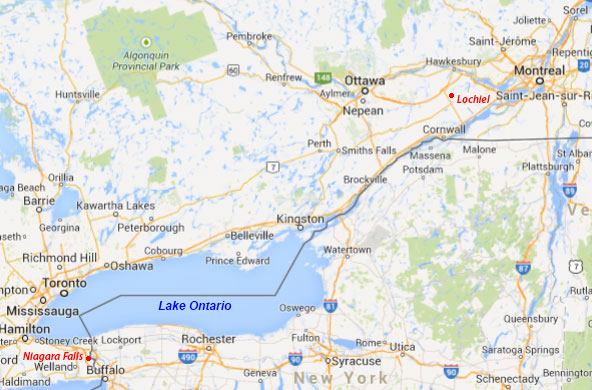 In 1862 Mary (nee CORRIGAL) SCOLLIE died in Peterborough. At that time her children would have been George (age 25), William (22), Catherine (19), Mary Elizabeth (16), Sarah Anne (15), Margaret (12), Robert (10) and Ellen (age 8).
In 1863 son George married Ann FOWLER at Port Hope (west of Cobourg, Ontario), daughter of Jane PRUDHAM and John FOWLER (1812-1900) from England, one of the oldest railroad contractors in Canada.
In 1865 daughter Catherine married James Alexander WILSON in Peterborough (Ontario), son of Helen McLUCKEY and Alexander WILSON (1806-1886) from Scotland.
Canadian Confederation
1867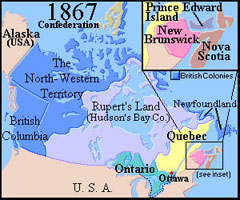 On July 1, 1867 the British colonies in North America were finally united under the British North American Act to become the Dominion of Canada.  Sir John A MACDONALD (1815-1891) was appointed as Canada's first Prime Minister.
In 1868 son William married Eliza RUSH in Peterborough. ** In 1890 William would marry a second time to Sarah CORNEIL.
In 1871 daughter Mary Elizabeth married John MORGAN, son of Susan and William MORGAN.
From Don Fowler: 1872- Margaret and George Jacob SCOLLIE, a brother and sister, of Otonabee Township, had befriended both Samuel and Anne FOWLER, who also were brother and sister, in the Town of Cobourg; so it was no great surprise when Margaret SCOLLIE married Samuel FOWLER, and that George Jacob SCOLLIE married Anne FOWLER, daughter of Jane PRUDHAM and John FOWLER (1812-1900) from England, one of the oldest railroad contractors in Canada. ** MORE ABOUT JOHN FOWLER
The second marriage of Samuel FOWLER and Margaret, in Peterborough, Ontario, in 1872, was however when the couple were ages 24 and 22; they had first met and married at ages 14 and 12, in 1862 the same year Margaret's indigeneity mother, Mary (CORRIGAL) SCOLLIE had died, it was a time when Samuel had assisted in his father, John FOWLER's work. Moreover, Margaret and Samuel's first marriage, in 1862, took place in Benton, Minnesota, conducted by a Justice of the Peace and with the marriage duly registered in the Registration Office in Carver, Minnesota. In addition, between 1873 and 1880 my paternal grandfather, Alfred Herbert FOWLER (b.1873-d.1948), and his four sister were each born in the USA; only a son, Arthur Reginald FOWLER, a railway engineer, was born in Canada in 1886. However, the parents and all six of their children had settled in Canada by 1885. Alfred became a career Canadian Artillery senior non-commissioned officer and saw war-service twice, in South Africa and then in France in 1914.
In 1873 daughter Sarah Anne married George Henry KENT, son of Alice MATHER and William KENT.
In 1885 son Robert married Mary Jane GRAYSTOCK in Peterborough, daughter of Mary Ann SPENCELEY and Mark GRAYSTOCK (1818-1907).
On Jan 20, 1888 Robert SCOLLIE died in Peterborough at the age of 88.
In 1896 daughter Ellen married George Henry GARLICK in Peterborough, son of Mary CLEMENTS and George GARLICK (1831-1901).
Comments and queries at this link: FORUM DISCUSSING THE ROBERT SCOLLIE FAMILY
========================== Family Details ==========================
Children:
1. May 22, 1837 GEORGE JACOB EDWARD SCOLLIE (m. Anne FOWLER)
2. Jun 9, 1840 WILLIAM JOSEPH SCOLLIE (m.1 Eliza RUSH; m2. Sarah CORNEIL)
3. Jul 7, 1843 CATHERINE CAROLINE "KATE" SCOLLIE (m. James Alexander WILSON)
4. Jan 23, 1846 MARY ELIZABETH "LIBBIE" SCOLLIE (m. John MORGAN)
5. 1847 SARAH ANNE SCOLLIE (m. George Henry KENT)
6. Jun 1, 1850 MARGARET CHARLOTTE "CORRIGAL" SCOLLIE (m. Samuel FOWLER)
7. Jul 13, 1851 ROBERT JAMES SCOLLIE (m. Mary Jane GRAYSTOCK)
8. 1854 ELLEN JANE "NELL"" SCOLLIE (m. George Henry GARLICK)