JOHN FOWLER (1812-1900)
JANE PRUDHAM (1819-1898)

(Last Updated: September 28, 2016)
Inspiration to develop this Family Page came from Donald FOWLER, a great-great grandson who made donations and is cooperating in its production.
John FOWLER was born in 1812 in Old Malton, Yorkshire, England.
Marriage to Jane PRUDHAM
1837
In November of 1837 John married 18 year old Jane PRUDHAM (they eloped). She was the daughter of Elizabeth HARLAND and George PRUDHAM (b-1787).
Donn: John FOWLER, was a successful "Contractor of Publick (sic) Works" in Yorkshire, UK.
In 1850, prior to immigrating to Canada, Jane and John were the parents of six children born in England: Ann (age 12), William John (10), Elizabeth (9), George Henry (7), Mary (age 4) and baby Samuel.
Cobourg. Ontario, Province of Canada
1850
Donn: In 1850 John was invited to come to Cobourg in the first ever non-colonial Province of Canada to complete the unfinished C&PR Railway across Rice Lake to Hiawatha First Nation in Otonabee Township to Peterborough.
The United Province of Canada, or the Province of Canada, or the United Canadas was a British colony in North America.
** MORE ABOUT THE PROVINCE OF CANADA in WIKIPEDIA
** MORE ABOUT THE COBOURG and PETERBOROUGH RAILWAY in WIKIPEDIA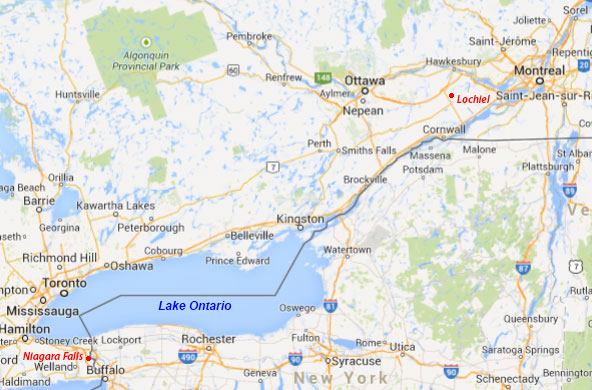 Agricultural Census of 1861: District 39 in Township of North Monaghan, County of Peterborough: John FOWLER, age 50 on Range 12, E ½ of Lot 1; 100 acres of which 50 acres under cultivation.
Census of 1861 in the Township of Hamilton in County of Northumberland:  John FOWLER, age 48; wife Jane, age 42. Children: Ann (age 23), William J (21), Elizabeth (20), George H (18), Mary (15), Samuel (13), Alfred (9), Eliza Jane (7), Robert (4) and an infant female (age 1).  ** Alfred and younger children indicated born in UC (Upper Canada); the others in England.
In 1862 son Samuel married Margaret Charlotte SCOLLIE in Benton, Minnesota, daughter of Mary CORRIGAL and Robert SCOLLIE (1709-1888) from the Orkneys of Scotland. Donn: They were both very young indeed. They remarried again in 1872 in Petersborough, Ontario.

In 1863 daughter Ann married George Jacob Edward SCOLLIE (her brother-in-law) at Port Hope (west of Cobourg, ON), son of Mary CORRIGAL and Robert SCOLLIE (1799-1888). ** MORE ABOUT ROBERT SCOLLIE
Also in 1863 son William John married Frances Spilsbury BOSWELL in Peterborough, daughter of Frances SPILSBURY and Walter Wilkins BOSWELL (1808-1887).
Canadian Confederation
A Red River Rebellion
Manitoba becomes a Province
1867-1870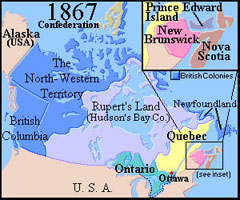 On July 1, 1867 the British colonies in North America were united under the British North American Act to become the Dominion of Canada.  Sir John A MACDONALD (1815-1891) was appointed as Canada's first Prime Minister. William McDOUGALL (1822-1905) became the Minister of Public Works, and he began negotiations to acquire Rupert's Land from the HBC; surveyors were sent to Red River to prepare the way for an expected influx of settlers.
On Oct 11, 1869, Louis RIEL (1844-1885) placed his foot on the surveyors' chain to tell them their work was finished! This marked the beginning of the historic Red River Métis Rebellion.
On July 15, 1870 the Rebellion ended when RIEL's Provisional Government accepted the terms of the Manitoba Act and Manitoba became the fifth province of Canada.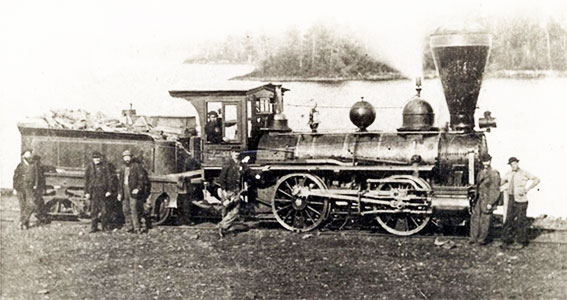 A locomotive on the Blairton Extension of the Cobourg and Peterborough Railway around 1870
Census 1871: Northumberland West (#54), SD-a (Hamilton), pg 49, HH-180: John FOWLER, age 58 (born c1813 in England); wife Jane, age 53 (born 1818 in England). Children: Elizabeth (age 28), Mary (24), Alfred (18), Eliza Jane (16), Robert (13), Alice G (10) and Bertha (age 8). Also William WRAY, age 22 (born 1849 in England). ** Elizabeth and Mary born in England; the rest in Ontario.
In 1876 daughter Mary married William Alexander FARMER in Northumberland (ON).
Around 1881 daughter Alice married Herbert BOGGS in Cobourg (ON), son of Ann CARSON and Oliver BOGGS (1811-1881).
Donn: Jane (PRUDHAM) FOWLER managed their 400 acre dairy farm two miles east of Cobourg, until disaster struck the Family because of the FOWLER home mortgaging to financing the Millbrook Trunk line off the Port Hope (PHL&B) line to Peterborough, thanks to Mayor Cox's Peterborough interest in the Grand Truck Railway's Montreal to Toronto Line, and a possible trunk line off it at Belleville to Peterborough. Later Fowler's O&QR charter had to be sold to the Canadian Pacific Railway.
Headingly, Manitoba
1882
In 1882 John FOWLER came west and settled in Headingly, Manitoba.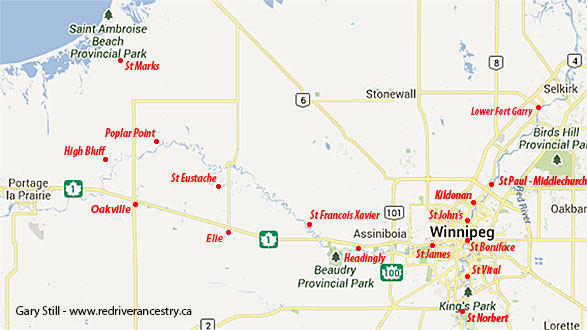 In 1883 Robert married Sarah Grace LEY in Cobourg, ON, daughter of Mary Stringer FALKNER and George Frederick LEY (1825-1883).
In 1884 son Alfred married Mary Isabella CALDWELL in Assiniboia, daughter of Jemima ROSS and William COLDWELL (1834-1907).
In 1886 daughter Eliza Jane married Herbert ACHESON in Assiniboia, son of Emma Elizabeth SADLEIR and Alfred ACHESON (1827-1892).
Census 1891: Lisgar (#6), SD-A (Assiniboia), pg 46, HH-190: John FOWLER, age 77; wife Jane, age 72. Children: Elizabeth (age 45), Alfred (39) and Bertha (age 28). Lodgers: Mary FOWLER (27), Robert (6), George (4), Alfred C (1) and baby James FOWLER (age 2 months).
On Dec 10, 1898 Jane (nee PRUDHAM) FOWLER died in Headingly.
On Oct 31, 1900 John FOWLER died in Headingly.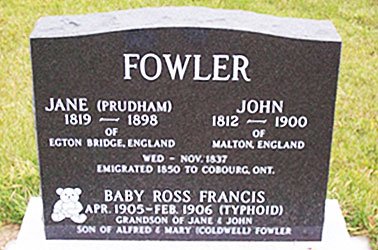 Holy Trinity Anglican Cemetery, Bresaylor Road, Headingly, MB
(From Canada Gen Web's Cemetery Project)
Notes from John's obituary in the Winnipeg Free Press, Nov 6, 1900: There was laid to rest in Headingly's church yard on Saturday, Nov 3 one of the oldest railroad contractors in Canada, in the person of John FOWLER, an Englishman who had much to do with the early railroad construction in Ontario. He built portions of the Grand Trunk, The Hamilton, Grey and Bruce, the Cobourg and Peterborough and in 1895 obtained control of the Midland railroad in Port Hope, built the Millbrook branch and for years was managing director of that road. A man of iron will and true British pluck, he gloried in opposition and laughed at obstacles. Failure had been a thing unknown to him, until in the '70's he attempted to build the Toronto and Ottawa railroad (now C.P.R.) and lost his large fortune and fine property in Cobourg, in an attempt to finance the road himself. In 1882 he came west and has since lived quietly on his farm in Headingly until the loss of his wife two years ago (1898) gave him his death blow. He leaves several sons and daughters to mourn his loss: Mrs. W.A. FARMER of St John's; Mrs. Herbert ACHESON of Souris and the Messrs. FOWLER, Headingly, and three sons, Robert, Alfred and Samuel, besides two married daughters in the east.
Comments and queries at this link: FORUM DISCUSSING THE FAMILY OF JOHN FOWLER
========================== Family Details ==========================
Children:
1. 1838 ANN FOWLER (m. George Jacob Edward SCOLLIE)
2. 1840 WILLIAM JOHN FOWLER (m. Frances Spilsbury BOSWELL)
3. Jan 6, 1842 ELIZABETH FOWLER
4. 1843 GEORGE HENRY FOWLER
5. 1846 MARY FOWLER (m. William Alexander FARMER)
6. 1848 SAMUEL FOWLER (m. Margaret Charlotte SCOLLIE)
7. 1852 ALFRED FOWLER (m. Mary Isabella COLDWELL)
8. 1854 ELIZA JANE FOWLER (m. Herbert ACHESON)
9. Sep 1, 1856 ROBERT FOWLER (m. Sarah Grace LEY)
10. Apr 20, 1860 ALICE GERTRUDE FOWLER (m. Herbert BOGGS)