WILLIAM PHILLIPS (1842-1922)
CHARLOTTE LAMBERT (1846-1924)
(Last Updated: December 14, 2015)
William PHILLIPS, born Mar 15, 1842 at Birsay in the Orkneys of Scotland. 
Charlotte LAMBERT was born on Sep 24, 1846 at Lambert's Point in St Andrews Parish, Red River, daughter of Margaret FAVEL and Michel LAMBERT (1792-1875), a Metis voyageur. ** MORE ABOUT MICHEL LAMBERT
** Many of the stories about the PHILLIPS family are from the book 'Pieces of the Past' and other articles authored by Frank Walters (1898-1995) whose wife was a descendant of William PHILLIPS.
In 1862 William PHILLIPS Came to Canada to work for the Hudson's Bay Company (HBC), crossing the Atlantic on the sailing boat, The Prince of Wales, under command of Captain HARD.  The voyage lasted 38 days. He spent the following winter at York Factory. 
In 1863 William went to Norway House and from there to Fort Pelly (SK) with Chief Factor, Robert CAMPBELL (1808-1894), the noted Yukon explorer also from the Orkneys.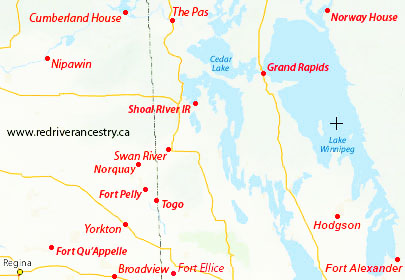 In 1864 Charlotte LAMBERT was engaged by Chief Factor Robert CAMPBELL at Fort Pelly as a 'Nurse Girl' to help care for his baby son, Glen CAMPBELL It was during this time that Charlotte and William PHILLIPS met and fell in love. William was later sent to Fort Ellice.
Marriage to Charlotte LAMBERT
1866
On Aug 26, 1866, Charlotte LAMBERT and William PHILLIPS were married at Fort Ellice by Reverend James SETTEE (1809-1902).
Canadian Confederation
Red River Metis Rebellion
Manitoba becomes a Province
1867-1870
On July 1, 1867 the British colonies in North America were united under the British North American Act to become the Dominion of Canada. Sir John A MACDONALD (1815-1891) was appointed as Canada's first Prime Minister.William McDOUGALL (1822-1905) became the Minister of Public Works, and he began negotiations to acquire Rupert's Land from the HBC, sending out surveyors to prepare the way for an expected influx of settlers.
Frank Walters: In the spring, Mrs. PHILLIPS (Charlotte) came down the Assiniboine River on a flat boat (the Alfa) to Upper Fort Garry (Winnipeg). That summer, her husband joined her, making the trip with a horse and cart. There they boarded the International (the first Red River steamboat), bound for Lower Fort Garry.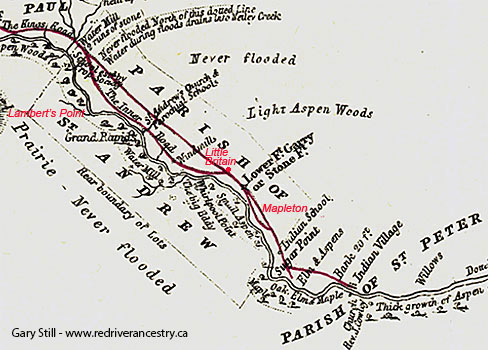 St Andrews Parish from Henry Hind's Map of 1857
On Dec 4, 1867 Charlotte gave birth to their first child, Margaret "Maggie" in St Andrews (probably at Lambert's Point where her parents were living at the time).
In 1868, after putting in one year's service at Lower Ft Garry, William left the HBC and resided in St Andrews at Lambert's Point for some 10 years. 
On Oct 11, 1869, Louis RIEL (1844-1885) placed his foot on the surveyors' chain to tell them their work was finished. This marked the beginning of the historic Red River Metis Rebellion.
On July 15,1870 Manitoba became the fifth province of Canada, the Canadian Government having acquired the territory previously governed by the HBC. The Rebellion was essentially over.
The Advent of the Railroad
1875
In 1875 the Town of Selkirk came into existence when the Railway located its offices there. Considerable construction took place there the following year, of stores and hotels, in anticipation of its future importance as a railway centre. At that time there was nothing more than a telegraph line along the proposed railway route from the Great Lakes. As fate would have it the main transcontinental railway never did pass through Selkirk.
In 1875 Charlotte (of St Andrews Parish) claimed her Half-breed Scrip.as the wife of William PHILLIPS.
Walters mentions that Maggie PHILLIPS, as a child lived on a farm in the district that was known as "Butter Town" (Rossdale, MB), between the Red River and the "bog" (Oak Hammock Marsh). He also mentions that Maggie, left home as a young girl, to worked at the "Big House" at Upper Fort Garry. 
Netley Creek
Around 1880-81 the PHILLIPS family moved to the Netley Creek area (Wavey Creek).
Walters pg 51, 107: "William settled along the creek before there were any roads after he retired from the HBC - after he was established as a farmer, his cattle roamed with the EDEN's cattle along the trail in BOYD's.  They'd wander right down to Muckles Creek.  - a nearby neighbor living on Wavey Creek, Joseph KIRKNESS, had cattle too - if "Long Tom" PRUDEN's cattle got mixed up with the rest, they would have to be separated - distinguished by tone of bells around their necks".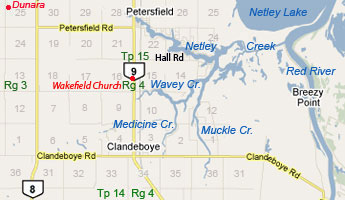 The 1881 Census in the Netley Creek area recorded William PHILLIPS (age 39) his wife Charlotte (age 36) and their children asMargaret (age 13), Ellen (11), Mary (8), John (6), Catherine (4) and Archie (age 2). Daughter Ann Harriet was born later that year, followed by William in 1883 and Joseph in 1885.
In 1885 eldest daughter Margaret married Joseph KIRKNESS, son of Sarah SETTEE and Andrew KIRKNESS (1822-1882). ** MORE ABOUT ANDREW KIRKENESS
In 1887 son Alexander Thomas was born and their last child, Charlotte Christina was born in 1890.
In 1896 daughter Sarah (Nellie) married Charles Henry EDEN (1850-1937) who was born in England (he immigrated to Canada in 1888).
In 1897 daughter Mary (Jemima) married Albert James SETTEE in Selkirk, son of Elizabeth TODD & James SETTEE (1836-1914).** MORE ABOUT JAMES SETTEE
In 1899 son John "Jack" married Sarah Jane Lydia WHYTE, daughter of Jane SETTEE b-1850 & Frank WHYTE (b-1851), a carpenter from Ontario. Around the same time, daughter Catherine married William TAYLOR (born in 1876 in the Northwest, of uncertain parentage), a steam boat Cook. ** If anyone knows more about the origins of this William TAYLOR, please let us know on the Forum.
The census of 1901 recorded William as 59 years old, Charlotte as 56 years old. Still at home were Archie (age 22), Harriet (19), William (18), Joseph (16), Alex (13) and Charlotte (age 11).
CPR Railroad to Lake Winnipeg under construction
1903
In 1903 construction was underway for the CPR railroad line to Lake Winnipeg.
In 1903 daughter Harriet married Malcolm McRAE,son of Henriette SETTEE and John McRAE (1851-1885).
In 1904 construction of St Georges Wakefield Anglican Church began (a stone foundation had been laid in 1903), under the direction of the McKENZIE brothers (Ben's sons), Findlay, Robert, Ferdinand, and Douglas.  Other construction workers recorded were Joseph KIRKNESS, George SUTHERLAND, Alex JOHNSTONE, John ROSS, Norman McLEOD, William PHILLPS, Peter SINCLAIR, William LEASK, and George SMITH.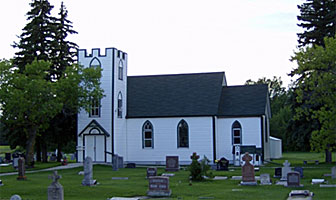 St George's Wakefield Church, built in 1904
Census 1906:  William PHILLIPS (age 64), and Charlotte, 58, are still living along Wavey Creek. Children at home:  Archie (age 27), William (23), Joseph (21), Alex (18) and Charlotte Christie (age 16).
Census 1911: William PHILIPS (age 69); wife Charlotte (age 64). Children at home: Archie (age 32), William (28) and Alex (age 22).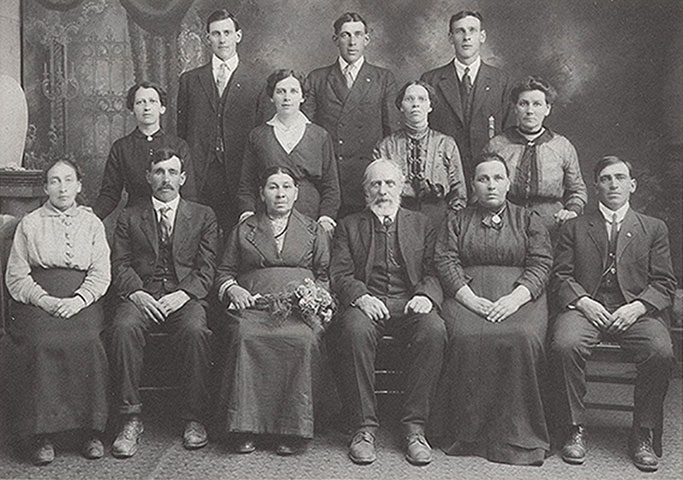 The William Phillips Family
L-R, Back Row: Joe, Tom, Bill
Centre: Jemima (Settee), Annie (McRae), Christy (Pearson), Katie (Taylor)
Front: Nellie (Eden), Jack, Charlotte, William, Margaret (Kirkness), Archie
(From Beyond the Gates of Lower Fort Garry)
In 1912 son William married Gertrude JONES, daughter of Margaret Ann MOORE and John Griffith JONES. She was a step-daughter of Joseph HOURIE (b-1864).
World War I
1914-1919
On Aug 4, 1914Great Britain (Canada on Aug 5) declared war on Germany and Austria-Hungary to uphold treaties with France and Belgium which were under German attack. This marked the beginning of World War I.
In the spring of 1916 youngest son Alex enlisted at Edmonton, Alberta. He was working there as a Carpenter; 27 years old and single. He was almost six feet in height with grayish blue eyes and brown hair.
In 1916 son Archie married Katherine HOURIE, daughter of Margaret MOORE and Joseph HOURIE (b-1864). Katherine was a step-sister of Gertrude JONES who married Archie's brother Bill.
In the 1916 Census William PHILLIPS was recorded at Wavey Creek (age 75); wife Charlotte (age 70). The only child at home was their youngest child, Christy (age 26).
In the spring of 1917 second youngest son Joseph enlisted at Regina. He was then living at Indian Head, Saskatchewan, working as a Blacksmith; 33 years old and single. He was 5' 10", had a dark complexion, grey eyes and black hair.
November 11,1919, Armistice Day (Remembrance Day) marked the end of the First World War.
On Jan 5, 1922 youngest daughter Christina married Frederick James PIERSON of uncertain origins.

On June 26, 1922 William PHILLIPS died in Petersfield.
On June 30, 1924 Charlotte PHILLIPS died in Selkirk.
Please post comments and queries at this link: FORUM DISCUSSING the WILLIAM PHILLIPS FAMILY
=============================== Family Details ===============================
Children:
1. Dec 4, 1867 MARGARET "MAGGY" PHILLIPS (m. JOSEPH KIRKNESS)
2. June 17, 1870 SARAH ELLEN "NELLIE" PHILLIPS (m. Charles Henry "Charlie" EDEN)
3. 1871 MARY JANE JEMIMA PHILLIPS (m. Albert James SETTEE)
** MORE ABOUT ALBERT JAMES SETTEE
4. 1874 JOHN "JACK" PHILLIPS (m. Sarah Jane Lydia "Lucy" WHYTE)
5. 1876 ISABELLA CATHERINE "KATIE" PHILLIPS (m. W. "Willie" TAYLOR)
6. Jan 19, 1879 HENRY ARCHIBALD "ARCHIE" PHILLIPS (m. Katherine "Katie" HOURIE)
7. 1881 ANN HARRIET FRANCES "ANNIE" PHILLIPS (m. Malcolm John James McRAE)
8. Mar 23, 1883 WILLIAM JAMES "BILL" PHILLIPS (m. Gertrude "Gertie" JONES)
9. Mar 31, 1885 JOSEPH GEORGE "JOE" PHILLIPS
10. Sep 25, 1887 ALEXANDER "TOM" PHILLIPS
11. Mar 5, 1890 CHARLOTTE CHRISTINA "CHRISTY" PHILLIPS (m. Frederick James Percival PIERSON)