ALBERT JAMES SETTEE (1872-1945)
MARY JANE JEMIMA PHILLIPS (1871-1953)
(Last Updated: February 28, 2016)
Albert James SETTEE was born May 28, 1872 in Mapleton (baptised on May 30 in St Peters), son of Elizabeth TODD and James SETTEE JR (1836-1914). ** MORE ABOUT JAMES SETTEE JR
He was a grandson of Reverend James SETTEE SR (1809-1902). ** MORE ABOUT REVEREND JAMES SETTEE
In 1877 his mother (Lizzie) died in the St Peters when Albert was only five years old. In the 1881 census Albert (age 9) was recorded there with his widowed father and his 13 year old brother Charles.
In 1891 his father (James SETTEE) was in Cumberland House, Saskatchewan where he would remain the rest of his life after he remarried to Priscilla FLETT that year. Albert would have been about 19 years old then, but he and his older brother Charles (age 24) remained in the St Peters-Selkirk area. Charles was married by then to Lizzie JOHNSTONE and they had four children.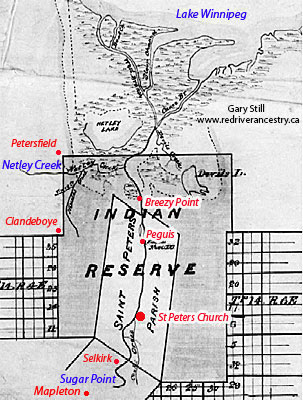 On Nov 1, 1897 Albert married Mary Jane Jemina PHILIPS in Selkirk, the daughter of Charlotte LAMBERT and William PHILLIPS (1842-1922) from Wavey Creek (near Petersfield). ** MORE ABOUT WILLIAM PHILLIPS
Jemima Phillips
By 1906 Albert and Jemima were living in Selkirk and they had six children recorded in the census that year as Willie (age 7), Eva (6), Bramwell (5); Emma (4), Herbert (age 2) and baby Lucy.
Surrender of the St Peters Reserve
1907-1911
1907 was the year of that the St Peters Indian Reserve was surrendered to the Crown and by 1909 most of the native residents moved to present day Peguis Reserve at Fisher River (north of Hodgson).
By 1911 the St Peters Indian Reserve ceased to exist as such, but disputes about land claims on the Reserve would continue well into the next century. The Reserve thereafter continued to be known as St Peters Parish only. Albert and Jemima (both age 39) were recorded in St Peters Parish that year, now with eight children: William (age 12); Eva (11), ,Bramwell (8), Emma (7), Herbert (6), Lucy (5); Alexander (3) and Norman (age 2).
World War I
1914-1919
On Aug 4, 1914 Great Britain (Canada on Aug 5) declared war on Germany and Austria-Hungary to uphold treaties with France and Belgium which were under German attack. This marked the beginning of World War I.
On Aug 7, 1914 Albert's father, James SETTEE died at Cumberland House, Saskatchewan.
In 1915 eldest son William married Sarah WHYTE (of uncertain origins) in Selkirk.
On Dec 10, 1915 Albert enlisted at Selkirk. He was discharged on Aug 8, 1916 as "medically unfit." In the census that year he and his wife Jemima were recorded at 256 Morris Avenue in Selkirk, both as age 43. Children then were William (age 17), Eva (16), Bramwell (15), Herbert (12), Lucy (10), Alexander (8), Norman (7) and Catherine (age 3).
November 11, 1919, Armistice Day (Remembrance Day) marked the end of the First World War.
In 1925 daughter Lucy married Vernon Reid DAVIES in Winnipeg, son of Catherine REID and John William DAVIES (1862-1903) from Selkirk. ** MORE ABOUT JOHN WILLIAM DAVIES
In 1929 son Herbert married Kathleen PRUDEN in Selkirk, daughter of Mary Ann COOK and Andrew James PRUDEN (1872).
Probably in the 1930's son Alexander married Christine D'ARCIS, daughter of Maria Jane STEVENSON and James Finlayson D'ARCIS (1877-1965) who died during the sinking of the Suzanne E in 1965.
** MORE ABOUT THE LEGEND OF THE SUZANNE-E
In 1934 youngest daughter Katherine married Cecil MAYO in Selkirk, son of Caroline SUTHERLAND and Charles Edwin MAYO (1834-1917). ** MORE ABOUT CHARLES EDWIN MAYO
On Nov 6, 1945 Albert SETTEE died in Winnipeg.
On Mar 27, 1953 Mrs. Jemima SETTEE (of 432 Main Street, Selkirk) died at the Winnipeg General Hospital at the age of 80. She was buried in the East Selkirk Cemetery.
Please post comments and queries at this link: FORUM DISCUSSING the ALBERT SETTEE FAMILY
======================== Family Details ========================
Children:
1. Sep 26, 1898 WILLIAM JAMES "WILLIE" SETTEE (m. Sarah WHYTE)
2. Oct 22, 1899 MARY EVANGELINE "EVA" SETTEE
3. Mar 7, 1901 BRAMWELL SETTEE
4. Dec 5, 1902 EMMA SETTEE
5. 1904 HERBERT SETTEE (m. Kathleen PRUDEN)
6. Jan 1, 1906 LUCY SETTEE (m. Vernon Reid DAVIES)
7. Sep 25, 1907 ALEXANDER SETTEE (m. Christine D'ARCIS)
** MORE ABOUT CHRISTINE SETTEE in LEGEND OF THE SUZANNE-E
8. Dec 18, 1908 NORMAN SETTEE
9. Jun 15, 1913 KATHERINE (KYE) SETTEE (m. Cecil MAYO)