JOHN WILLIAM DAVIES (1862-1903)
CATHERINE REID (1868-1955+)
(Last Updated: March 09, 2017)
Inspiration to work on this DAVIES lineage came from great grandson Reid Davies who made a donation and will be cooperating in its development.
John William DAVIES was born Sep 3, 1862 in Llandewy, Radnorshire, Wales, the son of Ann and Benjamin DAVIES (1836-1927). The family was recorded there in the Census of 1871, John William as age 8).
In the Census of 1881 the family was recorded in Burford Parish, Shropshire County, England; John William as age 17.
It was around 1881-82 that the DAVIES family came to Canada (Ontario – Manitoba).
Marriage to Catherine REID
1892
On Oct 27, 1892 John William married Catherine REIDin St Andrews Parish (Manitoba), the daughter of Isabella BIRD and Murdoch James REID (1844-1905) from Scotland. ** MORE ABOUT MURDOCH JAMES REID
Census of 1901 in the Town of Selkirk: W. John DAVIES, age 38; wife Catherine, age 34. Children: John M (age 8), Clifford (5), Vernon R (3) and Chauncey (age 1). In this census John William was indicated as a Craneman involved with dredging.
On Apr 20, 1903 John William DAVIES died in Selkirk. He would have only been about 41 years old.
Census of 1906 in Selkirk: Widow Kate DAVIS, age 39. Children: Milton (age 13), Clifford (10), Vernon (8), Chauncey (6) and Constance (age 4).
Census of 1911 in Selkirk (124 Taylor Ave): Widow Catherine DAVIES, age 42. Children: John M (age 18), Clifford (15), Vernon (13), Chauncey (11) and Constance (age 9).
World War I
1914-1918
On Aug 4, 1914 Great Britain (Canada on Aug 5) declared war on Germany and Austria-Hungary to uphold treaties with France and Belgium which were under German attack. This marked the beginning of World War I.
On Sep 1, 1915 son Clifford enlisted, and on Nov 19, 1915 son John Milton enlisted, both in Selkirk;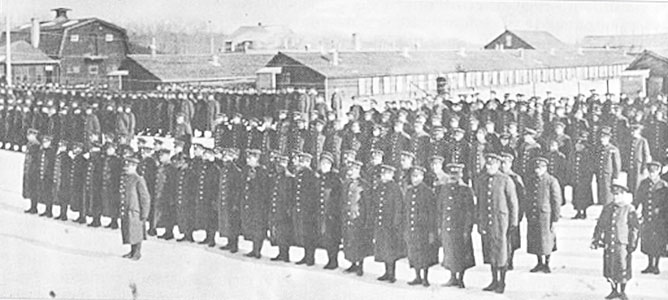 Soldiers at Red Feather Farm barracks in Selkirk during World War I
In 1916 son John Milton married Margaret Catherine CHRISTIANSON in Selkirk, the daughter of Emma Caroline and Mathias CHRISTEANSON who was born in Norway and came to Canada in 1908.
Census of 1916 in Selkirk (124 Taylor Ave): Widow Catherine DAVIS, age 46. Children: John M (age 23) and his wife Margaret (age 21); Clifford(age 20), Vernon (18), Chauncey (16) and Constance (age 13).
On Sep 24, 1916 Private Clifford DAVIES of "A" Company, The Royal Canadian Regiment, Army, died wounds in France. He was buried in the Boulogne Easter Cemetery in France. He was only 20 years old.
November 11, 1918, Armistice Day (Remembrance Day) marked the end of the First World War.
Census of 1921 in Selkirk (124 Taylor Ave): Widow Catherine DAVIS, age 53. Children: Vernon (age 23), Chauncey (21) and Constance (age 18).
In 1924 daughter Constance married Charles Donald DOUGLAS in Winnipeg. He was born in Inverness, Scotland and came to Canada in 1911.
In 1925 son Vernon Reid married Lucy SETTEE in Winnipeg, the daughter of Jemima PHILLIPS and Albert James SETTEE (1872-1945). ** MORE ABOUT ALBERT JAMES SETTEE
In 1928 son Chauncey Murdoch married Camelia Edith ARCHIBALD in Winnipeg. On July 11, 1929 Camelia Edith (nee ARCHIBALD) DAVIES died in Selkirk at the age of 19. Later, Chauncey married Wanda ROGERS/ ROGALSKI, daughter of Nettie BURZUIK and Joseph ROGERS/ ROGALSKI (1871-1935) from Poland.
On Nov 19, 1955 a newspaper article titled "Selkirk Old Timer Marks 87th Year" appeared in the Free Press regarding Mrs. Catherine A. DAVIS of Taylor Ave in Selkirk.
Comments and queries at this link: FORUM DISCUSSING THE FAMILY OF JOHN WILLIAM DAVIES
============================ Family Details ============================
Children:
1, Feb 11, 1893 JOHN MILTON DAVIES (m. Margaret Caroline CHRISTIANSON)
2. Jan 26, 1896 CLIFFORD DAVIS (Died in World War I, age 20)
3. Dec 12, 1897 VERNON REID DAVIS (m. Lucy SETTEE)
4. Oct 22, 1899 CHAUNCEY MURDOCH DAVIES (m1. Camelia Edith ARCHIBALD; m2. Wanda ROGALSKI)
** MORE ABOUT CHAUNCEY MURDOCH DAVIES
5. June, 1900 CONSTANCE ELNORA DAVIS (m. Charles Donald DOUGLAS)