JOSEPH ROGALSKI (RAJASKY) (1871-1935)
ANASTASIA (NETTIE) BURZUIK (1876-1958)
(Last Updated: July 28, 2016)
Joseph ROGALSKI/ RAJASKY was born about 1871 in Poland where around 1901he married Anastasia (Nettie) BURZUIK, the daughter of Mary and Nicholas BURZUIK (1865-1956). On Oct 17, 1901, daughter Mary was born in Poland.
Poland to Canada
1904
On Apr 15, 1904 Joseph brought his family to Canada and settled in St Andrews Parish (Mapleton), just south of Selkirk, Manitoba. Son Walter was born there on Oct 13 that year.
In 1913 Joseph became a Naturalized Canadian citizen.
World War I
1914-1918
On Aug 4, 1914 Great Britain (Canada on Aug 5) declared war on Germany and Austria-Hungary to uphold treaties with France and Belgium which were under German attack. This marked the beginning of World War I.
November 11, 1918, Armistice Day (Remembrance Day) marked the end of the First World War.
Census of 1921 in Mapleton (RM of St Andrews): Joseph RAJASKY, age 50; wife Nettie, age 45. Children: Mary (age 18), Walter (16), Charlie (14), Annie (12) and Stanley (age 8)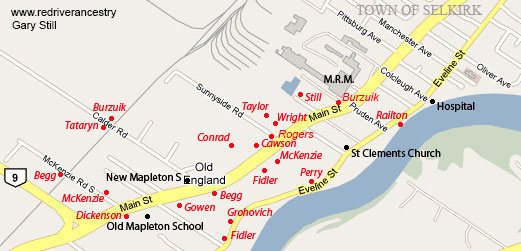 Mapleton Families in the 1950's (Remembered by Gary Still)
In 1922 daughter Mary married Michael MARTIN aka MARTYNIUK in Selkirk. He was born in Galicia (Ukraine) in 1893.
Around 1923 son Walter married Christie SIMUNDSON, daughter of Sigridur JONSDOTTIR/ JONSSON and Kristjan SIMUNDSON (1875-1933). ** In 1974 Christie died, and Walter remarried to Ivy (nee ZELISKO) KAZUK, daughter of Mary PIWARCHUK and Julian ZALISKO (1875-1958).
Around 1930 daughter Wanda married Chauncey Murdoch DAVIES, son of Catherine RIED and John William DAVIES (1862-1903). ** MORE ABOUT JOHN WILLIAM DAVIES

Left: Clydsedale – Centre: Percheron – Right: Belgian
These were gigantic heavy work horses
I (Gary Still) remember all three breeds trotting past our driveway as a youngster
My older brothers were 'horse drivers' for Walter ROGERS and/or Tom JOHNSON at that time
In 1935 Joseph ROGALSKI died.
On June 7, 1958 Nettie (nee BURZUIK) ROGALSKI died in the St Boniface Old Folks Home at the age of 82.
Comments and queries at this link: FORUM DISCUSSING THE JOSEPH ROGALSKI FAMILY
========================== Family Details ==========================
Children:
1. Oct 17, 1901 MARY ROGALSKI (m1 Michael MARTIN; m2. Ollie JOHNSON)
2. Oct 13, 1904 WALTER ROGERS (m1. Christie. SIMUNDSON; m2. Ivy (nee ZELISKO) KAZUK)
3. 1907 CHARLES ROGALSKI
4. Aug 4, 1907 WANDA ANNE ROGALSKI (m. Chauncey Murdoch DAVIES)
** MORE ABOUT CHAUNCEY MURDOCH DAVIES
5. 1913 STANLEY ROGERS