BENJAMIN DAVIES (1836-1927)
ANN JONES (1841-1921)
(Last Updated: June 14, 2017)
Benjamin DAVIES was born Feb 10, 1836 in Knighton, Wales.
Marriage to Anne JONES
1862
In 1862 Benjamin married Ann JONES in Dyserth, Wales.
Census of 1871 in the District of Knighton, Wales: Benjamin DAVIES, age 32; wife Ann, age 29. Children: John W (age 8), Emma (5), Hannah (age 2). Servant: Mary EVANS, age 14.
Census of 1881 in Burford Parish, Shropshire County, England: Benjamin DAVIES, age 43; wife Anne, age 40. Children: John William (age 17), Emma (15), Hannah (12), Anne (9) and Mary (age 7). Servants: Joseph HINTON, age 46; William JONES (age 38) and Matilda JONES (age 21).
Immigrants to Canada
1881
It was around 1881-82 that the DAVIES family came to Canada (Ontario – Manitoba). Daughter Charlotte Alice was born in Ontario. By 1891 they had moved west to St Clements Parish in Manitoba. Their land was located in Township 15-6-Epm which is at or near Libau.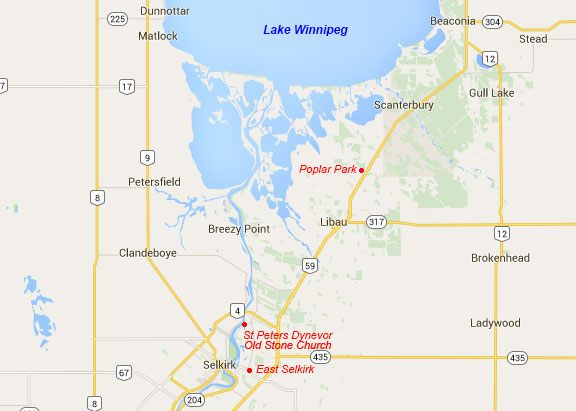 In Nov 5, 1889 daughter Hannah married Robert RENNIE(1854-1915) in Selkirk, a Steamboat Engineer from Scotland.
Census of 1891 in St Clements Parish: Benjamin DAVIES, age 57; wife Ann, age 50. Children: John (age 27), Ann (19), Mary (17) and Alice (age 9).
In 1891 eldest daughter Emma married Robert MONCREIF (1863-1944) in St Clements. He was in Shetland, Scotland.
In 1892 son John William married Catherine REIDin St Andrews Parish (Manitoba), the daughter of Isabella BIRD and Murdoch James REID (1844-1905) from Scotland. ** MORE ABOUT MURDOCH JAMES REID
In 1897 daughter Mary Matilda married John FRANKS in Kildonan (MB), son of Janet MATHESON and James FRANKS (1846-1929).
In 1898 daughter Anne married James Bailey CORBETT in St Clements, son of Rebecca BAILEY and Samuel James CORBETT (1844-1930).
Census of 1901 in St Clements Parish (15-6-Epm): Benjamin DAVIES, age 65; wife Anne, age 60, and Daughter Charlotte, age 19.
Town of Selkirk
1906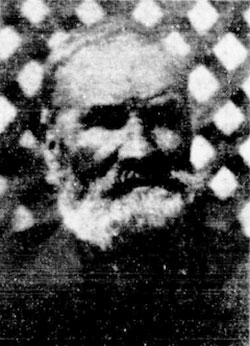 Benjamin Davies (From his obituary)
By 1906 Benjamin, his wife Anne and their daughter Charlotte Alice had moved to Selkirk (215 Taylor Avenue).
Census of 1906 in the Town of Selkirk: Benjamin DAVIES, age 71; wife Ann, age 65, and daughter Alice (age 23.
In 1907 youngest daughter Charlotte Alice married James Crichton MILLER (1884-1961) in St Andrews. He was born in Scotland and immigrated in 1884.
Censuses of 1911 and 1916 in Selkirk (215 Taylor Ave): Benjamin DAVIES (age 75, 80) and wife Anne (age 72, 77).
Census of 1921 in Selkirk (371 Robinson Ave): Benjamin DAVIES, age 85; wife Ann, age 82.
On Aug 22, 1921 Anne (nee JONES) DAVIES died in Selkirk, MB.
On Feb 21, 1927 Benjamin DAVIES died in Selkirk He was buried in the old St Clements Church Cemetery at Mapleton.
Comments and queries at this link: FORUM DISCUSSING THE FAMILY OF BENJAMIN DAVIES
========================== Family Details ==========================
Children:
1. Sep 3, 1862 JOHN WILLIAM DAVIES (m. Catherine REID)
** MORE ABOUT JOHN WILLIAM DAVIES
2. Feb 16, 1866 EMMA DAVIES (m. Robert MONCRIEF)
3. Dec 26, 1869 HANNAH DAVIES (m. Robert RENNIE)
4. Jan 20, 1872 ANNE DAVIES (m. James Bailey CORBETT)
5. Mar 31, 1873 MARY MATILDA DAVIES (m. John M FRANKS)
6. Dec 26, 1881 CHARLOTTE ALICE DAVIES (m. James Crichton MILLER)