MURDOCH (MURDO) JAMES REID(1844-1905)
ISABELLA "BELLA" BIRD (1849-1933)
(Last Updated: March 08, 2017)
Murdoch (Murdo) REID was born in 1844 in Scotland (Stornoway).
Hired by the Hudson's Bay Company
York Factory – Red River
1860-1864
On May 26, 1860 Murdoch entered the service of the Hudson's Bay Company (HBC), and on June 21 that year he sailed to York Factory on Hudson Bay aboard the ship Prince of Wales. Until 1864 he worked as a Labourer in the York Factory District. Then he was moved to the Red River District.
Marriage to Isabella "Bella" BIRD
1866
Around 1866 Murdoch married Isabella "Bella" BIRD in Red River, daughter of Isabella GIBSON and James BIRD (1824-1892). ** MORE ABOUT JAMES BIRD
Canadian Confederation
A Red River Rebellion
Manitoba becomes a Province
1867-1870
On July 1, 1867 the British colonies in North America were united under the British North American Act to become the Dominion of Canada.  Sir John A MACDONALD (1815-1891) was appointed as Canada's first Prime Minister. William McDOUGALL (1822-1905) became the Minister of Public Works, and he began negotiations to acquire Rupert's Land from the HBC; surveyors were sent to Red River to prepare the way for an expected influx of settlers.
On Oct 11, 1869, Louis RIEL (1844-1885) placed his foot on the surveyors' chain to tell them their work was finished! This marked the beginning of the historic Red River Métis Rebellion.
On July 15, 1870 the Rebellion ended when RIEL's Provisional Government accepted the terms of the Manitoba Act and Manitoba became the fifth province of Canada.
In 1871 Murdoch retired from the HBC and was entitled to a land grant in the Red River Settlement.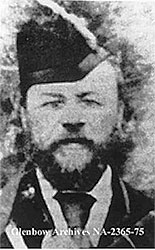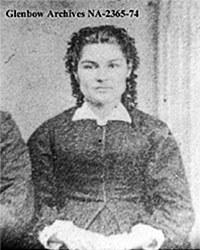 Murdoch Reid  - Isabella (nee Bird) Reid 1874
In 1875 Isabella (of St Clements Parish) applied for her Métis Scrip, as Murdoch's wife.
During the mild winter of 1878-79 it is said that Murdo REID of Selkirk hitched the oxen and went out and plowed on Christmas Day – just to say he'd done it.
Census of 1881 in St Andrews Parish:  Murdoch REID, age 38; wife Isabella, age 29. Children: Catherine (age 14), John (11), Hugh (9), James (6), Duncan (6) and Frank (age 3). Also in the household is Sophie (nee BIRD) SABLE, age 23 (Bella's younger sister).
Town of Selkirk
1891
Census of 1891 in the Town of Selkirk: Murdoch REID, age 46; wife Isabella, age 41. Children: Catherine (age 24), John (20), Hugh (17), Bannatyne (14), Duncan (14), Francis (12), Laurinda (9) and Mabel (age 2).
In 1892 eldest daughter Catherine married John William DAVIS in St Andrews, son of Ann JONES and Benjamin DAVIES (1836-1927). ** MORE ABOUT BENJAMIN DAVIES
In 1899 daughter Laurinda married William Ernest CLARK in Selkirk. He was born 1875 in England.
Census of 1901 in the Town of Selkirk: Murdock REID, age 57; wife Isabella, age 42. Children: John (age 31), Hugh (28), Duncan (23). Frank (21) and May (age 12).
In 1904 eldest son John married Isabella STEVENS in Selkirk, daughter of Anne BUTLER and Robert STEVENS (1838-1921). ** MORE ABOUT ROBERT STEVENS
In 1905 son Hugh James married Caroline PRUDEN in Winnipeg, daughter of Nancy SPENCE and Alexander Paul PRUDEN (1862-1943).
Also in 1905 son Frank married Mary Ann FIDLER in Selkirk, daughter of Sophia SPENCE and William FIDLER (1858-1959).
Murdoch REID Dies
1905
On Oct 29, 1905 Murdoch James REID died in Selkirk at the age of 63.
Census of 1906 in Selkirk: Widow Isabella REID, age 58. Children: Duncan (age 29) and May (29). Also son Jack (age 35), his wire Bella (age 25) and their son John (age 2). Also son Frank (age 26) and his wife Mary (age 23).
In 1910 son Bannatyne married Bessie Louisa HAYTER of uncertain origins.
Census of 1911 in Selkirk (Greenwood Ave): Widow Isabella REID, age 61; son Frank (age 31) and his wife Mary (age 29); son John (age 40); grandson Murdoch REID, age 6.
Around 1912 son Duncan married Agnes Ellen MAY, daughter of Jane WHITE and Samuel Smith MAY (1855-1891) from England.
World War I
1914-1918
On Aug 4, 1914 Great Britain (Canada on Aug 5) declared war on Germany and Austria-Hungary to uphold treaties with France and Belgium which were under German attack. This marked the beginning of World War I.
On Nov 20, 1915 son John enlisted at Selkirk.
Census of 1916 in Selkirk (Main Street): Widow Isabella REID, age 69.
November 11, 1918, Armistice Day (Remembrance Day) marked the end of the First World War.
On Jan 15, 1933 Isabella (nee BIRD) REID died in Hamilton, Ontario.
Comments and queries at this link: FORUM DISCUSSING THE MURDOCH REID FAMILY
============================= Family Details =============================
Children Tit/Scrip/Census 1881/1901:         
1. Nov 18, 1866 CATHERINE "KATE" REID (m. John William DAVIS)
** MORE ABOUT JOHN WILLIAM DAVIES
2. Oct 8, 1871 JOHN (JACK) REID (m. Isabella STEVENS)
3. Apr 13, 1873 HUGH JAMES REID (m. Caroline PRUDEN)
4. 1875 BANNATYNE REID (m. Bessie HAYTER)
5. 1877 DUNCAN CHARLES REID (m. Agnes Ellen MAY)
6. Feb 26, 1879 FRANCIS BEVERIDGE "FRANK" REID (m. Mary Ann FIDLER)
7. 1882 LAURINDA MARY REID (m. William Ernest CLARK)
8. Jun 15, 1888 MABEL "MAY" REID