ANDREW KIRKNESS (1822-1882)
SARAH SETTEE (1830-c1875)
(Last Updated: December 14, 2015)
Andrew KIRKNESS was born around 1822 in St Andrews Parish, Red River, son of Margaret MOWAT, an Indian, & Andrew KIRKNESS SR (born around 1770) from the Orkneys of Scotland.
** MORE ABOUT ANDREW KIRKNESS SR **
Marriage to Sarah SETTEE
1850
Around 1850 Andrew married Sarah SETTEE in St Andrews Parish, daughter of Margaret and George SETTEE (1800-1843), both Indians. Sarah was a sister of Reverend James SETTEE (1809-1902), the noted Indian clergyman.
** MORE ABOUT REVEREND JAMES SETTEE
Most, if not all of Andrew's children were born in the Parish of St Peters.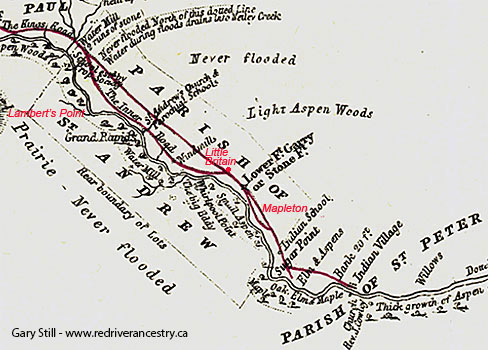 St Andrews Parish from Hind's Map of 1857
Building of the Old St Clements Church at Mapleton
1860-61
In 1860 stonemason Samuel TAYLOR (1812-1894) began to build the beautiful old St Clements Anglican Church at Mapleton. On Dec 1, 1861 it was first opened for divine worship.
Canadian Confederation
A Red River Rebellion
Manitoba becomes a Province
On July 1, 1867 the British colonies in North America were united under the British North American Act to become the Dominion of Canada.  Sir John A MACDONALD (1815-1891) was appointed as Canada's first Prime Minister. William McDOUGALL (1822-1905) became the Minister of Public Works, and he began negotiations to acquire Rupert's Land from the HBC; surveyors were sent to Red River to prepare the way for an expected influx of settlers.
On Oct 11, 1869, Louis RIEL (1844-1885) placed his foot on the surveyors' chain to tell them their work was finished! This marked the beginning of the historic Red River Métis Rebellion.
On July 15, 1870 the Rebellion ended when RIEL's Provisional Government accepted the terms of the Manitoba Act and Manitoba became the fifth province of Canada.
Census of 1870 in St Clements Parish (Lot 48): Andrew KIRKNESS, age 60; wife Sarah, age 50. Children: James (age 19), Joseph (17), John (15), Abraham (13), Elise (5) and Elizabeth (age 5).
Before 1875 Sarah (nee SETTEE) KIRKNESS died. That year Andrew claimed Half-breed Scrip for himself and, three months later, for the heirs of his late wife (Sarah); their children, James and Joseph.
Census of 1881 in St Andrews Parish:  Andrew KIRKNESS, age 60, widowed.  Living with him was his son Joseph KIRKNESS (age 25).
On May 30, 1882 Andrew KIRKNESS died in St Andrews at the age of 60.
In 1885 son Joseph married Margaret "Maggie" PHILLIPS, the eldest child of half-breed Charlotte LAMBERT and William PHILLIPS (1842-1922) from the Orkneys of Scotland. ** MORE ABOUT WILLIAM PHILLIPS
Comments and queries at this link: FORUM DISCUSSING THE FAMILY OF ANDREW KIRKNESS JR
=========================== Family Details ===========================
Children:
1. Nov, 1851 JAMES KIRKNESS
2. 1855 JOHN KIRKNESS (Died in infancy)
3. Apr 6, 1855 JOSEPH KIRKNESS (m. Margaret PHILLIPS)
4. 1857 ABRAHAM KIRKNESS
5. June 28, 1863 WILLIAM GEORGE KIRKNESS (Died age 9)
6. 1865 ELISE KIRKNESS
7. 1865 ELIZABETH KIRKNESS