ANDREW KIRKNESS (1770-1822+)
MARY MARGARET MOWAT (1772-1852)
(Last Updated: December 14, 2015)
Andrew KIRKNESS was born around 1770 in Birsay, Scotland (Orkney Islands). ** Some sources (unsubstantiated) indicate his parents as Margaret MANSON and Magnus KIRKNESS (1796-1865).
Andrew marries Margaret MOWAT
1806
Around 1806-07 Andrew married Mary Margaret MOWAT, a Swampy Cree Indian. Around 1807 daughter Mary was born.
** Some sources indicate that Margaret's father was an Edward MOWAT from Orphir (Orkneys) who died in 1778 (unsubstantiated).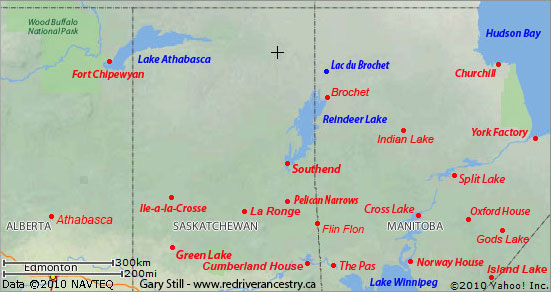 Ile a la Crosse with Peter FIDLER
1810-1811
During the period of 1810-11 Andrew KIRKNESS was working for the HBC under Peter FIDLER (1773-1835) as a Fisherman when he went to Ile a la Crosse. The HBC and the NWC shareholders (the Nor'Westers) were battling to dominate the fur trade in the Northwest (Rupert's Land) at the time and the Nor'Westers resorted to extreme measures when FIDLER tried to set up a trading post not far from their own. FIDLER's main antagonists in this episode were Samuel BLACK (1780-1841) and Peter Skene OGDEN (1790-1854) who were working under Nor'Wester John Duncan CAMPBELL (1773-1835). ** MORE ABOUT PETER FIDLER's DARK DAYS at ILE A LA CROSSE


In FIDLER's Ile a la Crosse Journal he makes many references to Andrew KIRKNESS and his wife Margaret, in brief:
On July 6, 1810 Andrew and Margaret had a dispute of some kind, and she went over the Nor'Westers house. The following day, FIDLER went there to try to bring her back - - but she had been so much threatened by the Canadians that she was afraid to return as they told her that they would cut off her ears if she leaves them.
The Nor'Westers realized that lives of FIDLER's men depended on their ability to feed themselves on fish and they set to work to cripple the HBC's efforts at fishing. They would not let them set their nets in the better fishing depths, they tore up their nets and stole most of them. Finally on Aug 4, Andrew KIRKNESS, FIDLER's best fisherman, deserted him in order to be with Margaret.
Towards the end of March, 1811, KIRKNESS, who seems to have been a bit unstable, had seen enough of life with the Nor'Westers and wanted to come back to work for FIDLER, but was prevented from doing so.
Again on May 25 he once more made application to be released, but BLACK told him that "if he offered to go to us they would make every Canadian in their house ravish his woman before his eyes and used many other threats."
Three days later, KIRKNESS came to FIDLER's house carrying his effects but without his wife. The Northwesters had refused to let her come and called her into CAMPBELL's room and threatened until she refused to go with him. Finally, on June 4, when FIDLER and KIRKNESS and all his party were ready to embark for Churchill, she ran away from the Canadian house, but was observed, overtaken and yanked back into the fort. FIDLER's concluding reference to her in his journal for that day said: "They have now given her to a Canadian—calm hot weather."
Soon after FIDLER and his men departed, the Nor'Westers climbed over the stockade and set his buildings afire. In the fall of 1811 after they arrived at Churchill, FIDLER sailed for England for a year's furlough.
Excerpt from 'One of a Family', a book by Brenda Macdougall
There were no KIRKNESSes in Ile a la Crosse after this incident, so it seems that the family made no discernamble patryonic imprint on the English River District. However, the dynamics of family life and labour experienced  by the KIRKNESS' relationship set a long-lasting pattern for the Metis people of Sakitawak (Ile a la Crosse). At the start , a marital disbpute caused Mrs. KIRKNESS to leaver her husband and move to the other establishment. Motivated by love or by instinct for survival, Andrew KIRKNESS likewise abandoned the HBC for its rivals so he could be reunited with his wife. Life hinged on women's ability to draw to them individuals who would become integral ro their family, as well as on women's skills as articulated by FIDLER, who attempted several times to secure the return of Mrs. KIRKNESS before employing his own wife as the post fisher. Furthermore, residence patterns  in Sakitawak were regionally matrilocal. In the case of the KIRKNESSes, Andrew followed his wife over to the NWC's employ. There is no data on Mrs. KIRKNESS, so we do not know if she was Cree or Dene or if she was even from the region. Mrs. KIRKNESS had enough confidence in her knowledge of the area to leave her husband and move over to the NWC post alone. The HBC representatives rationalized the incident by blaming the NWC for what occurred, claiming that she was a captive rather than acknowledging that, as an Aboriginal woman, she had other choices about where and with whom she would live and work. This family-based self-interest was instrumental in shaping the form and content of Metis cultural life in Sikitawak over the next four generations.
It remains uncertain what became of Andrew KIRKNESS and his wife Margaret after 1811. Presumably Margaret remained behind with the Nor'Westers at Ile a la Crosse while Andrew went with Peter FIDLER to Fort Churchill.
The First Selkirk Settlers
1811-1815
On Sep 24, 1811 the first ship of Selkirk Settlers arrived at York Factory, bound for Red River but due to their late arrival, forced to remain there for the winter. ** MORE ABOUT LORD SELKIRK and his SETTLERS in DCBO
In 1812 the aforementioned Peter FIDLER accompanied the first settlers to the Forks of the Red River (Kildonan). More settlers followed, and they were the cause of the Red River Metis Rebellion of 1815 led by Cuthbert GRANT (1796-1854).
** MORE ABOUT CUTHBERT GRANT and the RED RIVER METIS REBELLION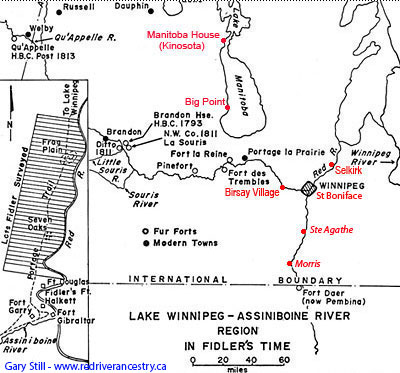 It isn't until 1820 that we rediscover Andrew and Margaret together again in St Andrews Parish (Red River) with the recorded birth of their son Andrew Jr.
Union of the North West Company with the Hudson's Bay Company
1821
In 1821 the union of the North West Company (NWC) and the Hudson's Bay Company (HBC) occurred, ending the years of bitter rivalry for dominance of the fur trade in Western Canada. ) George SIMPSON (1786-1860) became the Governor of Rupert's Land. ** MORE ABOUT GOVERNOR GEORGE SIMPSON
In 1833 daughter Mary married William BIRSTON in St Andrews, the son of an Indian woman & Alexander BIRSTON (1775-1829) from the Orkneys, a voyageur with the Hudson's Bay Company (HBC). When Mary later claimed her Half-Breed Scrip, she stated her parents as Margaret MOWAT, an Indian, and Andrew KIRKNESS, a Scot.
** MORE ABOUT ALEXANDER BIRSTON
Around 1844 youngest son John married Elizabeth COOK, daughter of Catherine SINCLAIR and Joseph COOK (1788-1848). ** MORE ABOUT JOSEPH COOK
Around 1850 son Andrew Jr. married Sarah SETTEE, an Indian of uncertain origins. ** Some sources suggest that Sarah was a sister of the noted Indian clergyman, Reverend James SETTEE (1809-1902).
** MORE ABOUT REVEREND JAMES SETTEE
Andrew KIRKNESS JR. was the father of Joseph KIRKNESS (1856-1922) who married Margaret PHILLIPS in 1885.
** MORE ABOUT GRANDSON JOSEPH KIRKNESS
In 1852 Mary Margaret (nee MOWAT) KIRKNESS died in St Andrews.
Comments and queries at this link: FORUM DISCUSSING the ANDREW KIRKNESS FAMILY
======================= Family Details =======================
Children:
1. 1807 MARY KIRKNESS (m. William BIRSTON)
2. 1822 ANDREW KIRKNESS (m. Sarah SETTEE)
** MORE ABOUT ANDREW KIRKNESS JR
3. 1822 JOHN KIRKNESS (m. Elizabeth "Betsy" (nee COOK) SUTHERLAND)