FREDERICK AUGUSTUS DISBROWE (1852-1943)
MARIA CREE (1874-c1905)
CAROLINE BERENS (1874-1963)
(Last Updated: February 20, 2014)
Frederick Augustus. DISBROWE was born Apr 3, 1852 in Conisholme, Lincolnshire County, England, the oldest son of Julia Ann PRESCOTT and Reverend Henry Sharp DISBROWE (1822-1911).
In the 1861 England Census Frederick (age 9) was recorded with his father, Clergyman Henry Sharp DISBROWE (age 38) and his step-mother, Caroline (nee COUPER), age 34, in Louth, Lincolnshire County.
Fred and his brother George arrive in Winnipeg
1873
In 1873 Fred arrived in Canada with his two younger brothers, William Henry DISBROWE (1854-1911) and George Arthur DISBROWE (1855-1932). George Arthur settled in the London-St Thomas area of Ontario while Fred and his brother William went on to Winnipeg, Manitoba.
In 1875 Captain William ROBINSON (1849-1936) came to Winnipeg and became involved in construction of the Canadian Pacific Railway (CPR) from Rat Portage (Kenora) to Winnipeg. He began building steamboats and was first man to place a steamer on Lake Winnipeg. He was one of the founders of Northwest Navigation Company, of which he became manager and later president. His main interest were lumber, a general store and the fish business on Lake Winnipeg.
It seems that Fred DISBROWE's first employment in Manitoba was with Captain ROBINSON, as a clerk, and later a fish-buyer.
On June 15, 1882 the Town of Selkirk was incorporated.
North West Rebellion
1885
In 1885 when the Northwest Rebellion occurred, both Fred and his brother William were recruited by General Frederick Dobson MIDDLETON (1825-1898) when he and his troops passed through Winnipeg on their way west to partake in the Battle at Batoche.
** MORE ABOUT THE NORTHWEST REBELLION in WIKIPEDIA
** MORE ABOUT FREDERICK DOBSON MIDDLETON in DCBO
l
LAC (Title only): Frederick A. DISBROWE - Winnipeg, Manitoba - Respecting his kit allowance as member of the Surveyor Intelligence. Corps on duty in the Northwest.
After the Rebellion Fred returned to Manitoba and resumed working for Captain ROBINSON's Dominion Fish Companies.as a fish buyer and clerk at various outposts around Lake Winnipeg.
In 1886 Fred first met William BERENS (1865-1947) at Bullhead, south of the Lake Winnipeg Narrows at Doghead, and the two became lifelong friends. Both worked for the fish companies. William was the son of Chief Jacob BERENS (1835-1916) who was a leader in the signing of Treaty #5 in 1875 and represented the Indians around the east side of Lake Winnipeg and as far east as Little Grand Rapids west of the Ontario border. William BERENS would later succeed his father as Chief of the Berens River Indian Band. ** MORE ABOUT JACOB BERENS in DCBO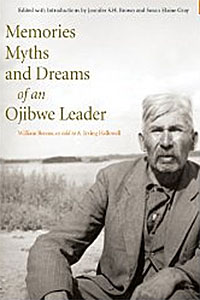 The book 'Memories Myths and Dreams of an Ojibwe Leader' authored by Irving HALLOWELL is based on the reminiscence of Chief William BERENS who frequently mentions Fred DISBROWE in his recollections.
** MORE ABOUT IRVING HALLOWELL in WIKIPEDIA
A Teacher at Poplar River
1888
Hallowell Notes on pg 211: After he (Fred DISBROWE) left his job as a clerk with the fish company, he became one of the first teachers in the Indian School at Poplar River, up the east coast of Lake Winnipeg. Leach, 1973, 35. The Berens River Journal (HBCA B. 16/a/10, fo.58) mentioned "F.A. DISBROWE, school teacher Poplar River" visiting 1-2 October 1888.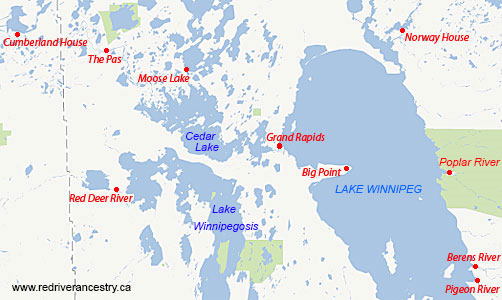 Fred and a Cree Woman named Maria
1893
Frederick's first wife was a Cree woman named Maria. Their daughter Edith was born on May 23, 1894. Who was the Cree woman named Maria? Information about some of Maria's children from Vital Stats and census records lead to a lot of confusion regarding whether Fred DISBROW was their father or perhaps their step-father.
The 1901 census at Berens River recorded Frederick DISBROWE (a 48 year old Trader), his Cree wife Maria (age about 27) and their daughter Edith (age 6). With them are three other children with the surname CHASTELLAINE: Harold (age 5; b-1895), Alice (age 2; b-1898) and a baby named Mabel (b-1900).

In the same census their neighbors are David CHASTELLAINE (age 41), his wife Mary A. (age 40; his third wife) with two children: Nichol CHASTELLAINE (age 12; b-1889) and David CHASTELLAINE JR (age 6; b-1895). The elder David CHASTELLAINE was the son of son of Nancy FINLAYSON and Narcisse CHASTELLAINE (1821-1888).
** MORE ABOUT NARCISSE CHASTELLAINE
Hudson's Bay Company
1903
On June 1, 1903 Fred became a Clerk for the Hudson's Bay Company (HBC) at Berens River.
** MORE ABOUT FREDERICK DISBROWE in HBC ARCHIVES

Fred and Caroline BERENS
1906
At some time before 1806, Fred's first wife Maria must have died, because that year his wife was Caroline BERENS. Who was Caroline BERENS and what was her origins? Was BERENS her maiden name or perhaps a married name? Either way she obviously had family connection to the previously mentioned Chief William BERENS and/ or his father, Chief Jacob BERENS both well known to Fred DISBROWE.
The 1906 census at Berens River: Frederick A DISBROWE, age 54; wife Caroline, age 30.  Children: Edith (age 12), Harold (10), Alice (8), Sarah (8), Mary Ann (6), Mabel (6), Alfred (4) and Nora (age 3). In this and later censuses all of the children are listed with the surname DISBROWE, including Mabel, Alfred and Nora who in the 1901 census were listed with surname CHASTELLAINE. If anyone can solve the puzzle of who were the parents of Harold, Alice and Mabel, please enlighten us on the Forum (Link provided below).
Interestingly, in 1906 both Edith and Harold were also recorded as pupils at the Brandon Residential School, and daughter Alice (age 9) as also recorded with the family of aforementioned David CHASTELLAINE on Matheson Island.
Census of 1911 at Berens River: Augustus DISBROWE, age 60; wife Caroline, age 25. Children: Sarah (age 14), Mary Ann (12), Mabel (11), Nora (8), Alfred (7), Frederick (5) and Henry (age 2). Domestic: Alexander McKAY, age 20 (born Nov, 1890 in NWT; odd jobs for HBC). In 1911 daughter Edith (age 18) was recorded as a 'servant' in the household of Baptiste BRUNEAU (1854-1944) on Morris Avenue in Selkirk.
World War I
1914-1919
On Aug 4, 1914 Great Britain (Canada on Aug 5) declared war on Germany and Austria-Hungary to uphold treaties with France and Belgium which were under German attack. This marked the beginning of World War I.
In 1915 Fred was promoted to a Post Manager at Berens River.
The 1916 census of the Berens River Indian Reserve: Caroline DISBROWE (age 40) and children Sarah Jane (age 17) and Mary Ann (age 15). Fred DISBROWE can't be found in this census and Caroline is indicated as "married to a non-Treaty man." Interestingly, the aforementioned William BERENS and his family are in the next household. Daughter Edith (age 23) was recorded in Selkirk that year, a "Servant" in household of Mary & Ralph KNOTT (1879-1920).
It was in 1916 that William BERENS succeeded his father (Jacob) as Chief of the Berens River Indian Band.
November 11, 1919, Armistice Day (Remembrance Day) marked the end of the First World War.
The HBC Archives indicates that in 1920 Fred DISBROWE received a Silver Medal.
In 1920 eldest daughter Edith became the second wife of Albert Edward PRINCE of uncertain origins from the Peguis Reserve north of Hodgson, MB.
The 1921 census of the Berens River: Frederick DISBROWE, age 59; wife Caroline, age 35. Children: Alfred (age 15), Frederick (13), Henry (11), Stanley (9), Lizzie (7), Leona (4) and Elsie (age 1).
On Aug 31, 1923 Fred was pensioned from the HBC.
Sometime in the early 1920's son Alfred married Grace McDONALD, daughter of Sarah and Roderick George McDONALD (1892-1966) from Clandeboye.
As shown by the watercolor below, Fred was also a gifted artist.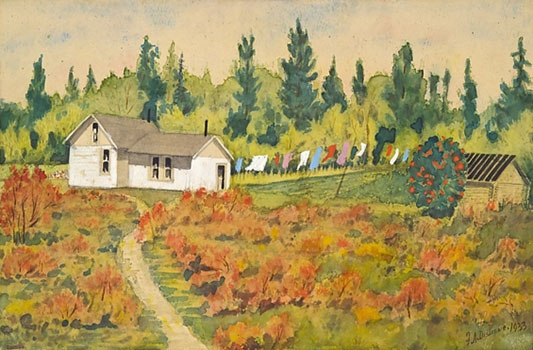 House in Forest Clearing on Laundry Day, 1933 – Artist: Frederick Augustus Disbrowe
(Winnipeg Art Gallery)
In 1932 son Henry Charles married Blanche NANOWIN in Winnipeg, daughter of Mary and Cuthbert NANAWIN/ NANOWIN from the Poplar River Reserve.
In 1936 daughter Eleanor (Lena) married Leonard George SETTEE at Berens River, son of Elizabeth JOHNSTONE and Charles Gilbert SETTEE (1867-1944). ** MORE ABOUT CHARLES GILBERT SETTEE
In 1941 daughter Elsie married Harry MONKMAN,son of Rose Ann RAMSAY and William MONKMAN (1878-1958).
** MORE ABOUT WILLIAM MONKMAN
Son Stanley George married Eva COMBER, daughter of Daisy and William COMBER.
On Mar 26, 1943 Frederick Augustus DISBROWE died at Berens River, age 90.
In 1963 Widow Caroline (BERENS) DISBROWE died.
Comments and queries at this link: FORUM DISCUSSING the FREDERICK AUGUSTUS DISBROWE FAMILY
========================== Family Details ==========================
Child by Maria (Cree Woman):
1. May 23, 1894 EDITH DISBROWE (m. Edward Albert PRINCE)
Children by Caroline BERENS:
1. May, 1897 SARAH DISBROWE
2. May, 1899 MARY ANN DISBROWE
3. Jul, 1900 MABEL DISBROWE
4. Aug, 1903 ALFRED DISBROWE (m. Grace McDONALD)
5. Sep 8, 1904 NORA DISBROWE
        July, 1901 re Census 1911       
6. Oct, 1905 FREDERICK DISBROWE
7. Dec, 1908 HENRY DISBROWE
8. Aug 22, 1911 STANLEY GEORGE DISBROWE
9. 1914 LIZZIE DISBROWE        
9. Sep 5, 1917 ELEANOR (LENA) ETHEL DISBROWE (m. Leonard George SETTEE)
10. Oct 24, 1919 ELSIE LILLIAN DISBROWE (m. Harry MONKMAN)