PERCIVAL HAROLD "PERCY" MONKMAN (1917-2005)
RUTH CATHERINE SETTEE (1916-1981)
(Last Updated: March 30, 2014)
Percival Harold "Percy" MONKMAN was born in 1917, the youngest son of Margaret SCOTT and Thomas Alexander MONKMAN (1882-1918). ** MORE ABOUT THOMAS ALEXANDER MONKMAN
Inspiration to do this page came from Eileen (nee MONKMAN) HAMILTON (Percy's daughter) who I'm hoping will help me with the details.
In 1918 both of Percy's parents died. Percy and his four siblings were thereafter raised by their Aunt and Uncle, Rose Ann and William MONKMAN (1879-1958) at Loon Straits. 
Eileen: William and Rose Ann MONKMAN received a monthly allowance from Accountant of Thomas/Maggie MONKMAN's Estate valued at $60,000.00 along with assets such as animals, dogs, tack, fishing equipment, etc. for care of these children according to documents retained by Oliver MONKMAN eldest son of Thomas & Maggie MONKMAN.
** MORE ABOUT WILLIAM MONKMAN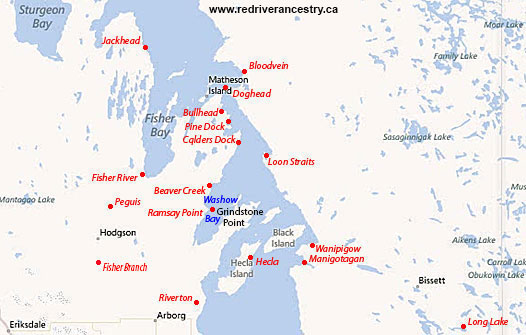 Census 1921: Percy (age 3) with Aunt and Uncle, Rose Ann & William MONKMAN at Loon Straits.
Percy and his siblings grew to adulthood in the 'White House' (shown below), along with almost a dozen of their cousins.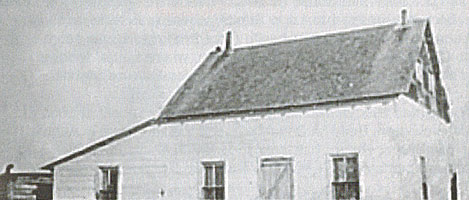 The White House at Loon Straits built in 1918 (From Kathleen)
World War II
Percy marries Ruth SETTEE
1939-1945
On Sept 4, 1939 Canada and Britain declared war on Germany, and almost immediately new recruits began pouring into Winnipeg to sign up with the Winnipeg Grenadiers and the Royal Rifles of Canada.
On Jan 16, 1941 Percy married his sister-in-law, Ruth Catherine SETTEE, daughter of Lizzie JOHNSTONE and Charles Gilbert SETTEE (1867-1944). Ruth SETTEE was born and raised on Matheson Island.
** MORE ABOUT CHARLES GILBERT SETTEE
Percy's deceased sister, Julia MONKMAN had been married to Ruth's brother, Leonard SETTEE (1908-1972). Julia died in 1931, and Leonard SETTEE was now married to Lena DISBROWE, daughter of Caroline BERENS and Frederick DISBROWE (1852-1950) who was born in Lincolnshire, England. ** MORE ABOUT FREDERICK DISBROWE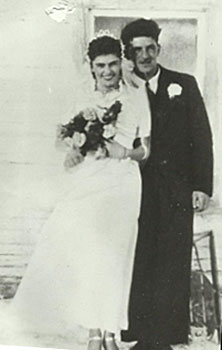 Percival MONKMAN and Ruth Catherine Settee on their wedding day
(Thanks to Eileen)
On May 7, 1945 Germany surrendered and the War in Europe ended; the next day, May 8, is declared VE Day.
The following includes excerpts from an article written by Dave Sullivan for the Northern News Service in 2001.
Selkirk
1946
"I (Percy) grew up fishing on Lake Winnipeg for 15 years. Then in '46 I moved to Selkirk, Man. That's where I started tug boating. For its population, it must have been the most drunken town in Canada. Sometimes the skipper just wouldn't show up, so I'd have to take the boat out," he recalls. "Other times someone like the engineer would be missing, so I'd have to fill in there too."
Great Bear Lake
1949
Sullivan: MONKMAN first earned a reputation as a can-do mariner in 1949, when the government asked his employer to dredge large boulders. They were in the swift-flowing Great Bear River, where it leaves the lake. Others had been trying for years to clear the channel so uranium could be shipped out. On a piece of scrap paper, MONKMAN draws out how he and a crew of four rigged a series of cables and anchors with gear the others had left behind, and got the job done in three weeks.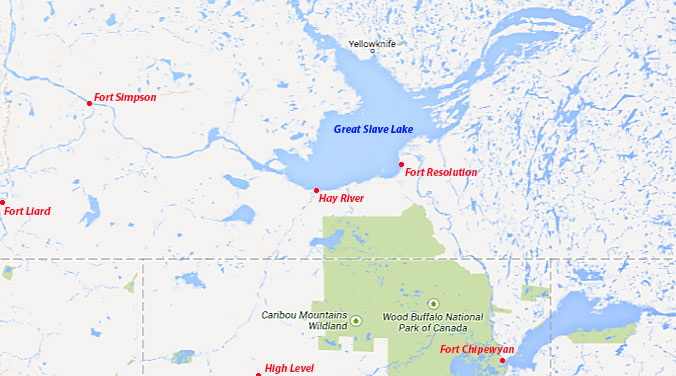 Hay River
History of Hay River: With the discovery of gold in the Yellowknife region in the 1930's, and the advance of mining and other resource exploration throughout the north, Hay River became the transportation hub of Great Slave Lake. The all-weather Mackenzie Highway reached the lake in 1948, and shipping companies began to use Hay River as their base for supplying northern settlements along the Mackenzie River and the Arctic Coast.
In 1964, the Great Slave Railway (now part of the Canadian National Railway) from Edmonton, Alberta, reached Hay River and the mining site of Pine Point. With 129 kilometres of rail line within its boundaries, the Northwest Territories can lay claim to Canada's most northern rail head.
Freight arriving in Hay River by truck and rail car is loaded onto barges operated by the native-owned Northern Transportation Company Limited (NCTL), a marine transportation system with routes covering 5,000 kilometres. The company maintains a large fleet of tugs and a major shipyard at Hay River, giving the town a seaport atmosphere.
Sullivan: MONKMAN had moved to Hay River after the Bear River dredging job to skipper tugs and be wharf superintendent for Yellowknife Transportation (YT), which was later swallowed up by Northern Transportation Company (NT). ** MORE ABOUT the NORTHERN TRANSPORTATION COMPANY in WIKIPEDIA
Sullivan: The takeover made him bitter because the new owners demoted MONKMAN, making him scrub toilets. So he bought a whitefish boat and returned to fishing. MONKMAN soon got someone else to run it while he and his wife built up a booming catering company.  "We were feeding a lot of people and we made good money." That was, until the kitchen burned to the ground in the late 1960s, when a cigarette started a blaze that took two lives.
The whitefish boat, meanwhile, was bought by the government in a scheme to start a commercial fishery in Inuvik.
"So that was the end of that. They were going to have a big industry there but they should have sharpened their pencils first."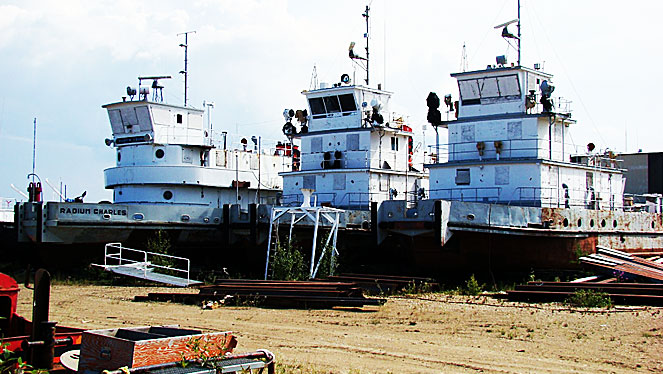 Old Tug Boats in Hay River, NWT (Photo by rdixon)
In August of 1981 Ruth Catherine (nee SETTEE) MONKMAN died.
Retirement as a Ferry Captain
1993
Sullivan: In 1993 Percy retired from captaining ferries like the Mary Hardie. "I told them I was giving up, I'm getting old. Damn ferries. You've got to be climbing stairs all the time just to go to the bathroom."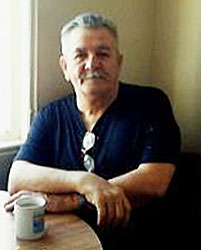 Percy MONKMAN (Thanks to Eileen)
Sullivan, 2001:A widower, MONKMAN uses a cane but still lives independently in Hay River's Old Town. Just down his street are whitewashed remains of a18.3-metre wooden boat he built and skippered years ago for a fisherman. After using it for 15 years, the fisherman sold the boat to someone who hauled and turned it upside down in a hay field. "Kids wrecked it. It bothers me to see it all buggered up like that," MONKMAN says. Although just a skeleton of what it once was, passers-by can still see beauty in the vessel's lines.
On Oct 9, 2005 Percy MONKMAN died.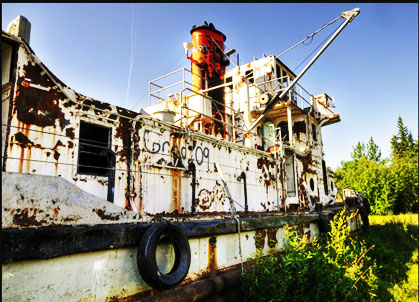 A sad sight. An old NTCL tug rusts away in the Old Town of Hay River. Imagine where it has been.
(Photo by Fran Harcomb)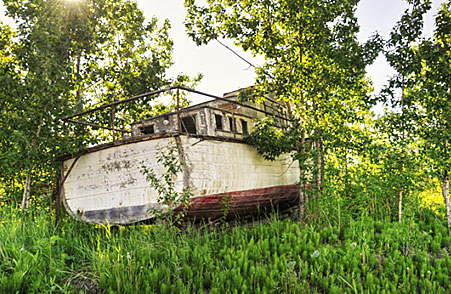 A little wooden tugboat parked in the willows
(Photo by Fran Harcomb)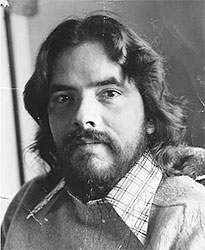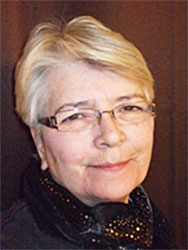 Tommy and Eileen Monkman
Comments and queries at this link: FORUM DISCUSSING the PERCY MONKMAN FAMILY
======================= Family Details =======================
Children:

1. Sep 9, 1941 PERCIVAL GILBERT (PERRY) MONKMAN (m. Myrtle GRAHAM)
2. Jan 16, 1943 SUSAN ELIZABETH MONKMAN (m1. Jack LAYE, m2. Martin McDONNELL)
3. Oct 28, 1944 THOMAS JOHN "TOMMY" MONKMAN (m. Gay)
4. Oct 18, 1945 EILEEN MONKMAN (m. Del HAMILTON)
5. Dec, 1947 MICHAEL LAWRENCE MONKMAN
6. Sep 8, 1950 BARBARA LYNN MONKMAN (m1. Robert OVERVOLD, m2. Jim CARSON)
7. Apr 21, 1965 KIM MYRTLE MONKMAN (m. Tim LEA)