THOMAS ALEXANDER MONKMAN (1882-1918)
MARGARET "MAGGIE" SCOTT (1890-1918)
(Last Updated: June 30, 2014)
Thomas MONKMAN was born 1882 in St Peters, son of Nancy CHASTELLAINE & Andrew MONKMAN (1851-1929).
** MORE ABOUT ANDREW MONKMAN
.
Inspiration to do this page came from Eileen (nee MONKMAN) HAMILTON (Thomas' granddaughter) who I'm hoping will help me with the details.
In 1888 Tom's mother (Nancy) died when he was only six years old. 
Around 1898 his father (Andrew) re-married to Catherine WHITESAND, an Indian from the Bloodvein Reserve, and the family moved to various places around Lake Winnipeg where he made his living as a fisherman.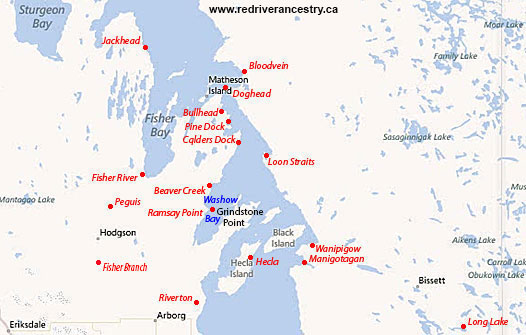 In the 1901 Census we find Thomas MONKMAN (age 19) and his sister, Mary Jane MONKMAN (age 17), together at Berens River.
Around 1904 Tom's sister, Mary Jane, married Walter Andrew BRUCE, son of son of Elizabeth Ann GARRIOCH & Reverend Patrick BRUCE (1848-1932) and they settled in Loon Straits.
** MORE ABOUT REVEREND PATRICK BRUCE
Marriage to Margaret SCOTT
1906
On Feb 5, 1906 Thomas married Margaret "Maggie" SCOTT in the Fisher River Indian Reserve, daughter of Isabella SWAMPY and Isaac SCOTT (b-1866). That year the couple was recorded on Matheson Island; Thomas MONKMAN (age 25) and his wife Marguerite (age 16).
Surrender of the St Peters Reserve
1907
On October 14, 1907, the surrender of the St Peters Indian Reserve was accepted by Order in Council, according to an agreement signed by Chief William PRINCE, four councilors and ex-chief William ASHAM.The same month, the Band and representatives of the department selected the site of the new reserve, near Fisher River, Manitoba. By 1911 the St Peters Indian Reserve ceased to exist as such.
The 1911 Census on Matheson Island: Thomas MONKMAN, age 32; wife Margaret, age 20. Children: Oliver (age 5), Julia (2) and baby Elizabeth. They have a 'lodger' with them; Harry D'ARCIS (age 29), the son of Nancy FINLAYSON and James Louis Phillip D'ARCIS (b-1845).
World War I
1914-1919
On Aug 4, 1914Great Britain (Canada on Aug 5) declared war on Germany and Austria-Hungary to uphold treaties with France and Belgium which were under German attack. This marked the beginning of World War I.
On Jan 27, 1918 Thomas MONKMAN died at Loon Straits. Maggie died nine months later in the flu epidemic of 1918.  Their five children were raised by Tom's brother William & Rose Ann. It seems that daughter Elizabeth who was recorded as a baby in the 1911 census must have died (perhaps in the flu epidemic). There are no later references to her.
** MORE ABOUT the FLU PANDEMIC in WIKIPEDIA

Eileen: William and Rose Ann MONKMAN received a monthly allowance from Accountant of Thomas/Maggie MONKMAN's Estate valued at $60,000.00 along with assets such as animals, dogs, tack, fishing equipment, etc. for care of these children according to documents retained by Oliver MONKMAN eldest son of Thomas & Maggie MONKMAN.
November 11,1919, Armistice Day (Remembrance Day) marked the end of the First World War.
In the 1921 census all of Thomas' children were recorded at Loon Straits with their Uncle William MONKMAN (1878-1958); Oliver (age 14), Julia (12), Walter (9), Thomas (6) and Percy (age 3). At this time Rose Ann and William MONKMAN had no less than 13 youngsters to feed. ** MORE ABOUT WILLIAM MONKMAN
In 1929 eldest daughter Julia married Leonard George SETTEE at Hollow Water (Hole River, north of Manigotagan), son of Elizabeth JOHNSTONE and Charles Gilbert SETTEE (1867-1944). ** MORE ABOUT CHARLES GILBERT SETTEE
In 1937 eldest son Oliver married Jenny McLEOD, daughter of Dora ARTHURSON and Norman McLEOD of uncertain origins, a fisherman born in 1887.
On Jan 16, 1941 youngest son Percy married his sister-in-law, Ruth Catherine SETTEE, daughter of Lizzie JOHNSTONE and Charles Gilbert SETTEE (1867-1944). ** MORE ABOUT CHARLES GILBERT SETTEE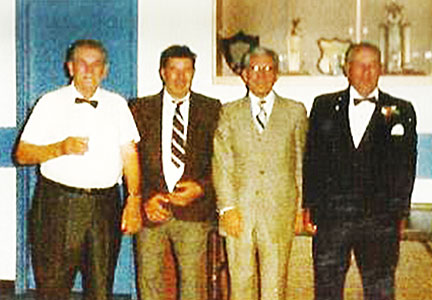 The Monkman Brothers (Thomass' sons)
L-R: Percy, Thomas (Tiny), Walter and Oliver
(Thanks to Eileen Hamilton)
In 1943 son Thomas "Tiny" married Joyce BIALEK, a school teacher at Matheson Island who was born in 1922 at Sapton, MB.
Comments and queries at this link: FORUM DISCUSSING the THOMAS MONKMAN FAMILY
======================= Family Details =======================
Children by Maggie SCOTT:
1. Nov 25, 1905 ANNA BELLA MONKMAN (Died in infancy)
2. Dec 18, 1906 OLIVER JAMES MONKMAN (m. Jeannie McLEOD)
3. WINIFRED MONKMAN (Died in infancy)
4. Sep, 1909 JULIA MONKMAN (m. Leonard George SETTEE)
5. Aug, 1910 ELIZABETH MONKMAN (Died in infancy)
6. Oct 13, 1912 JACK (WALTER) MONKMAN
7. Aug 25, 1914 THOMAS "TINY" MONKMAN (m. Joyce BIALEK)
8. Sep 11, 1917 PERCIVAL HAROLD "PERCY" MONKMAN (m. Ruth Catherine SETTEE)