JOSEPH ADAMS (1842-1903)
ANN ELIZABETH BIRD (1848-1871)
CHRISTINA ANN FRANKS (1848-1929)
(Last Updated: January 06, 2017)
Joseph ADAMS was born around 1842 in the High Bluff area of Manitoba, son of Ann HEYWOOD and George ADAMS (1796-1866). ** MORE ABOUT GEORGE ADAMS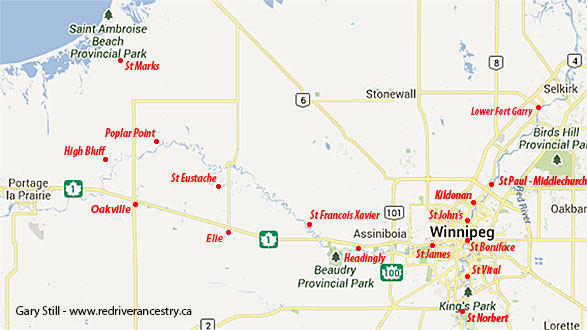 Joseph and Ann Elizabeth BIRD
1866-1871
On Dec 14, 1866 Joseph married Ann Elizabeth BIRD in High Bluff, daughter of Mary Ann THOMAS & George BIRD (1798-1855). ** MORE ABOUT GEORGE BIRD
Canadian Confederation
Red River Rebellion
Manitoba becomes a Province
1867-1870
On July 1, 1867 the British colonies in North America were united under the British North American Act to become the Dominion of Canada. Sir John A MACDONALD (1815-1891) was appointed as Canada's first Prime Minister; a month later he won the first federal election.William McDOUGALL (1822-1905) became the Minister of Public Works, and he began negotiations to acquire Rupert's Land from the HBC, sending out surveyors to prepare the way for an expected influx of settlers.
On Oct 11, 1869, Louis RIEL (1844-1885) placed his foot on the surveyors' chain to tell them their work was finished. This marked the beginning of a Red River Metis Rebellion.
On July 15,1870 Manitoba became the fifth province of Canada, the Canadian Government having acquired the territory previously governed by the HBC. The Rebellion was essentially over.
Census of 1870 in High Bluff: Joseph ADAMS, age 28; wife Ann, age 26. Children: Thomas (age 5) and Joseph (age 2).
On Feb 6, 1871 Anne Elizabeth (nee BIRD) ADAMS died in High Bluff.
Marriage to Christina FRANKS
1871
Not long after his first wife died, Joseph re-married to Christina FRANKS at High Bluff, daughter of Justine STEVENS & James FRANKS (1813-1884), both born in England. ** MORE ABOUT JAMES FRANKS 
In 1875 Joseph claimed Scrip for his deceased wife, Ann BIRD.
Census of 1881 in High Bluff/Poplar Point:  Joseph ADAMS, age 38; wife Christine, age 28.  Children: Thomas (age 13), Joseph (11), Mary J (6), Maria (4), James E (2) and Clara (age 1).
Red Deer Hill, Saskatchewan
1882
It was probably around 1882 when Joseph moved the family to the Red Deer Hill, south of Prince Albert (SK) near the South Saskatchewan River.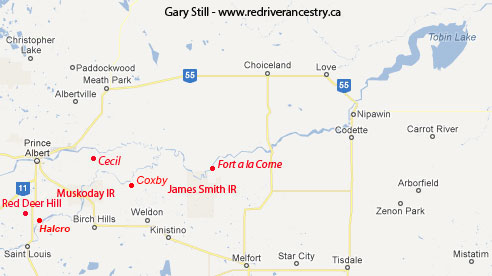 In 1890 son Joseph Jr. married Harriet JOHNSTONE in Winnipeg, daughter of Catherine MURDOCK and George JOHNSTONE (1836-1898). ** MORE ABOUT GEORGE JOHNSTONE
Census of 1891 in Red Deer Hill (SK): Joseph ADAMS, age 48; wife Christina, age 43. Children: Mary (age 17), Louisa (15), James (13), Clara (11), Elizabeth (9), Alfred (7), William (5), Georgina (3) and Edith (age 1).
In 1894 daughter Louisa married Richard Duncan COOK in St Paul (MB), son of Mary Ann LILLIE & Roderick COOK SR (1846-1904).  ** MORE ABOUT RODERICK COOK
In 1896 eldest daughter Mary Jane married John James SWAIN in Lindsay (SK), son of Elizabeth LILLIE and John SWAIN (1829-1869).
Census of 1901 in Red Deer Hill: Joseph ADAMS, age 58; wife Christina, age 52. Children: Clara (age 22), Barbara (20), George (18), William (16), Ellen (14) and Edith (age 10).
On Dec 12, 1903 Joseph ADAMS died in Lindsay, SK.
Daughter Elizabeth Barbara married Alexander BADGLEY (born 1865 in Ontario).

In 1909 daughter Edith married Thomas McNAB in Red Deer Hill, son of Mary Ann McLEOD and Charles McNAB (1820-1895).
Around 1910 son Alfred George married his cousin, Arabella ADAMS, daughter of Elizabeth BRUCE & James ADAMS (1844-1925).
Census of 1911 in Red Deer Hill: Widow Christina ADAMS, age 65.
In the 1916 census Widow Christina ADAMS (age 70) was enumerated in the Red Deer Hill household of her son William (age 30).
In the 1921 census Widow Christina was enumerated with her daughter and son-in-law, Mary Jane (ADAMS) and John James SWAIN in the Prince Albert district.
On March 8, 1929 Christina (nee FRANKS) ADAMS died in Lindsay, SK.
Comments and queries at this link: FORUM DISCUSSING the JOSEPH ADAMS FAMILY
======================== Family Details ========================
Children by Ann BIRD:
1. Oct 11, 1866 THOMAS ADAMS
2. Nov 27, 1868 JOSEPH CHARLES ADAMS (m. Harriet "Hattie" JOHNSTONE)
** MORE ABOUT JOSEPH CHARLES ADAMS
Children by Christina FRANKS:
1. Mar 18, 1874 MARY JANE ADAMS (m. John James SWAIN)
2. Feb 9, 1876 LOUISA MARIA ADAMS (m. Richard Duncan COOK)
3. 1879 JAMES E ADAMS
4. Oct 3, 1878 CLARA ADAMS
5. Nov 7, 1881 ELIZABETH BARBARA ADAMS (m. Chesley Alexander BADGLEY)
6. Dec 7, 1883 ALFRED GEORGE ADAMS (m. Arabella Christine ADAMS)
7. Feb, 1885 WILLIAM ADAMS
8. Nov 13, 1886 ELLEN ADAMS
9. Oct 7, 1889 EDITH CHRISTINE ADAMS (m. Thomas McNAB)