RODERICK COOK (1846-1904)
MARY ANN LILLIE (1847-1887)
ELIZABETH "ELIZA" McLENNAN (1850-?)
(Last Updated: August 21, 2017)
Roderick COOK was born July, 1846, in St Paul Parish (Middlechurch), Red River, son of Susanna SHORT, the second wife of Samuel COOK (1798-1864). ** MORE ABOUT SAMUEL COOK
In 1864 Roderick's father, Samuel COOK died in St Paul.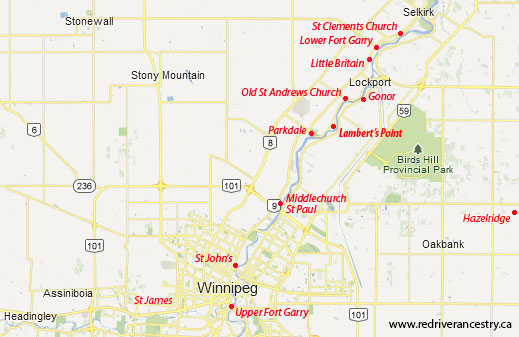 Canadian Confederation
An Affair with Mary Ann LILLIE
Union with Eliza McLENNAN
The Riel Rebellion
Manitoba becomes a Province
1867-1870
On July 1, 1867 the British colonies in North America were united under the British North American Act to become the Dominion of Canada. Between 1869 and 1870, The Red River Rebellion occurred; led by Louis RIEL (1844-1885).
Roderick & Mary Ann LILLIE - 1867
Around December of 1867 Rod had an illicit affair with Mary Ann LILLIE, daughter of Mary Ann RICHARDS and Daniel LILLIE (1780-1858) from England.** MORE ABOUT DANIEL LILLIE
Their child, Bella, was born Aug 5, 1868 and was adopted by Mrs. John LAMBERT (Hannah Asham PRINCE), wife of John LAMBERT (1827-1902). ** MORE ABOUT JOHN LAMBERT
Roderick & Eliza McLENNAN - 1869
Around 1869 Rod began a life-long union with Eliza McLENNAN, daughter of Mary HUMPHREYVILLE and Joseph Archibald McLENNAN (1814-1865).They lived in St Paul Parish, where their first child, Richard Duncan, was born on Jun 28, 1870. ** MORE ABOUT JOSEPH ARCHIBALD McLENNAN
On July 15,1870 Manitoba became the fifth province of Canada, the Canadian Government having acquired the territory previously governed by the HBC.
In 1870 Roderick's family was recorded on Lot 91 in St Paul Parish; one child: Richard (age 2).
On Jan 29, 1876, Scrip was claimed by both Roderick & his wife Eliza. They were still living in St Paul.
In 1879 daughter Catherine was born in St Paul Parish.
Prince Albert, Saskatchewan
1880
Around 1880 the COOK family moved to Prince Albert, Saskatchewan. Son Roderick Jr.was born there in 1881.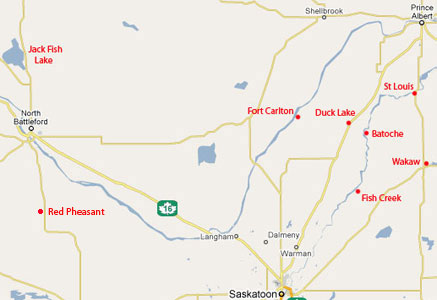 The North-West Rebellion
1885
1885 was the year of the North-West Rebellion, a brief and unsuccessful uprising by the Metis people of the Saskatchewan District under Louis RIEL (1844-1885) against the Government of Canada.
** MORE ABOUT the NORTH-WEST REBELLION in WIKIPEDIA

On March 20, 1885 Joseph ("Gentleman Joe") McKAY (1856-1938), a North-West Mounted Police Scout, was sent to Prince Albert to enlist volunteers (the Prince Albert Volunteers) to serve as Canadian Government militia during the Rebellion. They saw their only action fighting alongside the police against forces led by Gabriel DUMONT (1837-1906) at the Battle of Duck Lake, where the heaviest casualties of combatants involved in the Rebellion occurred on March 26. For the remainder of the rebellion the volunteers stayed penned up in the stockade at Prince Albert, fearing another attack by DUMONT which never came. They were relieved by General Frederick MIDDLETON (1825-1898) and his Northwest Field Force after the Battle of Batoche.
The 1891 Census at Prince Albert: Roderick COOK, age 47; wife Eliza, age 40. Children: Richard (age 21), Jane (12) Roderick (10), Robert (8), Emma (4) and Florence (age 2). Their last child, Thomas was born that same year.
In 1894 eldest son Richard married Louisa Maria ADAMS in St Paul (MB), daughter of Christina FRANKS and Joseph ADAMS (1842-1897). ** MORE ABOUT JOSEPH ADAMS

In 1901 daughter Catherine married John Henry BARTLETT in Prince Albert, son of Hannah TURNER and William Henry BARTLETT (born 1848 in England).
On Feb 3, 1904 Roderick COOK died in Prince Albert, and in the Census of 1906 Widow Eliza COOK (age 52) was recorded there with four of her children: Roderick (age 24), Emma (19), Florence (16) and Thomas (age 14).


Census of 1906 in the City of Prince Albert: Widow Eliza COOK, age 52. Children: Roderick D (age 24), Emma A (19), Florence L (16) and Thomas E (age 14).
In 1908 son Roderick Jr. married Elizabeth FIDLER in Prince Albert, daughter of Isabella HARCUS and Alexander FIDLER (b-1856).
Around 1912 youngest daughter Florence married William Arthur HODGSON, in Prince Albert, son of Elizabeth Jane INKSTER and Albert HODGSON (1862-1943).
Comments and queries at this link: FORUM DISCUSSING the RODERICK COOK FAMILY
=========================== Family Details ===========================
Illegitimate Child with Mary Ann LILLIE:
1. Aug 5, 1868 BELLA (COOK) LAMBERT
Children by Eliza McLENNAN:
1. June 28, 1870 RICHARD DUNCAN COOK (m. Louisa Maria ADAMS)
2. Jun 20, 1879 CATHERINE JANE COOK (m. John Henry BARTLETT)
5. May 17, 1881 RODERICK COOK (m. Elizabeth FIDLER)
6. Mar 23, 1883 ROBERT COOK
7. Jul 18, 1887 EMMA AGNES (EMILY) COOK
8. Aug 18, 1889 FLORENCE LEE COOK (m. William "Arthur HODGSON)
9. Jan 13, 1891 THOMAS COOK