DANIEL LILLIE (1780-1858)
MARY ANN RICHARD ( (1812-1847)
(Last Updated: August 13, 2015)
Inspiration for this Page came from Daniel's great-great grandson, David LILLY, who made a donation and is cooperating to trace his lineage.
Daniel LILLIE was born around 1780 in the Parish of Ipswich in Suffolk, London, England.
Surname variations: LILLIE, LILLY, LILLEY
Moose Factory
1820
In 1820 Daniel began his career with the Hudson's Bay Company (HBC) as a Sailor. That year he arrived in Hudson Bay aboard the ship Prince of Wales, and thence to Moose Factory at the south end of James Bay.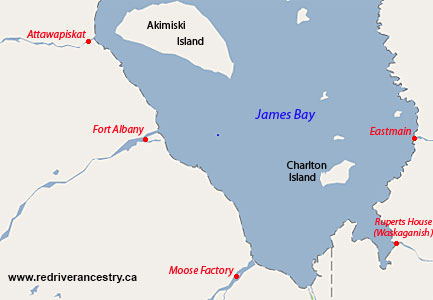 Union of the Hudson's Bay Company and the North West Company
1821
In 1821 union of the North West Company (NWC) and the Hudson's Bay Company (HBC) occurred, ending years of bitter rivalry for dominance of the fur trade in Western Canada. At the time of the union, (Sir) George SIMPSON (1786-1860) became the Governor of Rupert's Land.
Expeditions to Ungava Bay
Marriage to Mary Ann RICHARD
1828-1831
In 1828-29 Daniel, as a Mechanic, was with William HENDRY on his first Northeastern Expedition up the eastern coast of Hudson Bay and overland to Ungava Bay. In 1830-31 Daniel made a second trip to Ungava, this time with Nicol FINLAYSON (1794-1877) when he established a trading post there. Daniel was listed among the servants on the Sloop Beaver.
** MORE ABOUT the NICOL FINLAYSON EXPEDITION
It was during this period that Daniel married Mary Ann RICHARD who, according to Sprague & Frye ID-2959, was a half-breed born about 1812. ** The origins of Mary Ann RICHARD are uncertain at this time – any help would be appreciated.
Daniel's first child, William, was born on May 1, 1830 in St Peters (Red River) according to his Scrip affidavit filed in 1875. This indicates that Dan's wife Mary Ann must have been there while Daniel was on his Ungava trip. ** It might also suggest that she had relatives there.
Island Lake District
1831-1834
In the summer of 1831 Daniel was engaged at Island Lake as a carpenter and labourer. Around 1833 daughter Elizabeth was born.
Retired to Red River
St Paul Parish (Middlechurch)
1834
In 1834 Daniel was retired to Red River where they settled on Lot 14 in St Paul Parish (Middlechurch). They were recorded there in the census of 1835.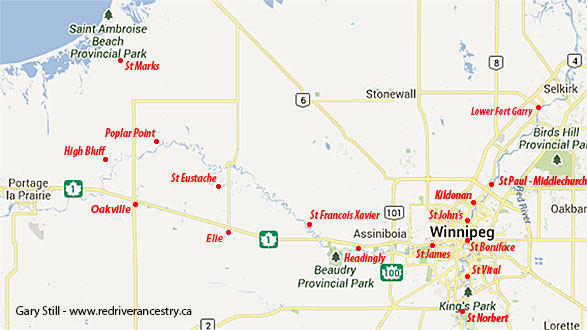 On Sep 21, 1834 both William and Betsy were baptized. On Aug 2, 1835 daughter Nancy was baptized. On Oct 21, 1837 daughter Frances was baptized.
On Jan 9, 1840 daughter Jane was baptized.
On Dec 17, 1840 Daniel and Mary Ann RICHARD were church-wed.

On Nov 13, 1842 son James was baptized.

On July 2, 1844 Dan's wife Mary Ann was baptized.
On Jan 13, 1847 twins, Mary Ann & John George were born and a few days later Mary Ann (nee RICHARD) LILLIE died. She was buried on Jan 18.
By about 1848 eldest daughter Elizabeth was married to John SWAIN, the son of Josephte DESCOTEAUX & James SWAIN (1808-1848).
In 1852 daughter Frances married William ROBERTSON in Winnipeg, son of Nancy Ann NEHEKIAWENEQUIN and George ROBERTSON (1771-1855), an HBC voyageur from the Orkneys of Scotland.
By 1855 daughter Nancy was married to George HARCUS in St Andrews, son of Margaret RICHARDS and David HARCUS (1798-1845) from the Orkneys of Scotland.
In 1858 Daniel LILLIE died and was buried in Baie St Paul (MB).
Around 1862 eldest son William married Eliza GAGNON in St Francois Xavier (MB), daughter of Josephte MEUNIER and Louis GAGNON (b-1813).
In 1863 son James married Marie Catherine PERRAULT dit MORIN in St Francois Xavier, daughter of Marguerite MALATERRE and Louis PERREAULT dit MORIN b-1819. ** These are the great grandparents of David LILLY
In 1864 daughter Mary Ann conceived a child (out of wedlock) with Donald CUMMINGS, son of Clementina HARPER and Robert CUMMINGS (1795-1863). Their child, Jane Ann CUMMINGS, was born Jan 24, 1865 in St Paul.

In 1868 daughter Mary Ann gave birth to another child (Bella) out of wedlock. The father was Roderick COOK, son of Susanna SHORT and Samuel COOK (1798-1864). ** MORE ABOUT RODERICK COOK
In 1869 daughter Jane married Moise McLEOD in St Francois Xavier, son of Angelique AZURE dit LACERTE and Joseph McLEOD (1810-1860).
In 1870 daughter Mary Ann married Peter LOUIS in St Andrews, the son of Isabella SPENCE and James LOUIS (b-1807), a mullato. ** MORE ABOUT JAMES LOUIS
In 1871 youngest son John George married Sarah FAVEL in St Andrews, daughter of Sophia COCHRANE and Humphrey FAVEL (1821-1888). ** MORE ABOUT HUMPHREY FAVEL
In 1882 daughter Nancy (widowed) remarried to John IRVINE (1820-1904).
Comments and queries at this link: FORUM for DISCUSSING the FAMILY of DANIEL LILLIE
=========================== Family Details ===========================
Children:
1. May 1, 1830 WILLIAM LILLIE (m. Eliza GAGNON)
2. 1833 ELIZABETH (BETSY) LILLIE (m1. John SWAIN, m2. Peter McLAUGHLIN)
3. Jun 22, 1835 NANCY ANN LILLIE (m1. George HARCUS, m2. John IRVINE)
4. 1837 FRANCES LILLIE (m. William ROBERTSON)
5. 1841 JAMES LILLIE (m. Marie Catherine PERRAULT dit MORIN)
6. Nov 15, 1845 JANE LILLIE (m. Moise McLEOD)
7. Jan 13, 1847 MARY ANN (twin) LILLIE(S) (m1. Donald CUMMINGS, m2. Roderick COOK, m3. Peter LOUIS/LEWIS)
8. Jan 13, 1847 JOHN GEORGE (twin) LILLIE (m. Sarah FAVEL)