HUMPHREY FAVEL (1821-1888)
JANE UNKNOWN (1816-)
SOPHIA COCHRANE (1825-1894)
(Last Updated: February 22, 2015)
Humphrey FAVEL was born in 1820 at Fort Ellice, son of a Cree woman named Sarah TROUT and Thomas FAVEL (1781-1848), a half-breed steersman-voyageur with the Hudson's Bay Company (HBC). On Jan 29, 1821, Humphrey, his parents and four siblings (John, Tom, Richard and Sally were all baptised at St John's (Winnipeg).
Around 1821-22, not long after the union of the HBC and the NWC (North West Company), Humphrey's father was retired and the family moved to St Andrews Parish, settling just south of Lambert's Point along the Red River (see map below).
According to Sprague & Frye, Humphrey married a woman named Jane before he married Sophia, however there does not appear to have been any children from that union.
** A note of Caution: There is a lot of dubious,erratic, uncorroborated and misleading information in Family Trees on Ancestry.com about this family; much of it appears to be copied from each the other. I have omitted many details found there that just simply don't make sense, and I welcome further debate and discussions about them on the Forum. I prefer to stick to the facts as much as possible; or to plausible circumstantial evidence supported by explanations.
Humphrey marries Sophia COCHRANE
1843
On Dec 14, 1843 Humphrey married in St Andrews Church (Red River) to. Sophia COCHRANE, daughter of Harriet NEETCHEESIS (Indian) & Thomas COCHRANE (b-1790). ** Sophie's parentage is from uncorroborated sources.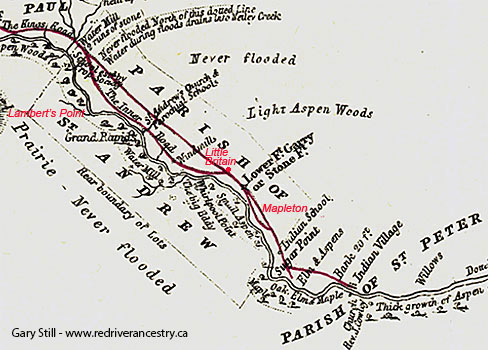 Part of Henry Hind's Map based on his observations of 1857
Canadian Confederation
Manitoba becomes a Province
1867-1870
On July 1, 1867 the British colonies in North America were united under the British North American Act to become the Dominion of Canada. Sir John A. MACDONALD was appointed as Canada's first Prime Minister; a month later he won the first federal election. On July 15,1870 Manitoba officially became the fifth province of Canada, the Canadian Government having acquired the territory previously governed by the HBC. RIEL and his Provisional Government accepted the terms that were established and prepared to relinquish their powers.
Riverlot Occupancy 1870 St Andrews Parish:  One Humphrey FAVEL lived on Lot 29, north of St Paul Parish, about half way to the old St Andrews Church (south of Lambert's Point). 1870 (Sprague & Frye): Family on Lot 29 in St Andrews Parish. Children: Sarah (age 19), William (17), Ann (14), Harriet (12), Humphrey (9) and Mary (age 8).
Humphrey, like his father, worked for the HBC, usually on the York boats when they made their summer trips to Norway House or Grand Rapids. 
In later years Humphrey operated a Stopping Place on the old Gimli Trail.  Travellers going to Gimli or Riverton used to stop overnight. This place was in the vicinity of Robinson Spur Church (See map below).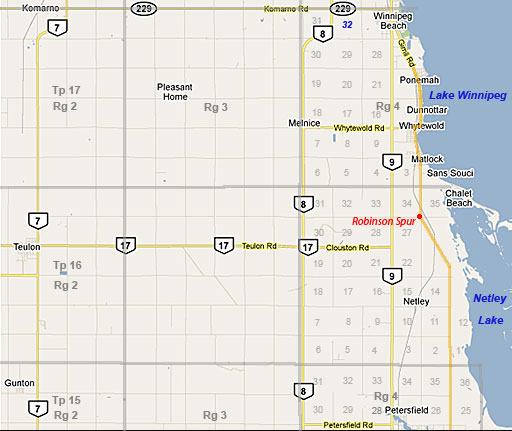 Fenian Invasion
1871
Roll of Honour; Members of All Saints Church, Whytewold, MB, who volunteered for active service with Canada's Fighting Forces: Fenian Raids: Listed are John George LILLIE & Humphrey FAVEL. In October of 1871 Manitoba had a minor brush with the Fenians, an invasion led by William Bernard O'DONOGHUE (1843-1878). Major IRVINE mustered 200 of his active militia, and joined by volunteers numbering nearly 300. This raid had been anticipated, and reinforcements were sent to the garrison at Lower Fort Garry. IRVINE set out in December (with them went 200 Métis, including RIEL and Ambroise LEPINE). As fate would have it, however, the expedition was not needed; American troops had crossed from Pembina on the 5th, rounded up the Fenians, and escorted them home.
In 1871 daughter Sarah married John LILLIE, son of Mary Ann RICHARDS & Daniel LILLIE (1780-1858).
The marriage(s) of daughter Annie at this date are a subject of some debate and confusion. I look forward to further clarification from anyone on the Forum with regards to her potential spouses being an Unknown O'BRIAN, James BROWN and/or William SINCLAIR.
In 1875 Sophia (of St Andrews Parish) made a Scrip Claim as the wife of Humphrey FAVEL, Boatman (Voyageur) in which she included their children, Harriet Jane, Humphrey Jr. and Mary.
In 1876 daughter Harriet Jane married Peter SINCLAIR, son of Maria LAMBERT & George SINCLAIR (1831-1890).
Census of 1881 in St Andrews Parish: Humphrey FAVEL (age 62), wife Sophie (age 60) and children: Elizabeth (age 23); Humphrey Jr. (19) and William (age 3). William was their last child.
The North West Rebellion
1885
The historic North West Rebellion had its beginnings in 1884, when Gabriel DUMONT (1837-1906) and a group of Métis from the Batoche area of Saskatchewan travelled to Montana to ask Louis RIEL (1844-1885) to lead them in their dispute with the Canadian Government. General Frederick Dobson MIDDLETON (1825-1898) became the commander of the Canadian militia. The Battle at Batoche took place in 1885.It is known that son Humphrey FAVEL JR was among the men recruited by MIDDLETON at Winnipeg in the spring of 1885.
In 1887 son Humphrey Jr. married Flora Jane SINCLAIR, said to be the daughter of Elizabeth & Donald SINCLAIR.
On Jul 24, 1888 Sophia FAVEL died in St Andrews Parish at the age 65 (from Vital Stats).
The Census of 1891 recorded Humphrey FAVEL as a 70 year-old widower; son Humphrey Jr. (age 30); daughter-in-law Flora (nee SINCLAIR); and granddaughter Catherine (age 2).
Western Land Grants: Dated Oct 10, 1893: Humphrey FAVEL the Elder granted NW-35-16-4-Epm. George LILLIE (married to his daughter) on NW-35-16-4-Epm.
In 1894 Humphrey FAVEL died in St Andrews Parish at the age of 76 (according to Vital Stats).
Please post comment & queries at this link: FORUM DISCUSSING HUMPHREY FAVEL SR
======================== Family Details ========================
Children by Sophia COCHRANE:
1. Feb 13, 1852 SARAH FAVEL (m. John George LILLIE)
2. Dec 25, 1856 ANN ELIZABETH FAVEL (?m1. Unknown O'BRIAN; ?m2. James BROWN; m3. William SINCLAIR)
3. Aug 9, 1859 HARRIET JANE HARRIET FAVEL (m. Peter SINCLAIR)
4. Oct 30, 1861 HUMPHREY FAVEL JR (m. Flora Jane SINCLAIR)
** MORE ABOUT HUMPHREY FAVEL JR
5. Feb 16, 1863 MARY FAVEL
6. c1878 WILLIAM FAVEL