HUMPHREY FAVEL (1861-1945)
FLORA JANE SINCLAIR (1870-)
(Last Updated: December 12, 2012)
Humphrey FAVEL was born Oct 30, 1861, probably at the mouth of the Red River (Chalet Beach), son of Sophia COCHRANE & Humphrey FAVEL SR (1821-1888). ** MORE ABOUT HUMPHREY FAVEL SR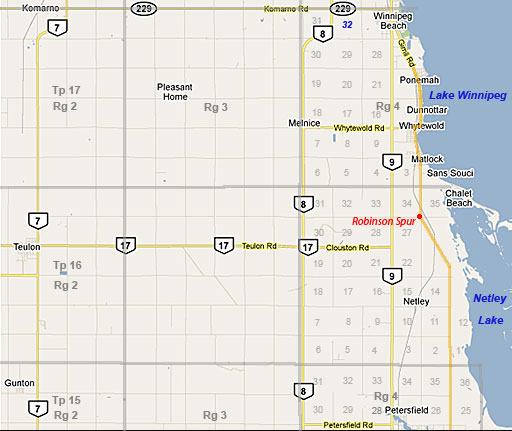 In the census records for 1870 and 1881 Humphrey (age 9, 19) was recorded with his parents in the Matlock area. In 1875 his mother (Sophie) claimed Half-breed Scrip for him.
Further information about Humphrey can be found in the book 'Beyond the Gates of Lower Fort Garry' published by the RM of St Andrews.
The North West Rebellion
1885
The historic North West Rebellion had its beginnings in 1884, when Gabriel DUMONT (1837-1906) and a group of Métis from the Batoche area of Saskatchewan travelled to Montana to ask Louis RIEL (1844-1885) to lead them in their dispute with the Canadian Government.
As the first shots of the uprising were being fired, the commander of the Canadian militia, British General Frederick Dobson MIDDLETON (1825-1898) was on his way to the West to take command of the North-West Field Force, which was hurriedly being assembled in Manitoba and in eastern Canada. Military District 10, which was headquartered in Winnipeg, had responsibility for all military activity in Manitoba and the North-West Territories. The first of its units to be mobilized for the field force was the 90th Rifles of Winnipeg.
It is known that Humphrey FAVEL was among the men recruited by MIDDLETON at Winnipeg in the spring of 1885.
On April 24, MIDDLETON and his troops experienced their first taste of Battle at Fish Creek, where the Canadian militia suffered a severe defeat at the hands of Gabriel DUMONT and his sharpshooters. From there MIDDLETON continued his advance to the Métis headquarters at Batoche. More about the Rebellion from the perspective of James BREMNER (1833-1910) can be seen at this link: ** MORE ABOUT THE NORTHWEST REBELLION
On May 15, 1885 Louis RIEL surrendered after the historic Battle of Batoche.
After the Rebellion, Humphrey FAVEL returned to resume his life with his parents in the Matlock area.
Humphrey marries Flora Jane SINCLAIR
1887
On Feb 15, 1887 Humphrey married Flora Jane SINCLAIR said to have Cree origins, born around 1870 at Fairford, Manitoba, daughter of Elizabeth & Donald SINCLAIR who came from Scotland to work for HBC. I have so far been unable to verify this information with documented evidence. The online version of the HBC Archives does not list any employees named Donald SINCLAIR.
In 1888 Humphrey's mother (Sophie) died.
Flora and Humphrey farmed after they were married at Cloverdale and Muckles Creek, moved to Moore's Creek, near Stony Point on the west side of Lake Winnipeg. They had horses, cattle, pigs and chickens. He also fished for his own use. They stayed there until they were flooded out by the high water from Lake Winnipeg. They were rescued by homesteaders of the area who helped move them and their livestock to the mainland. Then they moved to a homestead on the SW Quarter of the section now known as Matlock Road & Hwy #9. They raised 3 sons and 6 daughters - sold and delivered dairy products - made their living off the land. 
Census 1891: HH-30: Humphrey FAVEL, age 70, widowed. With him is his son, Humphrey Jr., age 30; daughter-in-law, Flora (nee SINCLAIR), age 20 and granddaughter Catherine, age 2.
In 1894 Humphrey's father (Humphrey St.) died.
LandGrants: Dated Mar 29, 1895: Humphrey FAVEL the Younger, NE-36-16-4-EPM (Chalet Beach Rd)
LandGrants:  Undated, Humphrey FAVEL, SW-10-17-4-EPM (right at Matlock)
In the Census records for 1901, 1906, 1911 and 1916, Humphrey and his family were enumerated in the Matlock area.
World War I
1914-1919
On Aug 4, 1914 Great Britain (Canada on Aug 5) declared war on Germany and Austria-Hungary to uphold treaties with France and Belgium which were under German attack. This marked the beginning of World War I.
In 1914 daughter Mary Bella married John Thomas LILLIE, son of Sarah FAVEL & John George LILLIE (1847-1924). ** Looks like they were first cousins.
In December of 1915 son John Thomas FAVEL enlisted for War Service.

In 1916 son-in-law John Thomas LILLIE enlisted for War Service.
In 1916 daughter Annie Elizabeth married Henry Gordon PARK, son of Catherine FIDLER and John James PARK (b-1854).
In 1916 son-in-law Harry PARK enlisted for War Service.
In 1918 daughter Esther married Edward WOOD in Winnipeg.
In the fall of 1918, son-in-law Harry PARK died in the Battle of the Somme in France. He was buried there.
November 11, 1919, Armistice Day (Remembrance Day) marked the end of the First World War.
===================== End of World War I =====================
On May 26, 1920 son John "Jack" married his sister-in-law (and cousin) Ethel LILLIE in Winnipeg.
On Jun 4, 1927 Widow Annie (nee FAVEL) PARK remarried to Stanley FAVEL.
In 1939 daughter-in-law Ethel (nee LILLIE) died.
On July 21, 1945 Humphrey FAVEL died in Selkirk; he was buried in the Robinson Spur Cemetery. 
Please post comments & queries at this link: FORUM DISCUSSING this HUMPHREY FAVEL FAMILY
============================= Family Details =============================
Children:
1. Jun 24, 1889 CATHERINE A FAVEL
2. Sep 4, 1891 MARY BELLA (ISABELLA) FAVEL (m. John Thomas LILLIE)
3.  Apr 13, 1893 JOHN "JACK" THOMAS FAVEL (m1. Ethel Harriet LILLIE; m2. Mabel MOORE)
4. May 19, 1896 ANN ELIZABETH "ANNIE" FAVEL (m1. Harry PARK; m2. Stanley FAVEL)
5. Aug 31, 1898 ESTHER FAVEL (m. Edward WOOD)
6. Dec 25, 1900 HUBERT HUMPHREY FAVEL
7. 1903 ETHEL H FAVEL
8. Sep 20, 1906 SARAH JULIA FAVEL (Died in infancy, age 2)
9. 1908 BEATRICE FAVEL
10. 1910 GURNEY H FAVEL