JAMES LILLIE (1841-1919)
MARIE CATHERINE PERRAULT dit MORIN (1848-1923)
(Last Updated: August 07, 2017)
Inspiration for this Page came from James' great grandson, David LILLY, who made a donation and is cooperating to trace his lineage.
James LILLIE was born about 1841 in Baie St Paul (Red River), the son of Mary Ann RICHARD and Daniel LILLIE (1780-1858), a retired HBC employee who was born in England. ** MORE ABOUT DANIEL LILLIE
According to the HBC Archives, James was baptized on Nov 13, 1842.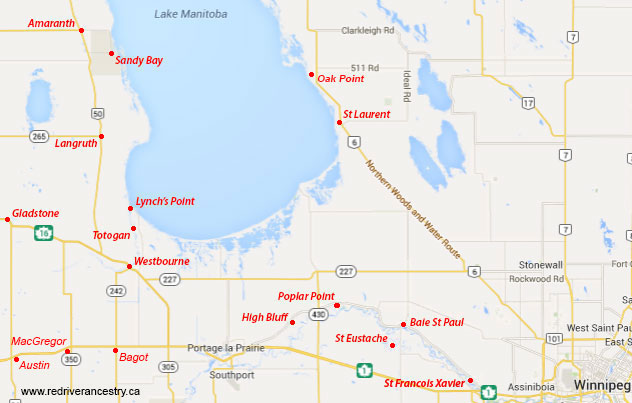 In 1847 James was only about six years old when his mother (Mary Ann) died.
In 1858 James' father, Daniel LILLIE, died in Baie St Paul. David would have been about 17 years old then.
Marriage to Marie Catherine PERREAULT dit MORIN
1863
In 1863 James married Marie Catherine PERRAULT dit MORIN in St Francois Xavier, the daughter of Marguerite MALATERRE and Louis PERREAULT dit MORIN (b-1819).
In 1875 both James and Marie of Baie Ste Paul claimed their Half-breed Scrip.
Canadian Confederation
A Red River Rebellion
Manitoba becomes a Province
1867-1870
On July 1, 1867 the British colonies in North America were united under the British North American Act to become the Dominion of Canada.  Sir John A MACDONALD (1815-1891) was appointed as Canada's first Prime Minister. William McDOUGALL (1822-1905) became the Minister of Public Works, and he began negotiations to acquire Rupert's Land from the HBC; surveyors were sent to Red River to prepare the way for an expected influx of settlers.
On Oct 11, 1869, Louis RIEL (1844-1885) placed his foot on the surveyors' chain to tell them their work was finished! This marked the beginning of the historic Red River Métis Rebellion.
On July 15, 1870 the Rebellion ended when RIEL's Provisional Government accepted the terms of the Manitoba Act and Manitoba became the fifth province of Canada.
Census of 1870 in St Francois Xavier: James LILLIE, age 26; wife Marie, age 22. Children: Daniel (age 6), Zacharie (4) and James (age 2).
In the 1881 Census records for St Francois Xavier I cannot find James LILLIE. However we do find son Zacharie LILLIE (age 14) in the household of Marguerite and Andre LAPIERRE (age 70; b-1811).
In 1883 eldest son Daniel married Marie Esther McLEODin St Francois Xavier, daughter of Isabelle DELORME & Joseph McLEOD (b-1829-)

In 1887 son Zacharie married Margaret SIMPSON, daughter of Amelia Amy FIDLER & John McKENZIE SIMPSON (1829-1900).
RM of Lorne – Carman, Manitoba
Census of 1891 in the RM of Lorne: James LILLEY, age 40, wife Mary, age 40. Children: James (age 21), John (16), Alexander (12) Michael (10), Louis (9), George (8) and Mary (age 6).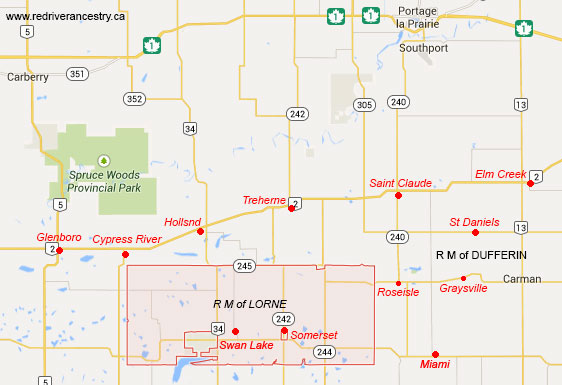 In 1892 son James Robert married Anna STEVENSON in Somerset (MB), daughter of Adelaide SAYIS aka SAYER and Philip STEVENSON (b-1836).

In 1899 son Michael married Margaret PRUDEN in St Daniels (RM of Dufferin), the daughter of Marie SMITH and Charles PRUDEN (b-1854).
In 1900 son Alexander married Louise McIVOR in RM of Dufferin (Carman area), daughter of Jane GRANT and Norman McIVOR (1853-1909).

Also in 1900 son William John married in Dufferin to Marguerite DUCHARME of uncertain origins.
Census of 1901 in the Dufferin District (Twp 7-5-Wpm): William LILLIE (age 25), his wife Maggie (age 24), and their children: Dolphis (age 3) and baby James (age 3 months). With them are his parents and siblings: His father: James LILLIE (age 55), his mother Mary (age 53) and his siblings: George (age 18) and Mary (age 16). ** Notes: This Township is located near Carman (MB). In this record James' birth date is indicated as Oct 16, 1846) which conflicts with him being baptized in 1841. Nest-door is Michel LILLIE (age 23), his wife Maggie (age 18) and their son Hendry (age 7).
In 1901 daughter Marie Jeanne married at St Daniels (RM of Dufferin) to Baptiste DUCHARME of uncertain origins.
Final Years at Sandy Lake
By 1911 James and most of his children had moved up to the Sandy Lake area (Township18 in Range 20, Wpm). See map below.
Census of 1911 in Twp 18-20-Wpm: James LILY, age 75; wife Mary, age 65. Nearby is son Louis (age 27), and next to him is James LILY JR and his family.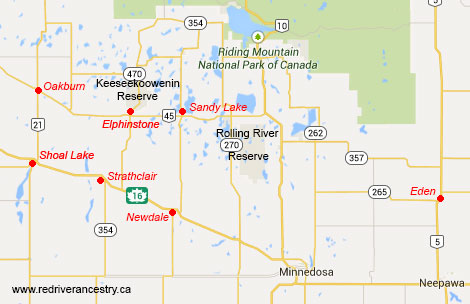 The following is a quote from a plaque situated on the Pioneer Cemetery near Sandy Lake:
In 1913 the Parish approached Daniel LILLEY (homesteader in the quarter) with the intent to purchase the land on the cemetery site. No record of this transaction appears in the land titles office. The Parish developed a new cemetery in 1917 on NW 16-18-20 but families continued to use this burial ground until 1943.
On Mar 14, 1919 James LILLEY died at Sandy Lake. He was buried in the Pioneer Cemetery there.
Around 1922 son Louis married Mary Louise HENEAULT dit CANADA, daughter of Elenore RITCHOT and Pierre HENEAULT dit CANADA (b-1865).
Comments and queries at this link: FORUM DISCUSSING THE JAMES LILLIE FAMILY
=========================== Family Details ===========================
Children:
1. Jan 22, 1865 DANIEL NAPOLEON LILLIE (m. Mary Esther McLEOD)
2.  Dec 21, 1866 ZACHARIE LILLY/ LILLIE (m. Margaret Amy "Maggie" SIMPSON)
3. 1868 JAMES ROBERT LILLIE (m. Anne (Beatrice) STEVENSON)
** MORE ABOUT JAMES ROBERT LILLIE
4. Jul 6, 1876 WILLIAM JOHN LILLIE (m. Margaret "Maggie" DUCHARME)
5. Mar 23, 1879 ALEXANDER LILLIE (m. Louise McIVOR)
6. 1880 MICHAEL LILLIE (m. Margaret Elizabeth "Maggie" PRUDEN)
7. 1881 LOUIS LILLIE (m. Mary Louise HENEAULT dit CANADA)
10. Jan 2, 1883 GEORGE LILLIE
11. Mar 24, 1885 MARIE JEANNE LILLIE (m. Baptiste DUCHARME)