LOUIS LILLIE (1881-1963)
MARY LOUISE CANADA (1905-1983)
(Last Updated: February 25, 2015)
Inspiration for this Page came from Louis' grandson, David LILLY, who made a donation and is cooperating in this production.
Louis LILLIE was born about 1881 in St Francois Xavier (Red River), son of Marie MORIN and James LILLIE (1841-1919). Around 1890 the family moved to the RM of Dufferin (near Carman) in southern Manitoba.
** MORE ABOUT JAMES LILLIE      
By 1911 the LILLIE family had moved up to the Sandy Lake area (Township18 in Range 20, Wpm). In the census that year Louis (age 27) was recorded with his parents there. See map below.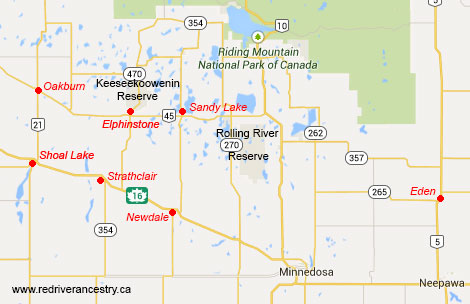 Marriage to Mary Louise HENEAULT dit CANADA
1922
Around 1922 Louis married Mary Louise HENEAULT dit CANADA, daughter of Elenore RITCHOT and Pierre HENEAULT dit CANADA (b-1865). **Note: The surname CANADA is often used synonymously with HENAULT or HENEAULT using a 'dit' (in French, "Dit" means "said", assumingly referring to a pronunciation of the name).
Turtle Mountain – Deloraine
David: The family later settled at Turtle Mountain and Deloraine.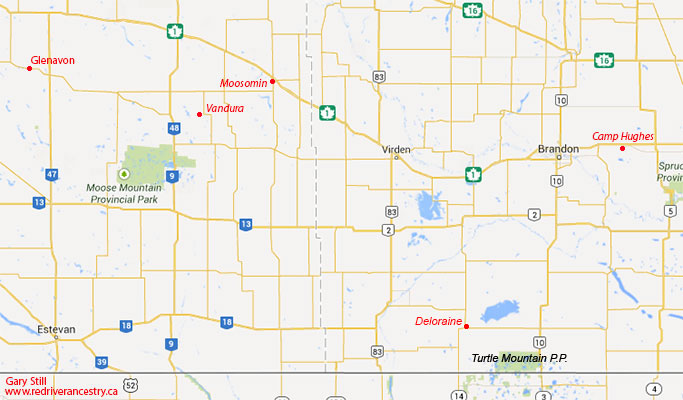 Alberta
1950's

David: Most of the LILLEY families migrated over to Alberta in the late 1950's including Louis and Mary LILLEY.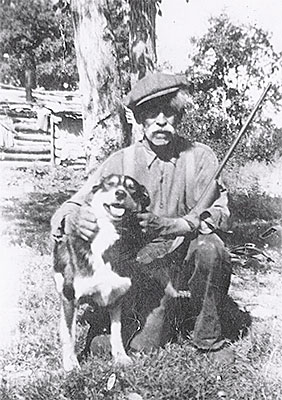 Louis Lilley (From David Lilley)
In 1963 Louis LILLIE died.
In 1982 Mary Louise (nee CANADA) LILLIE died.
Comments and queries at this link: FORUM DISCUSSING the LOUIS LILLIE FAMILY
========================== Family Details ==========================
Children:
1. BETTY RUBY LILLEY (m. Bud RICHARDSON)
2. DORA ELLEN (HELEN) LILLEY (m. Raymond RACINE)
3. BERNARD LOUIS (BENNY) LILLEY (m. Lorraine PICHE)
4. MARY ANNE LILLEY (m. Jim SHARPE)
5. DAVID LILLEY (m. SHORTEN)
6. JAMES (SONNY) LILLEY (m. Sandy SHORTEN)
7. ELLA GENE ALLIE LILLEY (m. Carl WALKER)
8. MAURICEWILLIAM LILLEY