JAMES ROBERT LILLIE (1868-1943)
ANNE BEATRICE STEVENSON (1870-1954)

(Last Updated: August 08, 2017)
James Robert LILLIE was born in 1868, son of Marie Catherine PERREAULT dit MORIN and James LILLIE SR (1841-1919). Other surname spelling variations encountered during research: LILLY, LILY, LILLEY.
Inspiration to create this Page came from great grandson Dwight MAGEE who made a donation and will be cooperating in developing his associated lineage.
In the 1870 census James (age 2) was recorded with his parents in St Francois Xavier, Manitoba.
In the census of 1891 James (age 21) was recorded with his parents on the RM of Lorne, MB (See map below).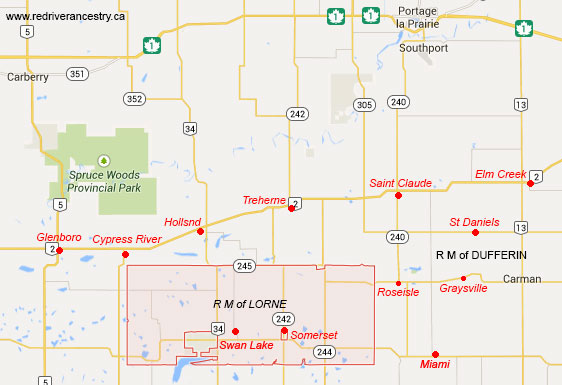 Marriage to Ann STEVENSON
1892
On Oct 26, 1892 James married Anna (Beatrice) STEVENSON in Somerset (RM of Lorne), daughter of Adelaide SAYER and Philip STEVENSON (b-1836).
Census of 1901 in the RM of Lorne: Cree family of James LILLY, age 32; wife Beatrice, age 30. Children: Annie (age 10), Margaret (7), Mary (5); Ada (4) and Charlie (age 3).
Sandy Lake, RM of Harrison
1911
By 1911 James had moved his family to the Sandy Lake area in the RM of Harrison (See map below).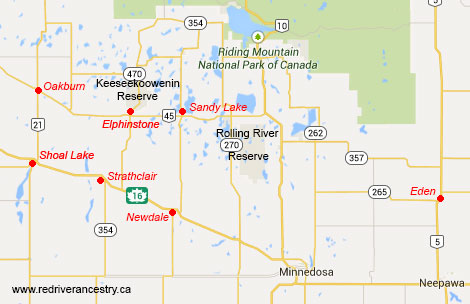 Census of 1911 in RM of Harrison (Sandy Lake): James LILY JR, age 35; wife Annie, age 30. Children: Beatrice (age 20), Daniel (18), Maggie (17), Mary (16), Addie (15), Josie (14), Jennie (13), May (11), Charlie (9), Albert (7) and Mat (age 5).
On Dec 27, 1913 there was a double wedding in Harrison. Daughter Beatrice married Charles HOLMSTROM, and daughter Mary Alice married Eric Emil HOLMSTROM, both sons of Emma Josefina OSTERGREN and Johannes HOLMSTROM (1859-1933) from Sweden.
Census of 1916 in RM of Harrison (Sandy Lake): James LILLY, age 48; wife Annie, age 46. Children: Maggie (age 23), Charlie (17), Albert (13), Josephine (12), Jane (10), Matt (8), May (6) and Gladys (age 4).

In 1916 daughter Margaret married Charles RAMSDEN at the Okanese Mission in Elphinstone (MB), the son of Jemima TAYLOR and James RAMSDEN (1851-1889).
Also in 1916 daughter Adelaide married Joseph Roger DUCHARME, son of Veronique FALCON and Toussaint DUCHARME (b-1860).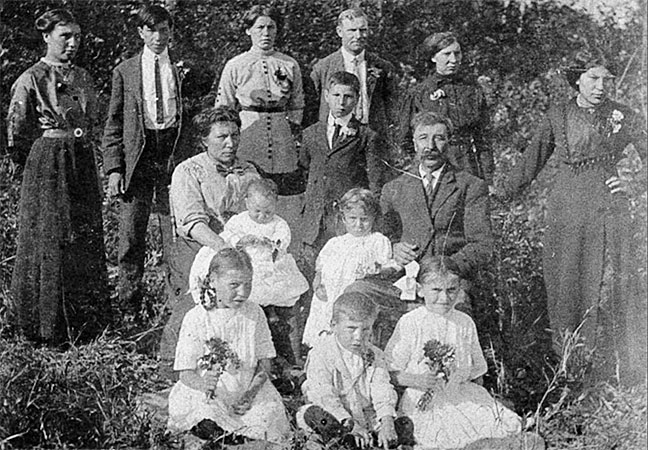 The Lillie Family (Shared by Sheldon Lowe)
Census of 1921 in RM of Harrison (Sandy Lake): James LILLEY, age 51; wife Annie, age 50. Children Albert (age 19), Josie (17), Jane (16), Matt (14), May (12) and Gladys Rose (age 9).
In 1929 son Matthew married Anne Marie SERLE in Harrison (MB), the daughter of Sarah Anne McINNES and Walter Daniel SERLE (1872-1928). ** These are the grandparents of Dwight McGEE.
In 1930 daughter May Sarah married Melvin Worthington CONWAY in Harrison, the son of Mary Adeline CAMPBELL and James CONWAY (b-1864).
In 1932 daughter Gladys married Henry CONWAY (her brother-in-law) in Harrison.
On Aug 6, 1943 James Robert LILLEY died in the RM of Harrison, age 73.
On May 19, 1954 Annie Beatrice (nee STEVENSON) LILLEY died in Deloraine, MB.
Comments and queries at this link: FORUM FOR DISCUSSING THE FAMILY OF JAMES ROBERT LILLIE
========================== Family Details ==========================
Children:
1. Jul, 1890 BEATRICE LILLIE (m. Charles HOLMSTROM)
2. Jul 18, 1891 MARGARET ANN LILLEY (m. Charles RAMSDEN)
3. Mar, 1892 DANIEL LILY                          
4. Jun, 1894 MARY ALICE LILLIE (m. Eric Emil HOLMSTROM)
5. Mar, 1895 ADELAIDE LILLIE (M. Joseph Roger DUCHARME)
6. Dec, 1899 MAY LILLIE
7. May, 1902 CHARLES "CHARLIE" LILLIE
8. 1904 JOSEPHINE LILLEY
9. Jun, 1904 ALBERT LILLIE
10. Mar, 1905 MATTHEW LILLEY (m. Anne Marie SERLE)
11. Jun 3, 1905 SARAH (JANE) LILLIE
12. Oct 5, 1909 MAY FLORENCE (SARAH) LILLEY (m. Melvin Worthington CONWAY)
13. Oct 14, 1912 GLADYS ROSE LILLIE (m. Henry CONWAY)