MATTHEW LILLEY (1908-1969)
ANNE MARIE SERLE (1910-1978)

(Last Updated: August 08, 2017)
Matthew LILLEY was born about 1908 in Sandy Lake (RM of Harrison), Manitoba, the son of Anne Beatrice STEVENSON and James Robert LILLIE (1868-1943). ** MORE ABOUT JAMES ROBERT LILLIE
These are the grandparents of Dwight MAGEE who made a donation and is cooperating in developing his lineage.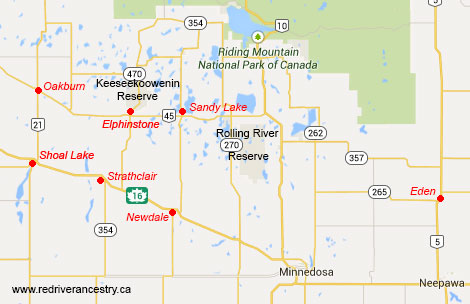 Census 1911, 1916, 1821: Matt (age 5, 8, 14) with parents in Sandy Lake (RM of Harrison), MB.
Marriage to Annie SERLE
1929
On Aug 13, 1929 Matthew married Annie SERLE in Harrison (MB), the daughter of Sarah Anne McINNES and Walter Daniel SERLE (1872-1928).
In 1942 son Garry was born in Elphinstone (shown on map above).
In 1949 their last/ youngest son Keith was born in Shoal Lake (MB).
In 1956 daughter Martha married Edwin MAGEE in Rivers, Manitoba, son of Rebecca and Samuel MAGEE from Northern Ireland. ** These are the parents of Dwight MAGEE.
In 1957 daughter Joyce married John MOHAN, the only son of Rev. and Mrs B P MOHAN of Sydney, NS.
In 1966 son Garry Matthew married Dorothy Yvonne HUDSON in Brandon, daughter of Mr. and Mrs. S.E. HUDSON.

Dwight: Garry LILLEY married Dorothy HUDSON (divorced), then married Lillian BLACK on Mar 28, 1977.

Dwight: Grant LILLEY (Feb 27, 1945 – Dec 21, 1016) married Faye ROEBACK (divorced), then married Shannon SMITH.
Daughter Patricia (living) married Roland WHITE of unknown origins who died 2014 in Brandon.
On Dec 31, 1969 Matthew LILLEY died accidentally west of Moose Jaw, age 61. His address: 327 Frederick St in Brandon
.
In 1971 son Keith married Maureen GOSNOLD in Brandon, the daughter of Jean PERDUE and Eddie Arthur GOSNOLD (1920-2012).
Widow Anne (nee SERLE) LILLEY remarried to Addie LIEBRECHT.
On Mar 12, 1978 Anne Marie (nee SERLE) – LILLEY – LIEBRECHT died in Brandon, age 67.
Comments and queries at this link: FORUM FOR DISCUSSING THE MATTHEW LILLEY FAMILY
========================== Family Details ==========================
Children:
1. GRACE LILLIE (Still born)
2. JEAN EVA LILLIE (Died in infancy)
3. Mar 22, 1935 JOYCE VIVIANNE LILLIE (m1. John MOHAN; m2. L CLEEVELY; m3. MUSTONEN;
m4. Clifford GRAHN)
4. May 28, 1937 MARTHA LAVERNE LILLEY (m1. Edwin MAGEE; m2. Nick JEREMIC)
5. PATRICIA DOREEN LILLEY (m. Roland WHITE)
6. Jul 6, 1942 GARRY MATTHEW LILLEY (m. Dorothy Yvonne HUDSON)
7. Feb 27, 1945 GRANT LILLEY (m1. Faye ROEBACK; m2. Susan/ Shannon SMITH)
8. Jul 5, 1949 KEITH GARSON LILLEY (m. Maureen GOSNOLD)