JOSEPH ARCHIBALD McLENNAN (1814-1865)
MARY POLLY (nee HUMPHREYVILLE) BALLENDINE (1817-1877)

(Last Updated: August 21, 2017)
Joseph (Archibald) McLENNAN was born around 1814 in Winnipeg; his origins uncertain at this time.
Marriage to Mary HUMPHREYVILLE
1843
Belmont: He (John BALLANDYNE) even accompanied the missionary party to Cumberland House, not only joining them "in the morning and evening worship", but also attending to his own individual prayers "when arising from & retiring to rest." Why did he go? Evidently EVANS told him he could not be baptised unless he gave up one of his wives. Consequently, he was probably taking Polly UMPHERVILLE to Cumberland House to arrange a marriage between her and Joseph McLELLAN (actually McLENNAN), whom she knew well because he had earlier worked at Moose Lake under BALLANDYNE.
Around 1843 Joseph married Mary Polly (nee HUMPHREYVILLE) BALLENDINE, the daughter of Hannah TURNER and Thomas HUMPHREYVILLE (b-1779). ** MORE ABOUT THOMAS HUMPHREYVILLE
Mary Polly had been the second wife of John BALLENDINE (1800-1879) of uncertain origins, with whom she had four children by 1839 (John BALLENDINE, Peter, George and Robert BALLENDINE).
** MORE ABOUT JOHN BALLENDINE
Around 1842-43 son Joseph McLENNAN was born in St Paul Parish (Middlechurch), Red River; In 1850 daughter Elizabeth was born at Cumberland House, and in 1857 daughter Emma was born in St Paul.
About 1863 step-son George BALLE NDINE married Jane BALLENDINE at The Pas, daughter of Margaret WIH-TIK-EWESHK and Henry BALLENDINE of uncertain origins.
In 1863 step-son Peter BALLENDINE married Caroline ROWLAND at Fort Carlton, daughter of Elizabeth BALLENDINE and William ROWLAND (1799-1873) from Scotland, an HBC voyageur and trader.
On June 29, 1865 Joseph Archibald McLENNAN died in St Paul Parish.
Canadian Confederation
The Riel Rebellion
Manitoba becomes a Province
1867-1870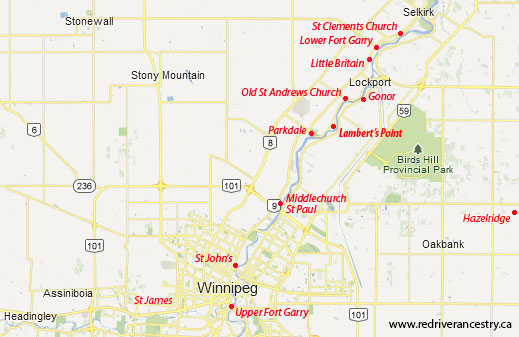 On July 1, 1867 the British colonies in North America were united under the British North American Act to become the Dominion of Canada. Between 1869 and 1870, The Red River Rebellion occurred; led by Louis RIEL (1844-1885).On July 15,1870 Manitoba became the fifth province of Canada, the Canadian Government having acquired the territory previously governed by the HBC.
In 1867 srep-son Robert BALLENDINE married Flora BUDD at The Pas, daughter of Betsy WORK and Reverend Henry BUDD (1814-1875). ** MORE ABOUT REVEREND HENRY BUDD in DCBO
In 1868 son Joseph McLENNAN Jr. married Barbara FLETT, the daughter of Euphemia HALCROW and Peter FLETT (1812-1905). ** MORE ABOUT PETER FLETT
Around 1869 daughter Eliza McLENNAN became the second wife of Roderick COOK, the son of Susannah SHORT and Samuel COOK (1798-1864).  ** MORE ABOUT SAMUEL COOK
Census of 1870 in St Paul Parish: Mary McLENNAN (age 50) and her daughter Emma, age 15.
In 1875, Mary (nee McLENNAN) HUMPHREYVILLE of St Paul (Middlechurch) claimed Scrip as the widow of Archibald (Joseph) McLENNAN.
Around 1876 daughter Emma married John George SUTHERLAND, son of Catherine CUNNINGHAM and John SUTHERLAND(1819-1902).
In 1877 Mary Polly (nee HUMPHREYVILLE) BALLENDINE - McLENNAN died in St Paul Parish.
Comments and queries at this link: FORUM FOR DISCUSSING THE FAMLY OF JOSEPH ARCHIBALD McLENNAN
=========================== Family Details ===========================
Children of Mary HUMPHREYVILLE and John BALLENDINE:
1. JOHN BALLENDINE
2. Dec 10, 1836 PETER BALLENDINE (m. Caroline ROWLAND)
** MORE ABOUT PETER BALLENDINE
3. 1838 GEORGE BALLENDINE (m. Jane BALLENDINE)
4. Dec 10, 1839 ROBERT BALLENDINE (m. Flora BUDD)
Children of Joseph McLENNAN and Mary HUMPHREYVILLEl:
1. Oct, 1843 JOSEPH McLENNAN (m1. Barbara FLETT, m2. Elizabeth (nee HEYWOOD) - BIRD)
2. Nov, 1850 ELIZABETH "ELIZA" McLENNAN (m. Roderick COOK)
** MORE ABOUT RODERICK COOK
3. May 11, 1857 EMMA McLENNAN (m1. John George SUTHERLAND, m2. Benjamin ISBISTER)