JOHN MUIR (1810-1875)
 ELIZABETH STEWART (aka JOHNSTONE) (1820-1873)
(Last Updated: September 09, 2015)
 John MUIR was born around 1810 in Scotland.
From 1833 to 1836 John contracted as a Labourer with the Hudson's Bay Company (HBC) in in the Red River District.
Marriage to Elizabeth STEWART (aka JOHNSTONE)
1841
On Sep 16, 1841 John married Elizabeth STEWART (aka JOHNSTONE) in St Andrews Parish. Elizabeth was also known as JOHNSTONE, her step-father's surname. She was born around 1820, probably in the Michipicoten District, daughter of Fanny THOMAS and HBC trader Andrew STEWART (1789-1822). Her father died in 1822 at Osnaburgh House in the Albany District and in 1827 her mother remarried to George JOHNSTONE (1797-1873).
** MORE ABOUT GEORGE JOHNSTONE
By 1860 Elizabeth & John had nine children: John Jr.(age 18) Margaret (17), Frances (15), James (13), Mary (9), Andrew (7), Frederick (5) Elizabeth (3) and baby Jane.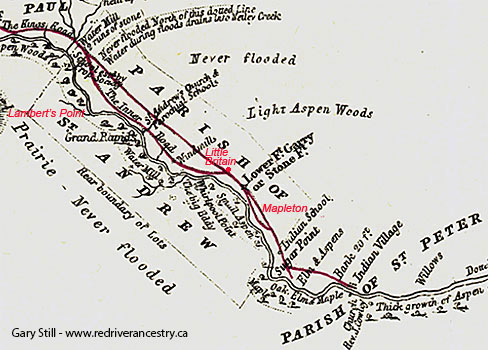 St Andrews Parish from Hind's Map of 1857
Around 1865 eldest daughter Margaret married Duncan McLEAN (1840-1918) an HBC Labourer from Scotland.
In 1866 eldest son John Jr. married Charlotte BIRSTON in Kildonan (MB), daughter of Mary KIRINESS and William BIRSTON (1808-1888).
Around 1867 daughter Frances married Murdoch McIVOR (1826-1913) from Scotland.
Canadian Confederation
A Red River Rebellion
Manitoba becomes a Province
1867-1870
On July 1, 1867 the British colonies in North America were united under the British North American Act to become the Dominion of Canada.  Sir John A MACDONALD (1815-1891) was appointed as Canada's first Prime Minister. William McDOUGALL (1822-1905) became the Minister of Public Works, and he began negotiations to acquire Rupert's Land from the HBC; surveyors were sent to Red River to prepare the way for an expected influx of settlers.
On Oct 11, 1869, Louis RIEL (1844-1885) placed his foot on the surveyors' chain to tell them their work was finished! This marked the beginning of the historic Red River Métis Rebellion.
On July 15, 1870 the Rebellion ended when RIEL's Provisional Government accepted the terms of the Manitoba Act and Manitoba became the fifth province of Canada.
Census of 1870 in St Andrews Parish (Lot 115): John MURE (MUIR), age 60; wife Elizabeth, age 50. Children: James (age 24), Mary (20), Andrew (18), Elizabeth (16), Frederick (15) and Jane (age 10). Lot 115 was located just south of Lower Fort Garry; where the River Road meets Hwy #9.)
Deaths of Elizabeth and John MUIR
1873-1874
Around 1873 daughter Mary married James MATHESON in Kildonan, son of Margaret GUNN and Angus MATHESON (1813-1893) from Scotland.
Around 1873 son James married Isabella Harriet SAUNDERS, daughter of Mary SMITH and Roderick SAUNDERS (b-1826). ** MORE ABOUT RODERICK SAUNDERS
On July 31, 1873 Elizabeth (nee STEWART) MUIR died, and on Apr 15, 1874 John MUIR died.They were both buried in the Little Britain Cemetery in St Andrews Parish.

In 1875 son James claimed Scrips for himself and for his siblings as heirs to their deceased parents (Elizabeth & John). The MUIR siblings were listed as John, Margaret (wife of Duncan McLEAN), Frances (wife of Murdoch McIVOR), James, Mary (wife of James MATHESON), Andrew, Frederick, Elizabeth; and Jane.
Comments and queries at this link: FORUM DISCUSSING JOHN MUIR AND HIS DESCENDANTS
========================= Family Details =========================
Children: 
1. Aug 4, 1842 JOHN MUIR (m. Charlotte BIRSTON)
2. Sep 24, 1843 MARGUERITE MUIR (m. Duncan McLEAN)
3. June 6, 1845 FRANCES MUIR (m. Murdoch McIVOR)
4. May 4, 1847 JAMES MUIR (m. Isabella Harriet SAUNDERS)
5. July 12, 1851 MARY MUIR (m. James MATHESON)
6. Oct 11, 1853 ANDREW MUIR (Died age 15)
7. Nov 11, 1855 FREDERICK MUIR (Died age 21)
8. Sep 29, 1857 ELIZABETH MUIR
9. Apr 11, 1860 JANE MUIR