ARCHIBALD DAVID JOHNSTONE (1829-1904)
MARGARET LAMBERT (1832-1900)
(Last Updated: January 02, 2014)
Archibald David JOHNSTONE was born Aug 12, 1829 at Moose Factory, the eldest son of half-breed Frances (nee THOMAS) STEWART and George JOHNSTONE (1797-1873), an HBC Sloopmaster from the Orkneys of Scotland. 
** MORE ABOUT GEORGE JOHNSTONE
In the summer of 1831, when Archie was only two years old, his father retired from the HBC and became a settler in St Andrews Parish (south of the old St Andrews Church).
Archie marries Margaret LAMBERT
1854
On Dec 1, 1854 Archie married Margaret LAMBERT b-1832, the daughter of Peggy FAVEL & Michel LAMBERT (1792-1875) who lived just to the south of the JOHNSTONE family at Lambert's Point.
On Nov 8, 1855 their first child, James was born.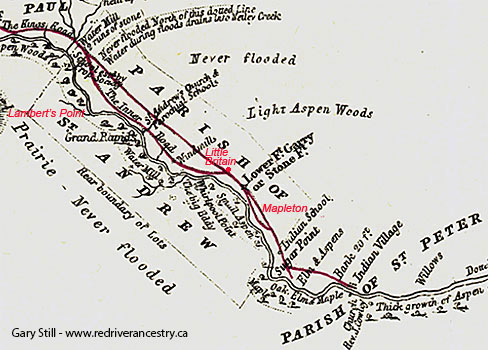 St Andrews Parish from Hind's Map of 1857
Canadian Confederation
A Red River Métis Rebellion
Manitoba becomes a Province
1867-1870
On July 1, 1867 the British colonies in North America were united under the British North American Act to become the Dominion of Canada. Sir John A MACDONALD (1815-1891) was appointed as Canada's first Prime Minister. William McDOUGALL (1822-1905) became the Minister of Public Works, and he began negotiations to acquire Rupert's Land from the HBC. Surveyors were sent out to prepare the way for an expected influx of settlers.
On Oct 11, 1869, Louis RIEL (1844-1885) placed his foot on the surveyors' chain to tell them their work was finished. This marked the beginning of a Red River Métis Rebellion.
Archie and his brothers (Charles, and William) JOHNSTONE are included in the list of men from St Andrews Parish who mustered to rescue those imprisoned in Upper Ft Garry by Louis RIEL during the winter of 1869-70.
In 1869 Archie's Mother (Fanny) died.
In the 1870 census Margaret and Archie were recorded in St Andrews Parish with six children: James (age 15), Francoise (12), Ann (8), Catherine (5), Alexander (3) and Sarah (age 1).
On July 10, 1873 Archie's father (George) died. He was buried next to his wife Fanny near the Old Stone Church of St Andrews.
In 1875 both Margaret & Archie applied for their Half-breed Scrip. By 1878 they had received a Land Grant for River Lot Lot 58, south of the old St Andrews Church and north of Lambert's Point.
A Home on Wavey Creek
Archie and his family later moved to Wavey Creek (NE of Clandeboye; NW-10-15-4-E1).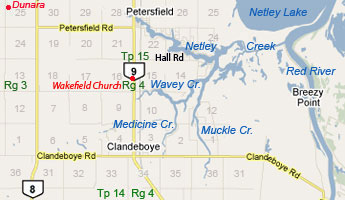 In 1882 eldest daughter Frances Elizabeth married Edward LINKLATER, daughter of Charlotte CORRIGAL and Hugh LINKLATER (1815-1891).
In 1885 eldest son James married his cousin, Charlotte LAMBERT, daughter of Josephte DUCHARME & James LAMBERT (1838-1891).
In 1890 daughter Sarah Jane married Alexander CUMMINGS, son of Sarah JOHNSON & Donald CUMMINGS (1842-1911).
In 1891 daughter Margaret married John Peter "Jake" PRUDEN at the St Clements Church in Mapleton, son of Sarah ROSS & John Peter PRUDEN (1829-1897).   
In 1892 daughter Catherine married Thomas "Long Tom" PRUDEN), only son of Annie ROWLAND, second wife of John Peter PRUDEN Jr. (1829-1897).
In 1894 son John married Margaret WILLIAMS, daughter of Eliza PARISIEN & Thomas WILLIAMS (1825-1888).
In 1896 daughter Maria married Norman McLEOD, son of Clementine HARPER & JOHN McLEOD (b-1835).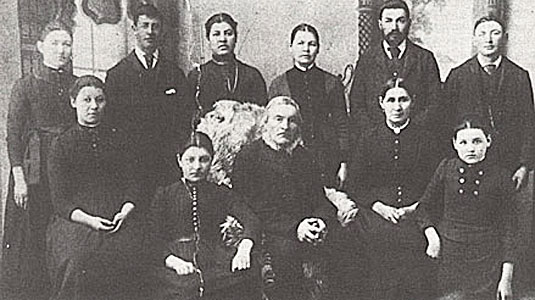 Archibald David Johnstone Family
Back: Catherine, Jim, Margaret, Frances, Jack and Alex
Front: Annabella, Sara Jane, Archibald Daniel, Margaret (Lambert) and Minnie
On Jan 21, 1900 Margaret JOHNSTONE died at Wavey Creek at the age of 67.
In 1901 daughter Annabella married Humphrey BRYAN and son Alexander married Frances Jane PALAN, daughter of Helen MURPHEY and William Henry PALAN (1851-1896).
On Jan 10, 1904 Archibald David JOHNSTONE died. He was buried with Margaret at the St Andrews Church Cemetery.
Please post comments and queries at this link: FORUM DISCUSSING the ARCHIE JOHNSTONE FAMILY
========================== Family Details ==========================
Children:
1. Nov 8, 1855 JAMES JOHNSTONE (m. Charlotte LAMBERT)
2. Sep 16, 1859 FRANCES ELIZABETH JOHNSTONE (m. Edward "Ned" LINKLATER)
3. Nov 10, 1862 MARGARET ANNE "MAGGIE" JOHNSTONE (m. John Peter "Jake" PRUDEN)
4. Jan 4, 1866 CATHERINE "KATE" JOHNSTONE (m. Thomas Alexander PRUDEN)
** MORE ABOUT THOMAS ALEXANDER PRUDEN
5. Feb 23, 1868 ALEXANDER DAVID JOHNSTONE (m. Frances Jane PALAN)
6. 1869 SARAH JANE JOHNSTONE (m. Alexander CUMMINGS)
7. Dec 15, 1871 JOHN (JACK) JOHNSTONE (m. Margaret WILLIAMS)
8. 1874 ANNABELLA BELLA JOHNSTONE (m. Humphrey Abel William BRYAN)
9. Oct 21, 1876 MARIA JEMIMA "MINNIE" JOHNSTONE (m. Norman McLEOD)