THOMAS ALEXANDER "LONG TOM" PRUDEN (1869-1945)
KATHERINE "KATE" JOHNSTONE (1866-1940)
(Last Updated: March 29, 2016)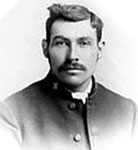 Tom Pruden (Glenbow Archives NA-4405-14)
Thomas Alexander "Long Tom" PRUDEN was born Mar 10, 1869 in Mapleton (Selkirk, MB), the only son of Annie ROWLAND, second wife of John Peter PRUDEN Jr. (1829-1897). Tom's step-siblings from his father's first wife (Sarah ROSS who died in 1867) were Caroline, John Peter, George, Alexander Paul and James PRUDEN. 
** MORE ABOUT JOHN PETER PRUDEN JR
Tom was a grandson of Nancy PATASAGAWIS (a Cree woman) and the noted Hudson's Bay Company (HBC) Chief Trader John Peter PRUDEN Sr. (1778-1868) from England. ** MORE ABOUT JOHN PETER PRUDEN SR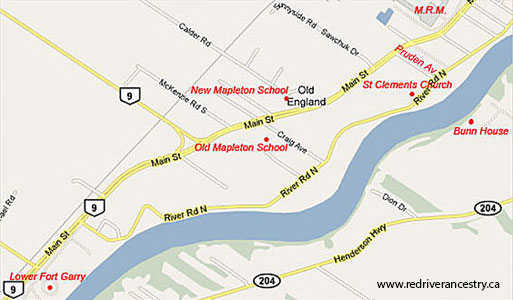 Pruden Avenue was named after this PRUDEN family.
Selkirk Incorporated as a Town
1882
Tom was about 13 years old in 1882, when Selkirk was incorporated as a town with James COLCLEUGH (1841-1918) as its first Mayor. Pruden Avenue was now at the southern edge of the Town of Selkirk.
Tom marries Kate JOHNSTONE
1892
On Dec 15,1892, Tom (age 23) married in the Old St Andrews Church on the Red to his sister-in-law Catherine "Kate" JOHNSTONE, daughter of Archie JOHNSTONE (1829-1904). His brother, John Peter "Jake" PRUDEN, was married to Kate's sister, Margaret JOHNSTONE.
Both of Tom's parents died in 1897 and were buried in the St Clements Church Cemetery at Mapleton.
Kate's mother (Margaret) died in 1900; her father (Archie JOHNSTONE) in 1904 at Wavey Creek.
Tom moves the family to Wavey Creek
1912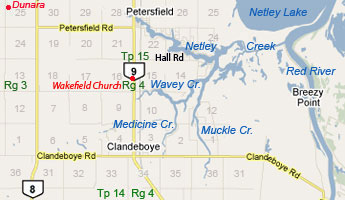 Early in the spring of 1912, Kate and Tom, with their nine children and a herd of dairy cattle, moved to Wavey Creek Road (just north of Clandeboye). At that time the children were: Maud (age 18); John (16); Annie (14); Thomas (13); Edgar (11); Harold (9); Malvina (7); May (5) and Charles (age 3). The family was complete now (no more children). The community where they settled was known as "Maggie Town" by the old pioneers.
The Outbreak of World War I
1914-1919
On Oct 29, 1914 daughter Maud married John NORDAL, son of Sigurbjorg BJORNSDOTTIR & Walter NORDAL (1861-1954) from Iceland. The NORDAL family owned a General Store on Main Street in downtown Selkirk.
On Aug 14, 1914 Great Britain declared war on Germany and Austria-Hungary to uphold treaties with France and Belgium which were under German attack. On Dec 9, 1915 son John Archibald enlisted (he was seriously wounded in France); on Dec 20, 1915 son Paul enlisted.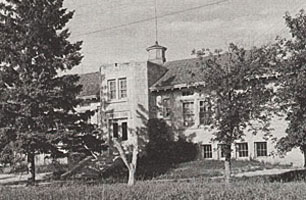 Old Clandeboye School built in 1916
Stewart (Grade 1, age 7) and May (Grade 3, age 9) Pruden were among the first students
On Mar 21, 1919 son John Archibald married in Winnipeg to Ruby Maud WILSON, daughter of Agnes M KIRKLAND & Albert Wellington "Welly" WILSON (1872-1935).
Census 1921: Wavey Creek (15-15-4-Epm): Thomas PRUDEN (age 52), wife Catherine (age 55) and children: Annie (age 23), Paul (22), Edgar (20), Harold (18), Mulvina (16), May (14) and Stewart (age 12).
Daughter Annie married Captain Barney GOODMAN (1880-1948), an Icelander. I have very little information about Barney and his origins, or when this marriage occurred. In the mid 1920's Annie was a stewardess and Barney was the Mate on the SS Wolverine that plied the waters of Lake Winnipeg.
On May 9, 1925 son Tom Alex Jr. (Paul) married Vivian Evelyn ERICKSON in Winnipeg.
On Nov 29, 1926 son Edgar married in Winnipeg to Emma WILSON.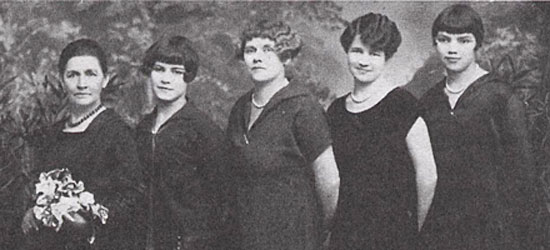 The Pruden Ladies. Katherine (Mother), Malvina, Maude, Annie & Mae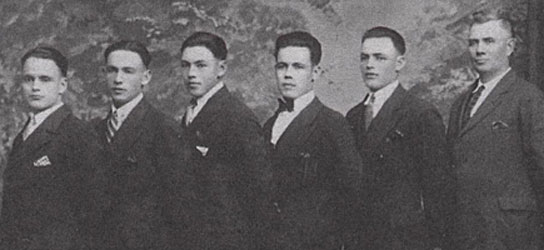 The Pruden Gents: John, Edgar, Stewart, Paul, Harold & Thomas (Father)
On Dec 3, 1927, daughter Edith May PRUDEN married Frederick Nelson BRADY, son of Elizabeth Ann YOUNG & Thomas William BRADY (1864-1943).
In 1929 daughter Malvina married Borgel "Beggie" DOLL, son of Ingibjorg BRYNJOLFSDOTTIR & Marus J DOLL (1869-1935), an Icelander.
In 1932 son Stewart married Violet TAYLOR, daughter of Mary LAWSON & Duff TAYLOR (1866-1943) from Scotland.
Around 1933 son Harold married Eleanor "Nellie" MASTERS. I have very little information about Nellie's origins. She may have been a daughter of Harriet HARPER & Sydney John MASTERS (1870-1929) from England.
Kate died in 1940; Tom on Nov 30, 1945, both at Wavey Creek; they were both were buried in the Wakefield Anglican Church Cemetery. They were survived by fours sons, four daughters, 47 grandchildren and seven great-grandchildren.
Please post comments and queries at this link: FORUM DISCUSSING FAMILY of THOMAS ALEX PRUDEN
============================ Family Details ============================
Children:
1. Aug 23, 1893 MAUD PRUDEN (m. Jonas "Johnnie" NORDAL)
2. Sep 11, 1894 BELLA PRUDEN (Died in infancy)
3. Jan 25, 1896 JOHN ARCHIBALD PRUDEN (m1. Rubena "Ruby" Maude WILSON, m2. Irene BLACKMAN)
4. Aug 6, 1897 ANNIE PRUDEN (m. Captain Bjarni "Barney" GOODMAN)
5. Apr 11, 1899 THOMAS ALEXANDER "PAUL" PRUDEN (m. Vivian Evelyn ERICKSON)
6. Feb 20, 1900 EDGAR WILLIAM PRUDEN (m. Emma WILSON)
7. Nov 6, 1902 HAROLD PRUDEN (m. Eleanor "Nellie" MASTERS)
8. Oct 1, 1904 MALVINA FRANCES PRUDEN (m. Borgel "Beggie" DOLL)
9. Jan 2, 1906 EDITH MAY PRUDEN (m. Frederick Nelson BRADY)
10. Jan, 1909 CHARLES STEWART PRUDEN (m. Violet TAYLOR)