JOHN PETER PRUDEN (1829-1897)
MARY SMITH (1832-?)
SARAH ROSS (1832-1867)
ANNE "ANNIE" ROWLAND (1850-1897)
(Last Updated: August 02, 2016)
John Peter PRUDEN Jr. was born around 1829 at Carlton House, son of Nancy PATASEGAWISK (a Cree woman from Oxford House) and John Peter PRUDEN Sr. (1778-1868), an Englishman. When John Jr. was born his father was the Chief Trader at Carlton for the Hudson's Bay Company (HBC). ** MORE ABOUT JOHN PETER PRUDEN SR.
In 1837 when his father retired to the Kildonan (St Johns) area, John Peter Jr. was about eight years old. His mother (Nancy) died in the fall of 1838, and in 1839 his father re-married to Ann ARMSTRONG, a teacher at the Red River Academy.
John and Mary SMITH
1850
Around 1850 John was in a relationship with Mary SMITH, daughter of Susan PARADIS/ PEYSONETTE and Peter SMITH (1795-1851). On Oct 15, 1850 Mary GUIBOCHE PRUDEN was born in St Johns. In her Scrip her parents are identified as Mary SMITH and John PRUDEN. ** At the time of the Scrip Affidavit (1875) Mary SMITH was married to Noel GUIBOCHE.
Marriage to Sarah ROSS
1853-1867
In 1853 John married Sarah ROSS, daughter of Catherine BRELAND & George ROSS (1797-1874). 
John took up a homestead on the site of the (old) Selkirk General Hospital (Red River Place; Sugar Point, Mapleton).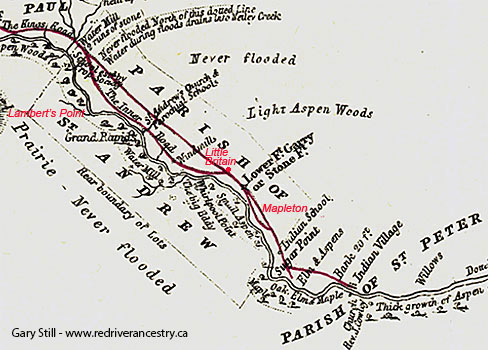 Part of Henry Hind's Map based on his observations of 1857
Canadian Confederation and another Red River Rebellion
Manitoba becomes a Province
John Peter marries Annie ROWLAND
1867-1870
On July 1, 1867 the British colonies in North America were united under the British North American Act to become the Dominion of Canada.  Sir John A MACDONALD (1815-1891) was appointed as Canada's first Prime Minister.
Sarah died in August of 1867 at the young age of 35, leaving John Peter with five motherless children; Caroline (age 13), John Peter Jr. (age 11), George ( 9), Paul (5) and James (age 3). Around 1868 John (age 39) re-married to 18 year old Annie ROWLAND, daughter of Suzette SLATER and William ROWLAND (1827-1899). On Mar 10, 1869 John Peter's last child (Tom) was born, the only child of Annie ROWLAND.
On Oct 11, 1869, Louis RIEL (1844-1885) placed his foot on the surveyors' chain to tell them their work was finished! This marked the beginning of another Red River Métis Rebellion.
There are no indications that John Peter became directly involved in the affair. The Provisional Government established by RIEL was composed mostly of the French-speaking population from along the Assiniboine River, St Boniface and southern parts of the province. From Kildonan north along the Red River the residents were almost all English-speaking half-breeds and members of the St Peters Indian Band under Chief Henry PRINCE (1819-1902).  Mapleton's representative in RIEL's Provisional Government was Thomas BUNN (1830-1875) who lived directly across the river from the St Clements Church.
** MORE ABOUT THOMAS BUNN and the RED RIVER REBELLION
When it was all over, RIEL's Provisional Government accepted the terms of the Manitoba Act and on July 15,1870 Manitoba became the fifth province of Canada, the Canadian Government having acquired the territory previously governed by the HBC.
In 1874 daughter Caroline married in St Andrews to Thomas TRUTHWAITE (1847-1876), son of Catherine McDERMOTT & Thomas TRUTHWAITE Sr. (1820-1899). ** MORE ABOUT THOMAS TRUTHWAITE
In 1875 John (of St Clements Parish) claimed his Scrip.
It was around 1875 that daughter Mary married Charles PRUDEN, son of Archange GUIBOCHE and Arthur PRUDEN (1820-1867). ** MORE ABOUT ARTHUR PRUDEN
In the fall of 1876 son-in-law (Caroline's husband) Thomas TRUTHWAITE died.
In Census 1881 John Peter and his family were recorded in Mapleton. Children/ ages: Widow Caroline TRUTHWAITE, age 26; John Peter 24; George 22; Paul 20; James 17; Thomas, age 12.
Selkirk Incorporated as a Town
1882
On June 15, 1882 the Town of Selkirk was incorporated. The first Mayor was James COCLEUGH (1841-1918).
In 1882 son George married Jane McDONALD, daughter of Sarah SETTER & John McDONALD (1834-1880).

In 1884 son Paul married Nancy SPENCE, daughter of Clarissa SABISTON & Peter SPENCE (1827-1902).

Around 1887 son James married his sister-in-law, Annabella McDONALD.

In 1891 son John Peter Jr. married Margaret JOHNSTONE, daughter of Margaret LAMBERT & Archibald JOHNSTONE (1829-1904).

In 1892 son Tom married his sister-in-law, Katherine JOHNSTONE.
John Peter PRUDEN died on July 18, 1897 aged 67, Annie died the next day, only 47 yrs old. Both are buried at St Clements Churchyard, Mapleton.
Comments and queries at this link: FORUM DISCUSSING JOHN PETER PRUDEN JR and his FAMILY
=========================== Family Details ===========================
Child with Mary (nee SMITH) GUIBOCHE:
1. Oct 15, 1850 MARY GUIBOCHE PRUDEN (m. Charles PRUDEN)
Children by SARAH ROSS:
1. Dec 27, 1854 CAROLINE PRUDEN (m. Thomas TRUTHWAITE)
2. Aug 31, 1856 JOHN PETER "JAKE" PRUDEN (m. Margaret Ann JOHNSTONE)
3. Dec 22, 1858 GEORGE PRUDEN (m. Jane McDONALD)
4. Mar 7, 1862 ALEXANDER PAUL PRUDEN (m. Nancy "Annie" SPENCE)
5. Sep 7, 1864 JAMES PRUDEN (m. Isabel Annabelle McDONALD)
Child by ANNIE ROWLAND:
1. Mar 10, 1869 THOMAS ALEXANDER PRUDEN (m. Catherine "Kate" JOHNSTONE)