ARTHUR PRUDEN (1820-1867)
CHARLOTTE SMALL (1821-1850)
ARCHANGE GUIBOCHE (1835-1921)

(Last Updated: May 26, 2019)
Arthur PRUDEN was born 1820 at Carlton House, the son of Nancy (Indian) & John Peter PRUDEN (1778-1886).
** MORE ABOUT JOHN PETER PRUDEN
Heather Hallett in Children of the Rivers: Arthur was one of two sons that John Peter PRUDEN sent to England for a time, to be educated. Arthur spent much of his working life as an employee of the Hudson's Bay Company (HBC) at Fort Carlton, Saskatchewan.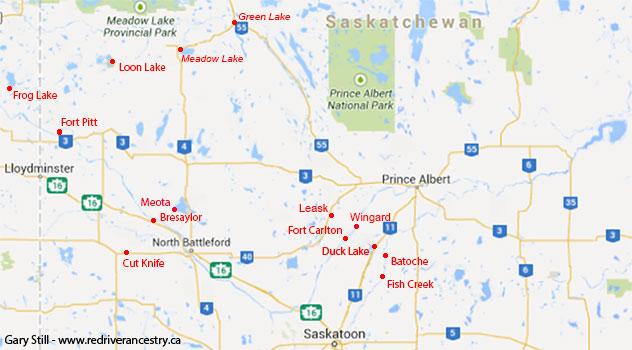 In 1837 when his father retired to the Kildonan (St Johns) area, Arthur was about 17 years old. His mother (Nancy) died in the fall of 1838, and in 1839 his father re-married to Ann ARMSTRONG, a teacher at the Red River Academy.
Marriage to Charlotte SMALL
1841-1850
On Oct 17, 1841 Arthur married Charlotte SMALL at Carlton House, daughter of Nancy HUGHES and Patrick SMALL (1789-1846), the HBC clerk in charge at Carlton.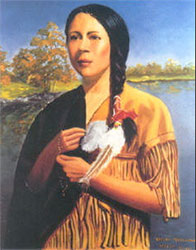 Charlotte (Painting by Joseph Izzillo)
About 1850 Charlotte (nee SMALL) PRUDEN died at Fort Carlton.
Marriage to Archange GUIBOCHE
1851
On March 11, 1851 Arthur married Archange GUIBOCHE at Carlton Houae, daughter of Marie Anne ROCQUE and Edouard GUIBOCHE (1792-1875), an HBC voyageur from Quebec.
In 1863 eldest son Patrick married Isabelle BRUNEAU in Lac La Biche, daughter of Catherine LADUOCEUR and Michel Joachim BRUNEAU (1806-1878).
In 1864 son John Henry married Marie LANDRY in Lac La Biche, daughter of Marie TASTAWITCH and Alexander LANDRY (1805-1877).
Canadian Confederation and a Red River Rebellion
Creation of the Province of Manitoba
1867-1870
On July 1, 1867 the British colonies in North America were united under the British North American Act to become the Dominion of Canada.  Sir John A MACDONALD (1815-1891) was appointed as Canada's first Prime Minister. William McDOUGALL (1822-1905) became the Minister of Public Works, and he began negotiations to acquire Rupert's Land from the HBC.
On Sep 28, 1867 Arthur PRUDEN died at Fort Carlton.
On Oct 11, 1869, Louis RIEL (1844-1885) placed his foot on the surveyors' chain to tell them their work was finished! This marked the beginning of another Red River Métis Rebellion. When it was all over, RIEL's Provisional Government accepted the terms of the Manitoba Act andon July 15,1870 Manitoba became the fifth province of Canada, the Canadian Government having acquired the territory previously governed by the HBC.
Widow Charlotte moves to St James, Manitoba
1870
Census of 1870 in St James (MB): Widow Archange (nee GUIBOCHE) PRUDEN (age 36) and her children: Charlotte (age 24), William (19), Charles (17), Nancy (15), Caroline (13), Mary (9), Thomas (5) and Annie (age 4).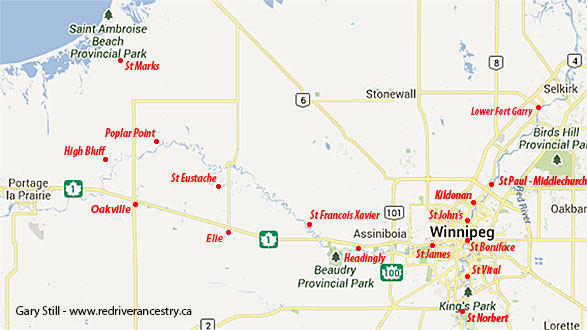 Around 1875 son Charles married Mary PRUDEN, daughter of Mary SMITH and John Peter PRUDEN (1829-197). Mary was Charles' half-cousin (John Peter PRUDEN being his Uncle). ** MORE ABOUT UNCLE JOHN PETER PRUDEN
Also around 1875 daughter Nancy married Frank McDERMOT, son of Annabelle ROSS & Charles Edward McDERMOT (1834-1864).

On June 30, 1875 Widow Archange claimed Scrip in St James for the following children of her deceased husband Arthur PRUDEN: 1) Caroline; 2) Mary; 3) Thomas and 4) Ann.
In 1878 son William married Ellen BOURKE in Headingly (MB), daughter of Elizabeth (Betsy) FIDLER and John BOURKE (1822-1887).
By 1881 daughter Caroline was married to Pierre DELORME and living in St Norbert, eldest son of Adelaide MILLETTE dit BEAUCHEMIN and Pierre DELORME SR (1832-1912). ** MORE ABOUT PIERRE DELORME SR in MHS
Census of 1881:  Widow Archange PRUDEN (age 45) with son William PRUDEN in Assiniboia (St James/ Winnipeg).
In 1884 son Thomas married Mary Jane HACKLAND in St Francois Xavier (MB), daughter of Isabelle DUCHARME and James HACKLAND (1819-1898) from Scotland.
Also in 1884 youngest daughter Ann married Etienne MORIN in St Francois Xavier (MB), son of Josephte LUSSIER and Jean Baptiste MORIN (1810-1896).
In 1885 daughter Mary married John GRANT in Assiniboia, son of Quarra BANNOCK and John Francis GRANT (1833-1907).
Census 1891: Widow Archange PRUDEN (age 60) with son William PRUDEN in Assiniboia (St James/ Winnipeg).
Censuses of 1916 and 1921: Widow Archange PRUDEN (age 87, 100) with daughter Nancy and son-in-law Frank McDERMOT in the Quill Lake area of Saskatchewan. ** Ages given for Archange appear to be erratic.
Comments and queries at this link: FORUM DISCUSSING THE ARTHUR PRUDEN FAMILY
============================ Family Details ============================
Children with Charlotte SMALL: 
1. Oct 13, 1840 MARY PRUDEN (Died in infancy)
2. Jan 17, 1842 PATRICK PRUDEN (m. Isabelle BRUNEAU)
3. Jan 30, 1843 JOHN HENRY PRUDEN (m. Marie LANDRY)
4. Sep 6, 1846 CHARLOTTE PRUDEN
Children with Archange GUIBOCHE: 
1. May 25, 1853 WILLIAM PRUDEN (m. Ellen BOURKE)
2. Feb 4, 1854 CHARLES PRUDEN (m. Mary PRUDEN)
3. Dec 24, 1856 NANCY PRUDEN (m. Frank McDERMOT)
4. Sep 18, 1858 CAROLINE PRUDEN (m. Peter DELORME)
5. Feb 24, 1863 MARY MARGARET PRUDEN (m. John GRANT)
6. March, 1866 THOMAS ANDREW PRUDEN (m. Mary Jane HACKLAND)
7. Mar 1, 1866 ANN PRUDEN (m. Etienne MORIN)