PATRICK PRUDEN (1842-1921)
ISABELLE ELIZABETH BRUNEAU (1847-1933)

(Last Updated: January 13, 2017)
Patrick PRUDEN was born Jan 17, 1842 at Carlton House (Saksatchewan), son of Charlotte SMALL and Arthur PRUDEN (1820-1867). ** MORE ABOUT ARTHUR PRUDEN
In 1850 Patrick's mother (Charlotte) died at Fort Carlton (SK) and in 1851 his father (Arthur) re-married there to Archange GUIBOCHE, daughter of Marie Anne ROCQUE and Edouard GUIBOCHE (1792-1875), an HBC voyageur from Quebec. Patrick would have been nine years old in 1851.
Patrick marries Isabelle BRUNEAU

In 1863 Patrick married Isabelle BRUNEAU in Lac La Biche (Alberta), daughter of Catherine LADUOCEUR and Michel Joachim BRUNEAU (1806-1878).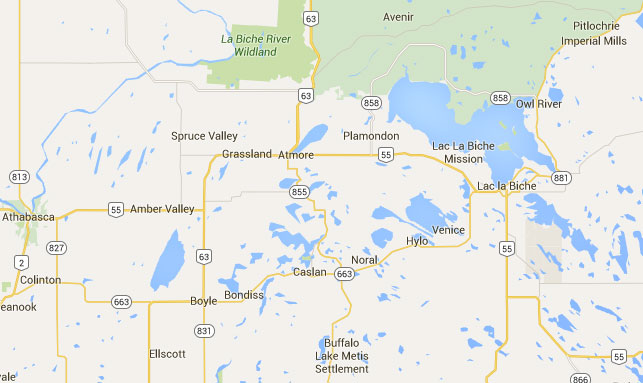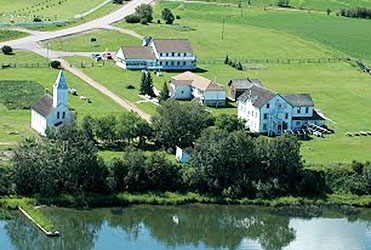 Lac La Biche Mission (National Historic Site) 16 km northwest of the Town of Lac La Biche
Established in 1853, Lac La Biche is one of the oldest communities in Alberta
Canadian Confederation
1867
On July 1, 1867 the British colonies in North America were united under the British North American Act to become the Dominion of Canada.  Sir John A MACDONALD (1815-1891) was appointed as Canada's first Prime Minister. William McDOUGALL (1822-1905) became the Minister of Public Works, and he began negotiations to acquire Rupert's Land from the HBC.
On Sep 28, 1867, Patrick's father, Arthur PRUDEN died at Fort Carlton in Saskatchewan.
Census of 1881 at Lac La Biche: Patrick PRUDEN, age 39; wife Elizabeth, age 35. Children: Mary J (age 16), Henry (13), Charlotte (11), Alex (9), Frederick (6), Mary R (4) and Louis (age 2).
In 1884 eldest daughter Mary Jane married Samuel WHITFORD at Lac La Biche, son of Mary HENDERSON and Samuel WHITFORD SR (1821-1911).
Northwest Rebellion
1885
1885 was the year of the historic North-West Rebellion.
** MORE ABOUT the NORTH-WEST REBELLION in WIKIPEDIA

Excerpts regarding Patrick PRUDEN in The Metis in Alberta – The Saskatchewan Riel Rebellion Impacts Lac La Biche:
On 2 April 1885, at Frog Lake, a party of Cree people led by WANDERING SPIRIT, killed nine people, including two missionary priests. Although BIG BEAR personally favored negotiations as opposed to warfare as a means of settling Aboriginal grievances, he accepted the consensus of his council of warriors, led by IMASEES (Big Bear's son) and WANDERING SPIRIT, who were determined to drive the White men out of the North West, in the belief that their expulsion would result in the return of the buffalo herds. BIG BEAR convinced them to take hostages to promote bargaining with the Whites. ** MORE ABOUT MISTAHI MASKWA (BIG BEAR) in DCBO
YOUNG then began making arrangements to send his wife and children across the lake to safety and went on to Edmonton hoping the rebels would not arrive at Lac La Biche Post before he returned. Patrick PRUDEN was left in charge of the post while YOUNG set off with ERASMUS on 19 April. He obtained his ammunition and met with the Indian Agent who arranged to send off the required provisions and seeds on 26 April.
On 25 April, word arrived from Victoria that a party of BIG BEAR's men from Frog Lake had gone to Whitefish Lake and Lac La Biche to incite the Aboriginal peoples there to rise. Lac La Biche, with its large Métis and First Nations population was seen as a prime recruiting area for the rebels. Alexander HAMELIN who operated a store near the Lac La Biche Mission was chosen as the target to be leader of the rebel movement at Lac La Biche. A letter was couriered to HAMELIN. The letter requested that he and the Métis and First Nations join BIG BEAR and then join forces with Louis Riel at Batoche. HAMELIN refused. Out of fear of BIG BEAR, a group of people from the Beaver Lake Band near Lac La Biche joined the insurgents. On 26 April, they raided the Lac La Biche Post.
- - Fear was rampant in the community. The Aboriginal residents were fleeing in panic. As a measure of protection, community leaders YOUNG, ERASMUS, and Patrick PRUDEN, agreed that a resistance should be organized in anticipation of BIG BEAR's attack. BIG BEAR's men never returned to attack the mission. On 28 May, Julien CARDINAL brought news that Louis RIEL had been taken prisoner and BIG BEAR was fleeing.
** MORE FROM THE METIS IN ALBERTA

In 1887 daughter Charlotte married Reverend Robert STEINHAUER, son of Jessie JOYFUL and Henry Bird STEINHAUER (1820-1884).
Census of 1891 at Lac La Biche:Patrick PRUDEN, age 48; wife Elizabeth, age 45. Children: Henry (age 23), Charlotte (21), Alexander (18), Frederick (16), Louis (12), Charles (9), Nancy (7), Maggie (5), Patrick (3) and Caroline (age 1).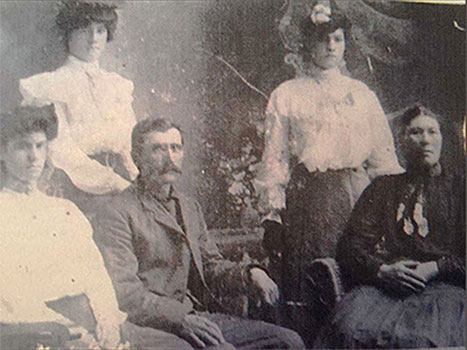 Patrick Pruden & Isabelle Bruneau (Source: Leana A Patenaude)
Photo hanging in Lac La Biche Mission (Thanks to Beth Balsillie)
About 1893 son Henry married a lady named Martha (origins uncertain); and son Alexander married Nancy STEINHAUER (origins also uncertain)
Census of 1901 at Lac La Biche: Patrick PRUDEN, age 56; wife Isabelle, age 53. Children: Frederick (age 26), Mary L (23), Louis (22), Charley (19) and Nancy (age 16). Sister: Charlotte PRUDEN, age 54 (born Sep 6, 1846 in SK).
In 1904 daughter Nancy married George ANDERSON (1887-1950) of uncertain origins.
Around 1905 son Frederick married Adelaide HUPPE, daughter of Louise DECOINE and Thomas HUPPE (1847-1922).
Also around 1905 son Louis married Emma QUINTALL, daughter of Marie CARDINAL and Etienne QUINTALL (b-c1850).
Census of 1906 at Lac La Biche: Patrick PRUDEN, age 64; wife Elizabeth, age 59. Children: Frederick (age 31), Mary (29), Charles (25), Nancy (23), Patrick (19), Caroline (17) and Robert (age 13). Sister Charlotte PRUDEN, age 60.
We don't know when (after 1906) daughter Mary Louise (Rose) married Diome DESJARLAIS (1875-1963) of uncertain origins.
In 1909 son Charles married Emma CARDINAL, daughter of Lizette CARDINAL and Unknown AUGER.
In 1910 son Patrick Jr. married Emelia CARDINAL, daughter of Mary Nancy SHIRT and Abraham CARDINAL (1862-1950).
Census of 1911 in Lac La Biche (Twp 65-13-W4): Patrick PRUDEN, General Store Merchant, age 69; wife Elizabeth, age 65. Children: Nancy (age 27), Caroline (22) and Robert (age 18). Sister: Charlotte PRUDEN, age 65 (born Dec, 1846 in SK).
Census of 1916 in Lac La Biche (Twp 65-13-W4): Patrick PRUDEN, age 73; wife Elizabeth, age 67. Children: Nancy (age 30), Caroline (28) and Robert (age 23).
In 1917 daughter Caroline married Simon HUPPE, son of Louise DECOINE & Thomas HUPPE (1847-1922).
Census of 1921 in Lac La Biche (Section 31-65-13-W4): Patrick PRUDEN, age 79; wife Elizabeth, age 74; and son Robert (age 28).
On June 24, 1921 Patrick PRUDEN died at Hay Creek, AB. ** Not sure where this Hay Creek is; I'm guessing it is somewhere near Lac La Biche where Patrick was in the census that year. There is a Hay Creek near Robb, SE of Hinton.
In 1923 youngest son Robert married Madeline CARDINAL, daughter of Elise and Alexandre CARDINAL (b-1872).
On Oct 13, 1933 Isabelle Elizabeth (nee BRUNEAU) PRUDEN died at Grandin, Alberta. ** Is this Grandin in Edmonton?
Comments and queries at this link: FORUM DISCUSSING THE PATRICK PRUDEN FAMILY
============================ Family Details ============================
Children:
1. Dec 20, 1864 MARY JANE PRUDEN (Samuel WHITFORD)
2. Jul 12, 1867 HENRY PRUDEN (m. Martha SENUM)
3. Jan 4, 1870 CHARLOTTE PRUDEN (m. Robert STEINHAUER)
3. Jan 6, 1872 ALEXANDER PRUDEN (m1. Nancy STEINHAUER; m2. Betsy JACKSON)
4. Jul 25, 1874 FREDRICK PRUDEN (m. Adelaide HUPPE)
5. Jul 10, 1877 MARY LOUISE (ROSE) PRUDEN (m. Diome DESJARLAIS)
6. Jun 11, 1879 LOUIS PRUDEN (m. Emma QUINTALL)
7. Sep, 1881 CHARLES PRUDEN (m. Emma CARDINAL)
8. Sep 26, 1883 NANCY PRUDEN (m. George ANDERSON)
9. Aug, 1885 MARGARET PRUDEN (Died age 11)
10. Jun 1887 PATRICK PRUDEN (m. Emelia CARDINAL)
11. Sep 18, 1889 CAROLINE PRUDEN (m. Simon HUPPE)
12. Mar 20, 1893 ROBERT PRUDEN (m. Madeleine CARDINAL)