PETER SPENCE (1833-1917)
CLARISSA "CLARA" SABISTON (1828-1904)
(Last Updated: August 26, 2013)
Peter SPENCE was born Dec 18, 1833 in the Little Britain area (Lockport), Red River, the youngest child of a Cree woman named Catherine and George SPENCE (1773-1859). ** MORE ABOUT GEORGE SPENCE
Marriage to Clara SABISTON
1852
On Dec 7, 1852 at the Old St Andrews Church on the Red, Peter married Clara SABISTON, daughter of Nancy CAMPBELL & Alexander SABISTON (1804-1846), both half-breeds.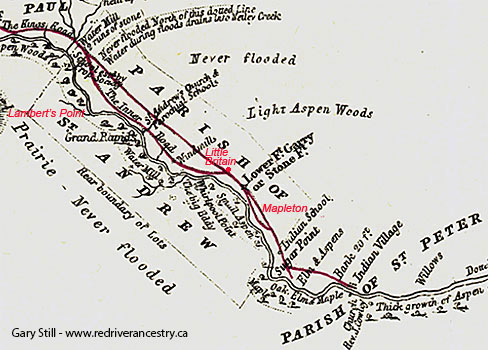 St Andrews Parish from Hind's Map of 1857
On Mar 10, 1854 son Alexander was born in St Clements Parish on the east side of the Red River (East Mapleton).
In 1860 construction of the stone church of St Clements at Mapleton was begun by Samuel TAYLOR (1812-1894), the HBC stonemason from the Orkneys of Scotland.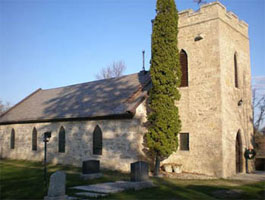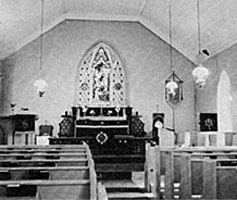 St Clements Church at Mapleton
Canadian Confederation
Red River Rebellion
Manitoba becomes a Province
1867-1870
On July 1, 1867 the British colonies in North America were united under the British North American Act to become the Dominion of Canada.  Sir John A MacDONALD (1815-1891) was appointed as Canada's first Prime Minister; a month later he won the first federal election. William McDOUGALL (1822-1905) became the Minister of Public Works, and he began nnegotiations to acquire Rupert's Land from the HBC; surveyors were sent out to prepare the way for an expected influx of settlers.
In 1869 Louis RIEL (1844-1885) began to organize resistance to the transfer of the North-West to the Dominion of Canada without prearranged terms. This marked the beginning of the historic Red River Metis Rebellion.
** MORE ABOUT the RED RIVER REBELLION in WIKIPEDIA
On July 15,1870 Manitoba became the fifth province of Canada, the Canadian Government having acquired the territory previously governed by the HBC. The Rebellion was essentially over.
In 1870 the family of Peter SPENCE was recorded on Lot 110 in St Clements Parish. Children were: Alexander (age 16), Mary Ann (14), Robert (12), Sophie (9) and Nancy (age 8). On July 10, 1871 daughter Annabella was born, their last child.
In 1875 eldest son Alexander began a connubial relationship with Ann Elizabeth GARDINER, daughter of Victoria (nee KIPLING) YOUNG and Thomas William GARDINER (1856-1911).

In 1875 daughter Mary Ann married John MOWAT, son of Mary TRUTHWAITE and Thomas MOWAT (b-1821).
On July 8, 1875, Peter, his wife Clarrisa, daughter Mary Ann, and son Alex of St Clements Parish, all applied for their Halfbreed Scrip on the same day.  Co-signers for all were William TAYLOR & William COCHRANE. Peter also applied on behalf of their children:  Robert, Sophia and Nancy.
** Side note: In 1876 Peter SPENCE was one of the signees of a petition for consecration of the St Clements Burial Ground (Cemetery) near the St Clements Church at Mapleton.
In 1880 daughter Sophia married William FIDLER, son of Nancy PRUDEN & Henry FIDLER (1831-1908).
** MORE ABOUT HENRY FIDLER
In 1882 the Town of Selkirk was formally incorporated.
In 1884 daughter Nancy married Alexander Paul PRUDEN, son of Sarah ROSS and John Peter PRUDEN (1829-1867). ** MORE ABOUT JOHN PETER PRUDEN
In 1888 Peter SPENCE is listed renting a pew at St Clements Church in Mapleton.
In 1893 daughter Annabella married James Anderson ISBISTER, son of Mary Ann BEGG and William ISBISTER (1835-1915). ** MORE ABOUT WILLIAM ISBISTER
In 1903 son Robert married Harriet McKENZIE, daughter of Harriet FIDLER and Reverend Benjamin McKENZIE (1837-1928). ** MORE ABOUT REVEREND BENJAMIN McKENZIE
On Oct 11, 1904 Clara SPENCE died in St Clements, age 75.
In his old age, Peter became a patient in the St Peters Dynevor Hospital. He was recorded there in the 1916 census and he died there on Oct 30, 1917.
Comments and queries at this link: FORUM DISCUSSING the PETER SPENCE FAMILY
=========================== Family Details ===========================
Children:
1. Mar 10, 1854 ALEXANDER "ALEX" SPENCE (m. Anne Elizabeth "Annie" GARDINER)
2. Feb 23, 1856 MARY ANN SPENCE (m. John MOWAT)
3. Feb 22, 1858 ROBERT SPENCE (m. Harriet McKENZIE)
4. Oct 19, 1860 SOPHIA SPENCE (m. William "Bill" FIDLER)
5. Sep 17, 1863 NANCY SPENCE (m. Alexander Paul PRUDEN)
6. Jul 22, 1871 ANNABELLA CATHERINE SPENCE (m. James Anderson ISBISTER)