WILLIAM ISBISTER (1835-1915)
MARY ANN BEGG (1847-1926)
(Last Updated: August 26, 2013)
William ISBISTER was born 1835 in Norway House, MB, son of Fanny SINCLAIR & John ISBISTER (1794-1884).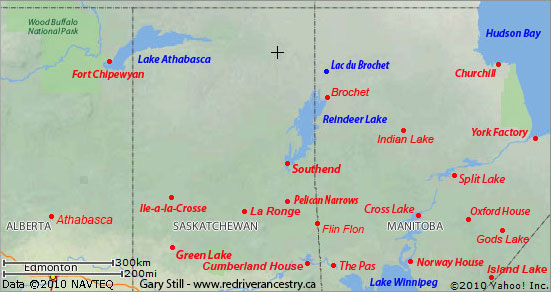 William's father (John) was the Hudson's Bay Company (HBC) Post Master at Norway House throughout William's formative years. He undoubtedly attended the CMS Rossville Mission School where Reverend James EVANS (1801-1846) developed the Cree Syllabic System William himself and John Chantler McDOUGALL (1842-1917) are credited with assisting in translations. ** MORE ABOUT JAMES EVANS in DCBO
Employed by the HBC
1852
In 1852, at the age of 17 William began to work for the HBC at Norway House as an Apprentice Joiner (wood-fitter) and Carpenter. From 1860 to 1863 he was classified as an Interpreter.
From 1863 to 1866 William was made a Post Master like his father. During this period he was in charge of the posts at the Pigeon River Outpost, Sandy Narrows and Grand Rapid.
Marriage to Mary Ann BEGG
1866
On Jun 28, 1866 William married Mary Ann BEGG at Norway House, daughter of Catherine SPENCE and Charles BEGG (1814-1902), a retired HBC Post Master from the Orkneys. Charles BEGG had retired from the HBC in 1865 and had moved to Mapleton. ** MORE ABOUT CHARLES BEGG
From 1866 to 1870 William was the Post Master in Charge at Jackson Bay and Oxford House in the York District.
On April 13, 1867 their first child, James Anderson ISBISTER was born. He was named after his Uncle, James ANDERSON (1827-1867) who died in a tragic house fire at Norway House that year. ANDERSON was married to Elizabeth ISBISTER (William's sister). ** MORE ABOUT JAMES ANDERSON
Canadian Confederation and a Red River Rebellion
 Manitoba becomes a Province
1867-70
On July 1, 1867 the British colonies in North America were united under the British North American Act to become the Dominion of Canada.  Sir John A MacDONALD (1815-1891) was appointed as Canada's first Prime Minister.
On Oct 11, 1869, Louis RIEL (1844-1885) placed his foot on the surveyors' chain to tell them their work was finished! This marked the beginning of another Red River Métis Rebellion.
On July 15,1870 Manitoba became the fifth province of Canada, the Canadian Government having acquired the territory previously governed by the HBC. The Rebellion was essentially over.
In 1870-71 William was the Postmaster in Charge at Gods Lake (See map above).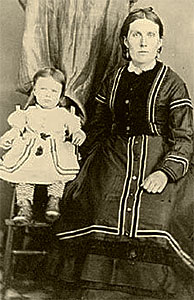 Mary Anne Begg Isbister with son (probably James), photographed c1870

William spent the rest of his HBC career as a Post Master in Charge at various posts in the Norway House District (Nelson River (Nelson House), Split Lake, Oxford House and Norway House).
In 1874 John SEMMENS (1850-1921) opened a mission station at Nelson House. "He relied heavily on Cree men such as Sandy HARTE, Edward PAUPANEKIS, and William ISBISTER, an Orkney Cree, to interpret, teach school, and recruit a congregation." ** MORE ABOUT JOHN SEMMENS in DCBO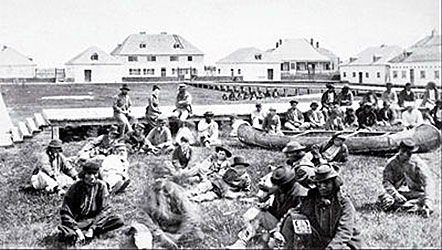 HBC post at Norway House in 1878 (Library of Archives Canada)
When they reached school age, sons James and Charles were sent to stay with their BEGG grandparents in Mapleton where they attended the Mapleton School.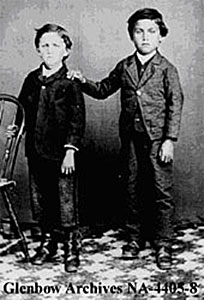 Charles and James ISBISTER
In 1893 eldest son James married Annabella Catherine SPENCE, daughter of Clara SABISTON and Peter SPENCE (1833-1917). ** MORE ABOUT PETER SPENCE
By 1895 son Charles had returned to the Norway House District. Around that time he married a Cree woman named Agnes KEYAMAWEYENEW aka WHISKEYJACK.
William Retires to Red River - Mapleton
1895
In 1895 William retired to Red River where they settled near his BEGG in-laws at Mapleton.
In the 1901 Census of St Andrews (Mapleton), William ISBISTER (age 65), his wife Mary Ann (age 54) and children as: Nellie (age 26), John (24), William (20), Frank (17), Edith (15) and Margaret (age 11).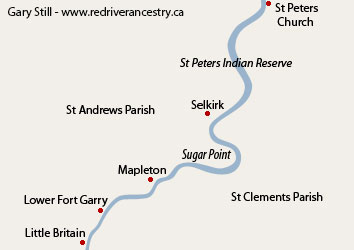 William and his family were also recorded in the 1906, 1911 and 1916 Censuses at Mapleton.
On July 17, 1915 William ISBISTER died at Mapleton, age 79.
The 1916 Census at Mapleton recorded Widow Mary ISBISTER (age 69) with her daughters Helen (age 40) and Margaret (age 27) as well as Grandson Frank ISBISTER (age 2).
On Feb 20, 1926, Mary Anne ISBISTER died in Mapleton, age 79.
Please post comments and queries at this link: FORUM DISCUSSING the WILLIAM ISBISTER FAMILY
========================== Family Details ==========================
Children:
1. Apr 3, 1867 JAMES ANDERSON ISBISTER (m. Annabella Catherine SPENCE)
2. Sep, 1869 CHARLES BEGG ISBISTER(m. Agnes WHISKEYJACK)
3. Nov 4, 1870 WILLIAM ROBERT MILES ISBISTER (Died in infancy, age 3)
4. Oct 18, 1872 MARY ANN ISBISTER (Died in infancy, age 4)
5. Mar 15, 1875 HELEN ISABELLA "NELLIE" ISBISTER
6. Mar 23, 1877 JOHN GEORGE ISBISTER
7. Jan 28, 1878 ALEXANDER ISBISTER (Died in infancy, age 8)
8. Mar 22, 1881 WILLIAM CHRISTIE ISBISTER
9. May 23, 1883 FRANK MITCHELL ISBISTER
10. Aug 22, 1885 EDITH CATHERINE ISBISTER (Died age 34)
11. May 2, 1889 MARGARET J ISBISTER