EDGAR WILLIAM PRUDEN (1900-1973)
EMMA WILSON (1911-1991)
(Last Updated: August 28, 2012)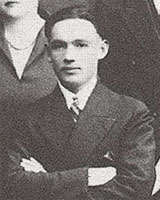 Edgar William PRUDEN was born Dec 20, 1900 in Mapleton (Selkirk), son of Catherine JOHNSTONE & Thomas Alexander PRUDEN (1869-1945). ** MORE ABOUT TOM ALEX PRUDEN
Edgar was a great-grandson of Nancy PATASAGAWIS (a Cree woman) and the noted Hudson's Bay Company (HBC) Chief Trader John Peter PRUDEN Sr. (1778-1868) from England. ** MORE ABOUT JOHN PETER PRUDEN SR
Edgar lived his formative years on Pruden Avenue (named after his father) in Old England (Mapleton) at the south end of Selkirk.
The PRUDEN Family moves to Wavey Creek
1912
In the spring of 1912 the entire PRUDEN family moved to the Wavey Creek Road just north of Clandeboye on the banks of Wavey Creek. Edgar was 12 years old at that time.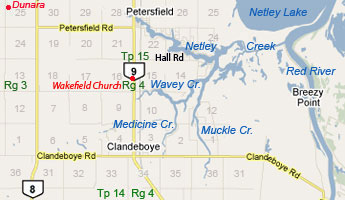 Marriage to Emma WILSON
1926
On Nov 29, 1926 Edgar married in Winnipeg to Emma WILSON. I don't know her origins.
Edgar's mother (Kate) and father (Tom) died at Wavey Creek in 1940 and 1945 respectively.
BeyondGates: Older residents will remember Edgar's Barber Shop, next to the old skating rink in Petersfield, a gathering place for men to swap yarns.  He later moved his shop to Clandeboye, and still later to Manitoba Av in Selkirk where he worked until his death. 
In the winter of 1956 son Ronny died tragically. He was only 21 years old.
On Jan 16, 1973 Edgar PRUDEN died in Selkirk at the age of 73.
Emma died in 1991, also buried Wakefield.
Please post comments & queries at this link: FORUM DISCUSSING EDGAR PRUDEN FAMILY
============================ Family Details ============================
Children:
1. 1931 THOMAS WILLIAM "BILLY" PRUDEN
2. JUNE PRUDEN (m. J Roy GILBART)
3. 1933 ELIZABETH "BETTY" PRUDEN (m. Einar TORFASON)
4. 1935 RONALD EDGAR "RONNY" PRUDEN (Died age 21)
5. 1939? GLEN PRUDEN (m. Alice ?)
6. Aug 13, 1941 ALYCE LYNNE PRUDEN (m1. James "Jimmy" McRAE, m2. Allan Lawson DILLABOUGH)
7. c1943 NORMAN PRUDEN (m. Patricia THOMAS)
** MORE ABOUT PAT & NORMAN PRUDEN
7. 1949 DONALD DALE HANSON PRUDEN (m. Kathy ?)