NORMAN ALLAN "NORM" PRUDEN (c1943-Living)
PATRICIA GERALDINE "PAT" PRUDEN (1946-Living)
(Last Updated: October 24, 2014)
Norman Allan "Norm" PRUDEN was born ?, son of Emma WILSON & Edgar PRUDEN (1900-1973), a barber.
Norman is a great-great grandson of Nancy PATASAGAWIS (a Cree woman) and the noted Hudson's Bay Company (HBC) Chief Trader John Peter PRUDEN Sr. (1778-1868) from England. ** MORE ABOUT JOHN PETER PRUDEN SR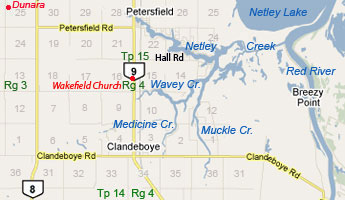 Norm grew up on the old family homestead on Wavey Creek, NE of Clandeboye, MB.
Norman worked at Brown's Bakery in Selkirk.
Marriage to Patricia PRUDEN
1969
On June 14, 1969 Norm married Patricia Geraldine "Pat" THOMAS, daughter of Irene MOORE & Ventrice THOMAS (1893-1985). ** MORE ABOUT VENTRICE THOMAS

Patricia is a biological descendant of Mary MACKAGONNE, a Cree woman from York Factory, and Englishman Peter FIDLER of Bolsover (1769-1822), the famous Hudson's Bay Company (HBC) surveyor and explorer.
** MORE ABOUT PETER FIDLER of BOLSOVER
In 1970 son Edward was born.

In 1973 daughter Kelly was born.
Norman worked at Gavin's Toastmaster in Winnipeg.

On Jan 16, 1973 Norm's father (Edgar PRUDEN) died in Selkirk at the age of 73.
In 1985 Pat's father (Ventrice THOMAS) died in Selkirk at the age of 92.
In 1991 Norm's mother (Emma) died at the age of 80.That same year, at's mother (Irene THOMAS) died in Selkirk at the age of 81.
Norm Retires
1998
In 1998 Norm retired from McGavin's.
Son Ed married Karen (need more info)
On Aug 11, 2001, in the garden of the historic Capt Kennedy home on the banks of the Red in St Andrews, daughter Kelly married Derik MILNE, son of Madeleine SICOTTE & Robert "Bob" MILNE.
In 2002 Pat retired.
2012
In August of 2012 I (Gary STILL) visited Pat & Norm (my sister and brother-in-law) at their summer residence (Autumn Wood Trailer Court) in Gimli during the Gimli Festival. Their permanent residence was now at Woodsmill Homes Apartment in Selkirk.
Please post comments & queries here: FORUM DISCUSSING Family of PAT & NORM PRUDEN
============================ Family Details ============================
Children:
1. 1970 EDWARD NORMAN "EDDIE" PRUDEN (m. Karen ?)
2. 1973 KELLY IRENE PRUDEN (m. Derik Robert MILNE)