JOHN THOMAS SR (1751-1822)
MARGARET CREE (c1766-1813)
(Last Updated: January 30, 2017)
John THOMAS was born around 1751 in Middlesex County, England (possibly Wales). He was reputed to be of Welsh parentage and was connected with St Benedict's Church in London, which was a predominately Welsh congregation.  In 1769 John was in London when he signed up for his first contract with the Hudson's Bay Company (HBC).
Perhaps the most commonly referred to sources of information on our TT are the following:
HBC ARCHIVES (HBCA) regarding JOHN THOMAS SR
PREAMBLE
The surname THOMAS has to be the most difficult and frustrating subject to research that I have ever encountered. The surname appears in countless genealogical researches and in many historical publications relating to the early history of the HBC. There is an awful lot of contradictory information to be found  out there, and anyone who is serious about THOMAS descendants has to be extremely cautious about everything they read. Even the most commonly referred to sources like the ones above contain conflicting information. A good example is the notation in HBCA regarding John's wife: "Margaret (d. 31 December 1813). [In DCBO and other sources, wife mistakenly given as MEENISH, wife of his son John] (SF "Thomas, John Sr.")]
Certainly the information I am about to present cannot be considered authoritative either. I have merely selected information that I personally deemed to be reasonably accurate based on my own researches. I readily admit that my qualifications as a genealogist are far below that of a professional. I welcome debate, criticism and comments from anyone who can enlighten us about this lineage. Please do so, on the Forum, of this website (Please use the Topic Link provided at bottom)
In trying to explain these THOMAS relatives I often feel like Costello in Who's on First.
YOUTUBE VIDEO OF 'WHO'S ON FIRST?'
As a side note - I am not a complete stranger to doing research. In my long career as a Forestry Research Technician I worked under professional entomologists who were involved in insect toxicology, a field of study not unlike genealogy in that it involved the hierarchal classification of insects which interestingly included Insect Families. I even got to author a scientific paper about a new insect species that was published in the Canadian Journal of Entomology.
My late wife and my children, as well as many of my in-laws are THOMAS descendants, thus my keen interest in this lineage.
======================= // =======================
THE BRITISH ERA of the FUR TRADE BEGINS
1761
Following the British victory, French Forts on the northern lakes were given up to the British.  The French era in North America was effectively over. It transferred control of the country into English hands and launched a new period of colonization that would make French Canadians, known as 'Canadiens', a minority. Montréal remained the organizational hub of the fur trade. However, 'Canadien' merchants were no longer granted transportation contracts for the West or the financing they required for large expeditions.
1769-1774
In 1769 HBCA records show that John THOMAS of London joined the HBC as a Writer, with a five year contract at 10 ₤ per year. He was posted to Moose Fort (Factory) where he would remain the rest of his 44 year career with the Company.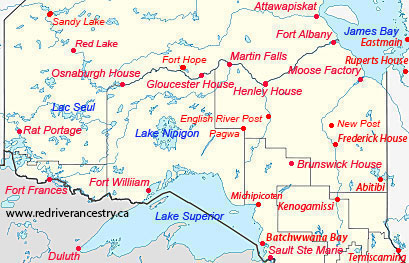 1774-1779
In 1774 the HBC constructed its first inland post, Cumberland House (SK). On July 4 that year, the Moose Factory Council sent John THOMAS with three Indians to survey a route to Lake Abitibi. Shortly after he returned to Moose Factory on Aug 16, he was appointed as 2nd in command and a member of the Council.
In 1775 John journeyed east from Moose Factory, across Hannah Bay (at the extreme SW corner of James Bay), and then up the Rivière Nottaway (Que.), and in the following year he travelled west up the Moose River (Ont.). All these explorations were preliminary steps toward the settlement of posts in Moose Factory's hinterland.
DCBO: In 1777 the HBC built Brunswick House as a "Halfway House" towards Lake Superior. That same year THOMAS was instructed to establish a post at Michipicoten (See map above).
In 1779, when pressure mounted to continue expansion, some of the Montreal-based merchants, many of whom were Scottish Highlanders, formally coalesced as the North West Company (NWC).
John marries an Ojibway-Cree Indian named Margaret
1779
In 1779 THOMAS was granted a wages were increased to 25 ₤ per year and he was appointed second to Edward JARVIS, chief at Moose Factory. However, he soon returned to BrunswickHouse.It was around this time that an Ojibway-Cree Indian named Margaret became his wife and life-long companion. John was about 28 years old then and Margaret was still in her teens. On Nov 22, 1780 their first child, Eleanor was bornat Old Brunswick House.
In August of 1782 John surrendered Brunswick House and returned to Moose Factory where he succeeded JARVIS as Chief Factor.
In the fall of 1784, twins, John Jr, and Margaret, were born at Moose Fort. Daughters Elizabeth & Charlotte were bon in 1786 and 1788 respectively.
Arrival of Future Governor Thomas THOMAS
1789
On Mar 25, 1789 Thomas THOMAS (1765-1828) from England was hired as an HBC Surgeon and that summer he sailed to Hudson Bay (York Factory) on the King George. ** MORE ABOUT GOVERNOR THOMAS THOMAS
In 1789 our John THOMAS returned to England on the Seahorse on account of ill health. He returned the following year (1790) aboard the King George to resume his position as Chief Factor at Moose Fort. Around 1791 daughter Mary was born at Moose (she died at the age of three).
In 1791 Thomas THOMAS 2nd (born around 1770) arrived at York Factory, also as an HBC Surgeon, to create the genealogical nightmare that many of us are only too familiar with.
At the time of the arrival of the two gents named Thomas THOMAS, Joseph COLEN (1751-1818) was the Chief Factor at York Factory, the main headquarters for HBC operations throughout Rupert's Land. John THOMAS no doubt had occasions when he was required to attend meetings at York, so he and some of his family would have gotten to know their new THOMAS namesakes.
In September of 1792, eight year old daughter Margaret was sent to England, where it appears she remained for the rest of her days.
In 1793 and 1794 respectively son Charles and daughter Nancy were born.
Around 1795 teenage daughter Eleanor married Thomas THOMAS 2nd (b-c1770) at Moose Fort.
Hodgins-Hoyle; Timeline 1797: John THOMAS, HBC, travelled up the Abitibi and Frederick House rivers and met some of the Canadians (North West Company traders) in an attempt to divide the territory, the trade and the Indians. The attempt failed and rivalry grew.
In 1799, alarmed at the NWC threat to Moose Factory, and apparently on his own initiative, John THOMAS instituted negotiations with the Nor'Westers for dividing the area's trade between the two companies, even travelling as far as Michipicoten in the hope of meeting William McGILLIVRAY (1796-1825).
In 1802 Governor John McNAB (1755-1820) took charge at York Factory Headquarters.
The Nor'Westers become a Threat
Defection of Son-in-law Thomas THOMAS 2nd
1803-1806
In 1803, in order to overcome the HBC's stranglehold on fur trade in the James Bay area, Simon McTAVISH (1750-1804) and his North West Company (NWC) decided to gamble. They organized an overland expedition from Montreal to James Bay, and a second expedition by sea. That year they built their Fort St Andrews on Charlton Island (Charlton Island is located at the south end of James Bay, across from John's Moose Fort (closer to the east side of the Bay). There, they would lay claim to the territory in the name of the NWC. Simon McTAVISH hoped a reasonable compromise might be negotiated with the HBC. Leadership of the expedition was assigned to 25 year old John George McTAVISH (1778-1847), Simon's distant cousin, who had spent his first five years with the company at their Montreal offices. John George would prove himself to be a ruthless but cunning man. In September of 1803, the overland party met the company's ship at Charlton Island.
Around 1804, 18 year old daughter Elizabeth became the wife of the post Surgeon, Richard Story ROBINS (1779-1807) from England. ** MORE ABOUT RICHARD STORY ROBINS in HBCA
On Mar 25, 1805 John THOMAS wrote a letter to Governor McNAB saying that "Mr THOMAS (his son-in-law, TT 2nd) went over (HBC contract had expired) to the Canadians (NWC) on Oct 2, 1804, and is now in charge of their post on the head of Hazey (Hayes) Island. This defection most certainly must have upset the old man; he and his son-in-law were obviously not on friendly terms.On Jan 13, 1806 he again wrote to McNAB - - essentially saying that the NWC had fired his son-in-law; that he had followed Msrs CAMERON and others to the Bay and that he sailed for Quebec on the ship named the Beaver on Aug 22, 1805. He had apparently deserted 25 yr old Eleanor, leaving her with their four children.
Partners in Fur: In 1806, when negotiations had failed, the Canadians (NWC) destroyed their posts and withdrew from the Bay. THOMAS reported that three of the Nor'Westers came to him and "informed us that they had abandoned all the Eastmain Coast and that they would these posts at Moose if we would abandon some of ours up the River". THOMAS recognized that the three were grasping at straws to gain some advantage from their James Bay adventure. He refused to entertain the idea and the Hayes Island post was soon after evacuated with all the others.
Around 1806 son John THOMAS Junior began a relationship with teenager Mary O'CONNOR aka MEENISH from the Cree Village at Rupert's House across the Bay from Moose. ** MORE ABOUT MEENISH & JOHN THOMAS
1807-1810
John's last children were born between 1801 and 1807 (Edward, Richard, Jane and Henry). All died in infancy except perhaps Henry of whom we know very little. In 1807 son-in-law R.S. ROBINS died. Around 1807 daughter Eleanor re-married to William RICHARDS (1785-1811).
Around 1808 daughter Nancy became the wife of Thomas HODGSON, son of a Cree woman and John HODGSON (1763-1826). ** MORE ABOUT JOHN HODGSON
Around 1809 daughter Charlotte became the wife of Peter SPENCE (1777-1855) from the Orkneys.
Moose Fort Becomes the Headquarters of the Southern Factories
1810-1814
In 1810, with a reorganization of the HBC, Moose became headquarters of the Southern Factories, the administrative centre of the Company's James Bay, or Southern Department, while York Factory, on Hudson's Bay, was the northern hub. The Company adopted its "retrenching system," which called for financial moderation and instituted profit sharing for men in senior trading positions. Under this scheme, which also reorganized the posts into Northern and Southern departments, John THOMAS stayed on as chief at Moose Factory, serving under the aforementioned Governor Thomas THOMAS, Superintendent of the Southern Department.
In 1811 daughter Eleanor's 2nd husband (William RICHARDS) died of consumption, leaving Eleanor with two more children.
Son Charles THOMAS, after eight years of education in London, was now an HBC employee and in 1811 he became an Assistant Trader at Brunswick House (See map above).
Around 1812 daughter Elizabeth re-married to James RUSSELL (b-c1784 from the Orkneys), an Accountant from Eastmain (across James Bay at the mouth of the Eastmain River).
Around 1812 daughter Ann had a relatively short union with Thomas HODGSON, son of a Cree woman & John HODGSON (1763-1826) from England. They parted in 1814 when HODGSON was discharged form HBC service. He left Moose to join his father at Lac des Chats on the Ottawa River. He later joined the NWC and remarried to a Saulteaux woman named Angelique. ** MORE ABOUT JOHN HODGSON
 In 1812-13 John MANNALL was Second in command in the Moose District, and during that time John's son Charles married his daughter, Hannah MANNALL.
In the spring of 1813, after devoting 44 years of his life to the Company, was suspended from duty "owing to mismanagement, negligence, and disobedience".  This was apparently in connection with his failure to develop agriculture at Moose. Essentially this move seemed to be designed to force him into retirement. He was 62 years old now and retire he did. He was replaced by his daughter's father-in-law, John MANNALL.
On Dec 31, 1813 (New Years Eve) John's wife Margaret died at Moose Factory, no doubt weakened with despair and frightened by what her future would hold.That left John with three sons (John Jr., Charles & Henry), and five daughters, and six granddaughters in the country, besides his daughter (Margaret) in England.
In 1813 The War of 1812 ended, resulting in a Canadian victory over the United States.
When John decided to retire, the Company offered him a choice of either returning to England, or taking a grant of land as a settler in the East Winnipeg District. Instead, he decided he would retire to Vaudreuil, Quebec, a suburb of Montréal.
John Retires to Vaudreuil, Quebec
1814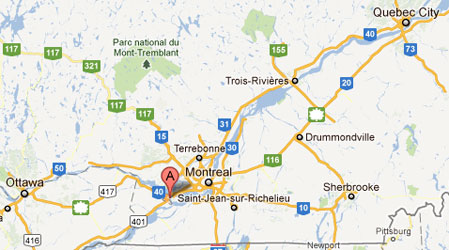 A = Location of Vaudreuil
HBCA: When they left Moose in 1814, the group consisted of John THOMAS Senior, son Charles THOMAS (with wife and child); Peter SPENCE, (with wife and three children); Thomas KNIGHT, John KNIGHT, Mary KNIGHT; Henry THOMAS ( son of John Thomas); Three Grandchildren of John THOMAS, viz. Henry THOMAS, Richard THOMAS, and Richard ROBINS,; Mrs. McNAB and a son of Mr. VINCENT, Chief at Albany.
In 1814 John MANNALL also retired.
In 1814 the family of John HODGSON (1763-1865) also moved to the Ottawa Valley, including son-in-law Thomas HODGSON who had been dismissed from HBC service. His wife, Nancy THOMAS remained at Albany and would later become the wife of Alexander CHRISTIE (1792-1872) from Scotland, the HBC Superintendent at Rupert's House, across the Bay from Albany (they would later be church-wed). ** MORE ABOUT ALEXANDER CHRISTIE in DCBO
Bonnechere: On Nov 2, 1815, John THOMAS addressed a letter to the Governor and the Committee of the HBC from Vaudreuil requesting to be allowed to return to Moose Fort, but he was advised from a meeting held on March 6, 1816 "that his sons may be taken into the Service at Moose Fort but that he himself cannot be allowed to return thither, but if he wishes to settle in Hudson's Bay the Committee will assign him Lands in the Red River Settlement."
Was this supposed to be some kind of a cruel joke? The HBC Governor and Committee (as well as John) had to be fully aware that a Red River Métis Rebellion was well under way and that this was the last place anyone would want to settle at that time. In fact by the following winter Lord SELKIRK arrived in nearby Montreal and was busy recruiting soldiers to help him go to the rescue of his beleaguered settlers. The Battle of Seven Oaks took place that summer; 21 people had been killed including the colony's Governor, Robert SEMPLE. It wasn't until the fall of 1817 that the Rebellion was quelled.
In fact it wasn't until 1821 that peace was fully restored at Red River by the historic HBC-NWC Union.
John THOMAS died on June 9, 1822 in Vaudreuil, Quebec.
============================= // =============================
Because of our interest in determining the unknown origins of several THOMAS descendants who settled in Red River, the question arises – Did any of those THOMAS children (or grandchildren) who went to Vaudreuil  ever return to the Bay and/ or Red River? Perhaps our elusive Red River THOMAS origins will be found amongst these people.
We do know that son Charles re-entered HBC. He served in the Athabasca (1815-1817), Cumberland House (1817-18), Peace River (1818-19), Athabasca (1819-20) and Peace River (1820-21). In 1822 Charles retired for a second time and returned to Vaudreuil upon the death of his father.
Discussions about this family at the following Link: DISCUSSIONS ABOUT JOHN THOMAS (1751-1822)
========================== Family Details ==========================
HBCA regarding children who died:  (Probably children, but some may be grandchildren): Edward (5 Feb. 1801-25 July 1802); Mary (23 July 1791-24 Oct. 1802); Richard Edward (13 Feb. 1803-16 Dec. 1803); Jane (29 Oct. 1804-1 Sep, 1806).

Mentioned in Will of 1822: son Charles; daughter Charlotte, wife of Peter SPENCE and their son John; daughter Eleanor, wife of Peter FOY; grandchildren Henry and Richard THOMAS, sons of Eleanor by her first marriage to Thomas THOMAS; daughter Margaret, spinster, in London; daughter Frances, wife of Andrew STEWART; daughter Ann, wife of Alexander CHRISTIE; daughter Elizabeth, wife of James RUSSELL and her son Richard Story ROBINS by a previous marriage; son Henry, a minor living with James RUSSELL.
Children:
1. Nov 22, 1780 ELEANOR THOMAS (m1. Thomas THOMAS, m2. William RICHARDS, m3. Peter FOY)
2. Sep 25, 1784 JOHN (Twin) THOMAS JR (m. Mary O'CONNOR aka MEENISH)
** MORE ABOUT JOHN THOMAS JR
3. Sep 25, 1784 MARGARET Twin) THOMAS
4. 1786 ELIZABETH THOMAS (m1. Richard Story ROBINS, m2. William James RUSSELL)
5. Jun 2, 1788 CHARLOTTE THOMAS (m.  Peter SPENCE)
6. 1791 MARY THOMAS (Died age 3)
7. Sep 9, 1793 CHARLES THOMAS (m. Hannah "Smurm" MANNALL)
8. Dec 29, 1794 NANCY THOMAS (m1. Thomas HODGSON, m2. Alexander CHRISTIE)
** MORE ABOUT ALEXANDER CHRISTIE
9. Dec 17, 1796 FRANCES "FANNY" THOMAS (m1 Andrew STEWART, m2. George JOHNSTONE)
** MORE ABOUT FANNY & GEORGE JOHNSTONE
10. Feb 5, 1801 EDWARD THOMAS (Died in infancy)
11. Feb 13, 1803 RICHARD EDWARD THOMAS (Died in infancy)
12. Oct 29, 1804 JANE THOMAS (Died in infancy)
13. 1807 HENRY THOMAS