JOHN THOMAS (1784-1816)
MARY O'CONNOR aka MEENISH (1793-1828)
(Last Updated: August 28, 2012)
John THOMAS JR was born on Sep 25, 1784 at Moose Factory where his father, John THOMAS SR (1751-1822) was the HBC Chief Factor. His mother was an Ojibway-Cree Indian named Margaret, said to have been the daughter of a Chief. Moose Fort (Factory) was located on an island in the Moose River which empties into Hannah Bay at the extreme south end of James Bay. ** MORE ABOUT JOHN THOMAS SR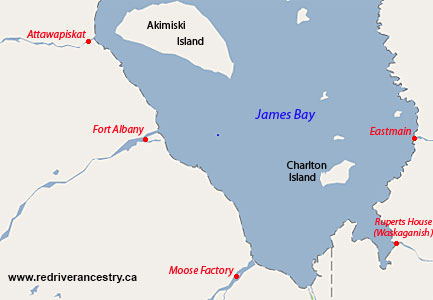 John's wife-to-be (Mary O'CONNOR aka MEENISH) was born around 1792, either at Moose Factory or (more likely) across the Bay at the Cree village of Rupert's House (now Waskaganish, PQ), also near the extreme south end of James Bay.
In 1797 John was just a young teen-ager when he was hired by the HBC as a labourer and steersman. He continued as an HBC employee for the rest of his life (HBC Archives).
Around 1806-07 John began a relationship with Mary O'CONNOR aka MEENISH who was just a young teenager at the time. Around 1807 daughter Eleanor was born. It would be seven more years before they would have a second child (Charles).
In the spring of 1813, John's father (John Sr.), after devoting 44 years of his life to the Company, mercilessly received notice that he was to be suspended from duty, "owing to mismanagement, negligence, and disobedience". He was replaced by his brother's (Charles') father-in-law, John MANNALL. His father was given a choice of either returning to England, or taking a grant of land as a settler in the East Winnipeg District. He chose to resign. On New Year's Eve that year John's mother (Margaret) died at Moose Fort, no doubt weakened with despair and frightened by what her future would hold.
John Jr. was now faced with a critical decision (stay, or leave too?). Around that time his wife (MEENISH) had given birth to their second child (their only son, Charles). Stressed with grief and despair, John Jr. began to hit the bottle pretty hard. That winter he was rated by his superiors as "Inactive, given to liquor & inclined to be lazy". In the summer of 1814 his father (John Sr.) departed for Vaudreuil, Quebec (taking with him all of John's sibling and their families). John Jr. had decided not to join them.
On June 3, 1816 John THOMAS Jr. died. According to Rupertslander, he was probably murdered (at the hands of Niels PAULSEN) at the Capusco goose-hunting tent. I haven't been able to substantiate this story, but it sounds plausible. Who knows what might have taken place? Perhaps a drunken brawl? John had been previously labeled as a boozer by his superiors. (If anyone has more information in this regard, please post it on the Forum)
Some interesting info from Lynn: I am not sure how this story came about but it's a fascinating one to follow. That goose camp is still used by the James Bay Cree today so it has a long history. The geese were salted down for winter food and bags of goose down were sent to England for comforters and pillows and the quills for pens. It is said that the Canada goose quills were the best in Britain for pens.
After John died, it seems that Widow MEENISH returned to Rupert's House (very likely her birthplace) with her two children, perhaps to stay with her parents or other relatives.
In the early 1820's MEENISH became the wife of HBC employee, Richard STEVENS (born around 1793 in England). Their first child (George) was born on Mar 11, 1821 at Rupert's House. ** MORE ABOUT RICHARD STEVENS
========================== Family Details ==========================
Children:
1. Sep 5, 1806 ELEANOR THOMAS (m. Richard THOMAS SR)    
2. Mar 3, 1812 JOHN THOMAS (Died in infancy)
3. Feb 6, 1814 CHARLES THOMAS (m. Marie BOUVIER)
?4. 1815 JOHN THOMAS (m. Jane Indian)