JOHN THOMAS (1815-?)
JANE (Indian) (1818-?)
(Last Updated: November 15, 2012)
PREAMBLE
Before continuing with this narrative, I must caution everyone about the difficulties in tracing Red River ancestors with the surname THOMAS. Before we get too serious about the matter you must go to the following link about the probable grandfather of our John THOMAS. There you can watch the U-Tube Video of 'Who's on First' to get you in the right frame of mind. ** MORE ABOUT JOHN THOMAS (1751-1822)
A further caution regarding information contained in Sprague & Frye's Genealogy of the First Métis Nation which I will denote as S&F. Most experienced researchers are well aware of the pitfalls in relying too strongly on information found in the Tables therein, some which has been proven to be completely erroneous and therefore misleading. Birth dates are often particularly problematic in many cases and can only be viewed as approximations. I am certainly not debunking everything in S&F because it is loaded with excellent information about many of our very earliest ancestors that simply cannot be found anywhere else.
With our Jane & John THOMAS the following S&F information presents us with problems right from the start. They were all born around the same time in Red River:
1. S&F ID-4887: John THOMAS, born 1815 in NWT. Wife: Jane, born 1818
        ** This is the ID referred to by Dawn Thomas
2. S&F ID--4888: John THOMAS, Indian, born 1820 in Red River. Wife Jane WILLIAM, Métis, born 1825 in Red River
3. S&F ID-4674: John THOMAS, Métis, born 1820 in Red River. Wife: Jane TOM, Indian, born 1825 in Red River
None of these IDs identify parents for John THOMAS or for Jane. We must look to other more reliable information to validate or substantiate any premises we might arrive at.

=============================== // ===============================
According to descendant Dawn THOMAS (on Ancestry.com), John THOMAS was born around 1815 at Moose Factory, son of Mary MEENISH (Cree) and John THOMAS (1784-1816). ** MORE ABOUT JOHN THOMAS (1784-1816)
I only recently discovered Dawn's information while trying to wrap up some of my own THOMAS research. Information that I already had about John THOMAS and his children matched up perfectly with Dawn's, except that I did not know who John's parents were, so this was a breath of fresh air.  I plan to contact Dawn very soon in hopes that she will assist us by clearing up a few details in this regard.
In 1816 John's father (John THOMAS SR) died and around 1818 his mother (MEENISH) took her youngsters to her home village at Rupert's House (Cree Village of Waskaganish).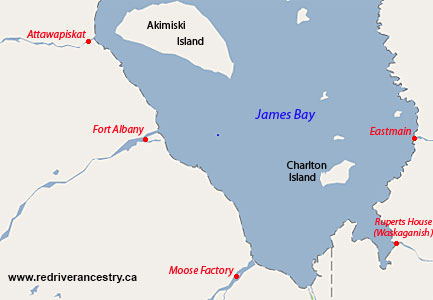 Not long after her husband died, John's mother, MEENISH, began a connubial relationship with Richard STEVENS (1796-1872), an HBC Accountant from England who was in charge of the Company's post at Rupert's House. On Feb 8, 1819, MEENISH gave birth to their son Henry and on March 11, 1821 son George. ** MORE ABOUT RICHARD STEVENS
The North West Company is absorbed by the HBC
1821
At Norway House on Aug 11, 1821 Nicholas GARRY (1782-1856) presided over the first Council of the Northern Department. Also attending was the illustrious George SIMPSON (1786-1860), new Acting Governor of Rupert's Land and Simon McGILLIVRAY (1792-1840), formerly of the NWC. It was at this meeting that everyone received the first news of the official NWC-HBC Union and of impending austerity policies that would mean the loss of jobs and forced early retirements for employees at all levels, including voyageurs, laborers and senior officers as well.
Richard STEVENS remained at Rupert House until he was discharged on Aug 22, 1822, his services "no longer required". On Sep 20, 1822,  Chief Factor Thomas VINCENT (1776-1832) and others wrote to London: "We have been obliged to make some alterations in the classification of clerks in the Southern Department - - Messrs - - Richard STEVENS - - have likewise been dismissed the Service, these people are all strongly addicted to the immoderate use of Spirituous Liquors and are in consequence unfit for service - -"
1822 was also the year that Governor William WILLIAMS (1770-1837) was transferred to Moose Factory as the Governor of the Company's Southern Department, having abandoned his 'wife of convenience' (Sally FIDLER) and their daughter.
On May 1, 1823, MEENISH gave birth to John's step-sister, Theresa STEVENS.
On Sep 10, 1823 Governor WILLIAMS indicated that STEVENS for "motives of humanity has been retained in the Country on half pay for two years." He was given the option of taking his family to the Colony (Red River), an offer that he declined. Consideration was given due to the fact that STEVENS had a wife and family, and if he were dismissed his wife and children would be "thrown on the mercy of the Company." Undoubtedly MEENISH influenced Richard's refusal to go to the Colony. I'm sure she wasn't keen on making a long arduous journey to an unfamiliar far-off place like Red River with very young children and an alcoholic husband. Nevertheless, in 1824 STEVENS was discharged and sent home to England but he returned again the following year (1825), having agreed to retire to Red River as a settler. MEENISH finally relented and agreed to go with him.
The STEVENS Family moves to Red River
1826
In the summer of 1826 the STEVENS family and fellow traveler James SETTER (1810-1857), like so many others travelled to Red River Settlement by canoe, via Lac la Pluie (Rainy Lake) and the post at the Dalles on the Winnipeg River. On Sep 16 that year this group arrived at Red River.
In 1826 John THOMAS would have been about 11 years old when his mother and his STEVENS step-siblings departed for Red River. It seems that MEENISH's children by John THOMAS SR (Eleanor, Charles and John THOMAS) did not accompany the STEVENS half of the family to Red River, but remained at Rupert's House. Several factors seem to support that premise. Certainly Eleanor THOMAS (age 19) the eldest, did not go with them for she was married by that time to Richard THOMAS (1800-1861), an HBC Interpreter and Post Master, and they remained in the Rupert's River District; they  did not go to Red River until 1836. The THOMAS children were not accounted for in the Red River censuses of 1827 and 1831 (only their mother and their STEVENS step-siblings).
Whereas we have so little information about John THOMAS, his brother Charles THOMAS is very well documented.
On Sep 25, 1827 the following children of Mary & Richard STEVENS, settlers at the Rapids (Lockport), were baptized by Reverend David JONES (1796-1844), HBC Chaplain: Henry, George, Thirza and Isabella. On Nov 27, 1827, Mary MEENISH & Richard were church-wed by Rev JONES at St Johns, in the presence of Donald GUNN and John McDONALD.
By 1827 MEENISH & Richard STEVENS had settled on River Lots 41 and 42. Interestingly, this is precisely the area where present day Stevens Avenue is located at Lockport, extending from just south of the Lockport Bridge west to Highway #9. The Red River Census that year enumerated the family as follows: Richard STEPHENS, age 30, Protestant, England. One married man; one woman; two sons under 16; two daughters under 15
Red River Census of 1831: Richard STEVENS: Age 36; wife, one son over 16; three sons under 16; and two daughters under 16. 
Thomson notes: On May 31, 1832 at Red RiverMEENISHtold Thomas SIMPSON (1808-1840) that her daughter Eleanor was at Rupert River and her brother, Charles (THOMAS),was at Red River.  Again, no mention of John.
The THOMAS Siblings move to Red River
1836
In 1836, according to HBCA, Eleanor & Richard THOMAS retired from Rupert's River to Red River. It would seem very possible that Eleanor's brothers (Charles & John) probably made the move along with them at that time.
 On Nov 13, 1837, Eleanor & Richard THOMAS as well as Matilda, Richard William and Charles THOMAS (Charles probably being Eleanor's brother) were baptised at St Johns, Red River. There is no mention of John THOMAS, who would have been about 21 years old by then.

On Dec 21, 1837, Eleanor & Richard THOMAS were church-wed in St Andrews Parish. 
A Cree Wife named Jane
1840
By about 1840 John's wife was a Cree woman named Jane. Son Philip was born in 1841 in Red River, followed by Mathilda in 1846 and Joseph in 1847.
Around 1860 Philip married Sophia CADOTTE, daughter of Nancy COCHRANE & Michel CADOTTE(b-1811)
On May 4, 1865 daughter Matilda married Isaac ASHAM (1845-1933) in St Peters, son of Elizabeth BEAR & James ASHAM (1823-1901). ** MORE ABOUT JAMES ASHAM
Son Joseph married a lady named Charlotte SYDNEY (S&F); when or where we do not know.
I have no information when or where John or Jane died.
We are eager to learn more about this family. Please join the discussion on the Forum under the following Link:  FORUM DISCUSSIONS about JANE & JOHN THOMAS
========================== Family Details ==========================
Children:
1. 1841 PHILIP THOMAS (m. Sophia CADOTTE)
2. 1846 MATHILDA THOMAS (m. Isaac ASHAM)
3. 1847 JOSEPH THOMAS (m. Charlotte SYDNEY)