THOMAS HODGSON (1789-1865)
ANN NANCY THOMAS (1795-?)
ANGELIQUE (Salteaux Indian) (c1800-?)
(Last Updated: September 17, 2013)
Thomas "Tom" HODGSON was born around 1789 in the Albany River District. His mother was a Cree woman, his father was John HODGSON (1763-1826), an Englishman from London (HBCA). ** MORE ABOUT JOHN HODGSON
Apprentice Shipwright at Albany
1800
In November of 1800 Tom (only about 11-12 years old) began to work for the HBC as an Apprentice Shipwright at Albany. In 1807, just prior to his trip to England with his father, he was classified as a Boat Builder.
** MORE ABOUT THOMAS HODGSON in the HBC ARCHIVES
Thomas and Nancy THOMAS
Moose Factory
1808
In 1808 Tom and his father both returned to Moose Factory, where it seems Thomas remained at least long enough to begin a relationship with Ann THOMAS, the daughter of John THOMAS,(1751-1822), the Chief Factor there.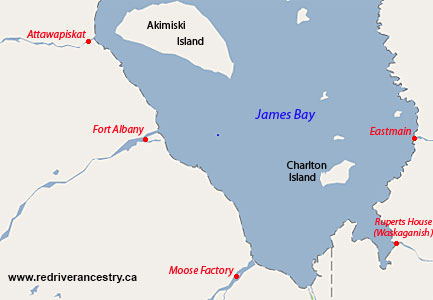 Early HBC Forts around James Bay
In 1810 Tom's father, John HODGSON retired from the HBC and settled in the vicinity of Lac des Chats on the Ottawa River (northeast of Montreal).
On Mar 29, 1812 John was sponsor at the christening of his nephew, John THOMAS JR, at Moose Factory, son of his brother-in-law (Nancy's brother), John THOMAS SR (1784-1816).
During the outfit year 1813-14 Tom was classified as a Carpenter at Albany.
Ottawa River
1814
On July 2, 1814 Tom was discharged from service. He left Albany and along with his brother James he joined his father in the Ottawa Valley, leaving wife Nancy behind.
Around 1817 back at the Bay, Nancy THOMAS began a connubial relationship with Alexander CHRISTIE (1792-1872) from Scotland, the HBC Superintendent at Rupert's House, across the Bay from Albany (they would later be church-wed). ** MORE ABOUT ALEXANDER CHRISTIE in DCBO
Marriage to Angelique
Employed by the North West Company
1817-1821
Around 1817-18 Thomas was united with a Salteaux woman named Angelique.
In 1818 Tom was hired by the HBC rival North West Company at Sault Ste. Marie. He must have been sent to the Peace River country (Alberta), because son George was born there that year.
During the outfit year 1819-20 Tom was at Fort William, the Operational Headquarters of the NWC. On May 28, 1820 the NWC partners had their annual meeting at Fort William. Attending the meeting was the illustrious (Sir) George SIMPSON (1786-1860), the new HBC Governor in Chief locum tenens. It was then that SIMPSON delivered a message that Lord BATHURST, secretary of state for war and the colonies, had entrusted to him, calling for an end to the violence between the two companies.
NWC absorbed by the HBC
Tom in the Columbia and New Caledonia Districts
1821-1824
In March of 1821 the North West Company (NWC) and the Hudson's Bay Company (HBC) agreed to an amalgamation of the two companies whereby the HBC gained a monopoly which would ensure their control of the fur trade in British North America for many years to come.
Thomas HODGSON was sent to the Columbia District, and in October and November of 1821 he was in charge of Chala-oo-chik, an early site of Fort George, but he was replaced by James Murray YALE (1798-1871) who thought that HODGSON drank too much. ** MORE ABOUT JAMES MURRAY YALE in DCBO
Wikipedia: New Caledonia extended as far as the economic relationships enjoyed by its designated trading posts, which greatly expanded over the years. Originally, the eastern boundary was considered to be the Rocky Mountains, the northern boundary the Finlay River, and the southern boundary the Cariboo or the Thompson River drainage. The region south of the Thompson River and north of the then Mexico border, the 42nd parallel north, was designated as the Columbia District. The Columbia Department was governed first from Fort Astoria, then from Fort Vancouver (present day Vancouver, Washington).
From 1822 to 1824 Tom was a Carpenter & Boatbuilder at Fort St. James in New Caledonia. He was described there as "Very slow but honest and good boat builder."
Athabasca District – Green Lake
1824-1853
In 1824 Tom was sent east of the Rockies as a voyageur to the Athabasca District. From 1836 to 1853 he was based at Green Lake (SK) during which he worked variously as a Boat Carpenter and Post Master, as well as an Interpreter and Guide.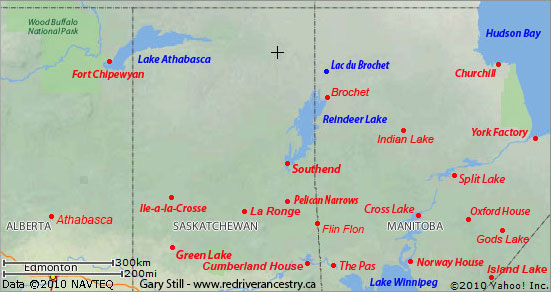 In 1845 son George married Mary ROWLAND at Ile a la Crosse, daughter of Elizabeth BALLENDINE & William ROWLAND (1799-1873) from the Orkneys. ** MORE ABOUT WILLIAM ROWLAND
Between 1853 and 1857 Tom left the service of the HBC and the Archives indicate he was a "Freeman" for three years in the Red River Settlement.
In 1857 he was back in service as a Carpenter and Boat Builder based at Edmonton in the Saskatchewan River District for three years. During the winter of 1858 both he and his son George (then also a Boat Builder) were recorded at Fort Edmonton.
From 1861 to 1864 he was again a "Freeman" at Red River.
In 1864 Tom was back in the Saskatchewan District as a Carpenter (probably in Edmonton or St Albert where his son George was living at the time).  He died there on Aug 10, 1865. He would have been about 76 years old.
Comments and queries at this link: FORUM DISCUSSING the THOMAS HODGSON FAMILY
======================= Family Details =======================
Child by Angelique (Indian):
1. 1818 GEORGE HODGSON (m1. Mary ROWLAND, m2. Louise (nee BOUCHER) AUGER)