GEORGE HODGSON (1818-1891)
MARY ROWLAND (1830-1870)
LOUISE (nee BOUCHER) AUGER (1832-?)
(Last Updated: September 22, 2013)
George HODGSON was born around 1818 in Peace River, the only child of Angelique (Salteaux Indian) and Thomas HODGSON (1789-1865), an HBC Carpenter and Boat Builder who switched his allegiance to the rival North West Company (NWC), only to be reinstated as an HBC employee after the union of the two companies in 1821.
After the NWC-HBC union, George's father was sent to the Columbia District until 1824 when the family moved back east of the Rockies to the Athabasca District (Green Lake, Saskatchewan). George would have been about six years old then.
George undoubtedly learned his trade as a Carpenter and Boat Builder as an apprentice to his father, who from 1836 to 1853 worked out of Green Lake.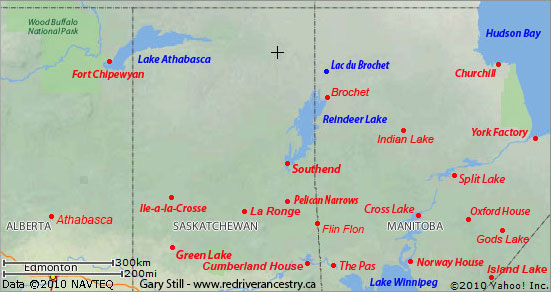 Marriage to Mary ROWLAND
1845
George first married 1845 at Ile a la Crosse (north of Green Lake) to Mary ROWLAND, daughter of Elizabeth BALLENDINE & William ROWLAND (1799-1873) from the Orkneys.  ** MORE ABOUT WILLIAM ROWLAND

Edmonton – St Albert
In 1857 George's father (Tom), after three years of retirement at Red River, was back in service in the Saskatchewan River District. During the winter of 1858 both George and his father were recorded as Boat Builders and Carpenters at Fort Edmonton.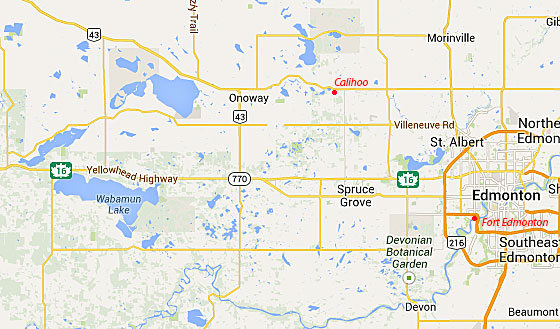 In 1861 Father Albert LACOMBE (1827-1916), one of the earliest missionaries in the west, proclaimed Mission Hill home to the St. Albert mission settlement. He built a log chapel for ministering to the Cree and Métis.
** MORE ABOUT FATHER ALBERT LACOMBE
In 1865 George's father (Thomas HODGSON) died in the Saskatchewan River District (very likely at Fort Edmonton or St Albert).
Canadian Confederation
1867
On July 1, 1867 the British colonies in North America were united under the British North American Act to become the Dominion of Canada. Sir John A MACDONALD (1815-1891) was appointed as Canada's first Prime Minister.
In 1870 son George Jr. married Marie Madeleine BRUNEAU, daughter of Angele DUMONT & Louison MONTAGNAIS dit BRUNEAU (1831-1918).
Marriage to Louise (nee BOUCHER) AUGER
1871
In 1870 Mary died, and in 1871 George re-married to Louise (nee BOUCHER) AUGER, widow of Antoine AUGER (who she married in 1848 at Lac Ste. Anne), daughter of Marguerite DUPUIS and Joseph BOUCHER b-1792.
Around 1877 son John married Catherine DURAND at Red Deer (AB), daughter of Marie Petit CHASSEUR and Louis DURAND.
In 1878 eldest son Thomas married Marie KAP-SA-SIT at Battleford, Saskatchewan, where he worked as a freighter. Also in 1878, daughter Mary married James CUNNINGHAM in St Albert (AB), son of Rosalie L'HIRONDELLE and John CUNNINGHAM (1817-1870). ** MORE ABOUT JOHN CUNNINGHAM
In 1885 George claimed his Half-breed Scrip in St Albert.
On March 7, 1891 George HODGSON died in Peace River.
In 1893 son Peter married Marie COURTEPATTE at St Albert, daughter of Josephte BELCOURT & Jean-Baptiste COURTEPATTE (1829-1918).
Comments and queries at this link: FORUM DISCUSSING the GEORGE HODGSON FAMILY
======================= Family Details =======================
Children:
1. Nov 7, 1845 THOMAS HODGSON (m. Marie KAP-SA-SIT)
2. July 18, 1846 GEORGE HODGSON (m. Marie Madeleine MONTAGNAIS dit BRUNEAU)
3. Mar 1, 1851 JOHN HODGSON (m. Catherine DURAND)
4. Apr 23, 1858 MARY HODGSON (m. James CUNNINGHAM)
5. Jun 4, 1867 PETER HODGSON (m. Marie COURTEPATTE)
6. Apr 10, 1870 FREDERICK HODGSON