PETER HODGSON (1867-1959)
MARIE COURTEPATTE (1870-1939)
(Last Updated: September 26, 2013)
Peter HODGSON was born Jun 4, 1867 at Fort Pitt, Saskatchewan, son of Mary ROWLAND and George HODGSON (1818-1891). ** MORE ABOUT GEORGE HODGSON
In 1870 Peter's mother (Mary nee ROWLAND) died, and in 1871 his father George HODGSON re-married to Louise (nee BOUCHER) AUGER, daughter of Angele DUMONT & Louison MONTAGNAIS dit BRUNEAU (1831-1918). Peter was only three years old when his mother died, so he was essentially raised by his step-mother (Louise nee BOUCHER in St Albert, Alberta.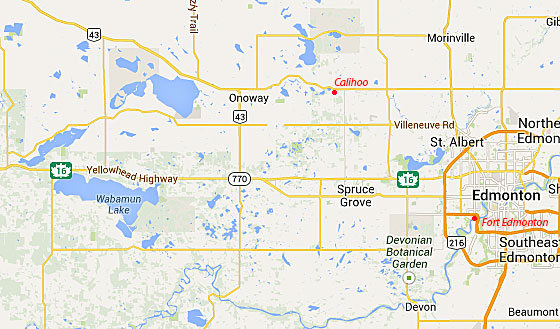 In 1891 Peter's father, George HODGSON died in Peace River (AB).
Marriage to Marie COUIRTEPATTE
1893
In 1893 Peter married Marie COURTEPATTE in St Albert, daughter of Josephte BELCOURT and Jean-Baptiste COURTEPATTE (1829-1918).
The 1901 Census in St. Pierre (Now Villeneuve): Peter HODGSON (age 33), wife Marie (age 30) and children: John (age 6), Marie (4) and baby Pierre.
The rest of the children who survived to adulthood were born as follows: Cecile in 1902, Joseph in 1908, Gabriel in 1910 and finally Emma in 1913.
In 1914 daughter Clothilde married Victor CALIHOO in Villeneuve, son of Victoria BELCOURT & Chief Louis Jerome CALLIHOO (1858-1926).
In 1926 son Pierre (Peter) married Helena Victoria CUNNINGHAM in St Albert, daughter of Mary Rachel ROWLAND and Henry CUNNINGHAM (1869-1955). ** MORE ABOUT HENRY CUNNINGHAM
In 1933 daughter Emma married Charles Albert BELLRICHARD (1903-1969) in St Albert, son of Bessie Belle SPECK and Albert Charles BELRICHARD (1876-1950).
In the 1930's son Joseph married Emma CUNNINGHAM, daughter of Marie Amelia ROWLAND & Alfred CUNNINGHAM (1868-1936).
In 1937 daughter Cecile married Vance Edward BERRY, son of Malvina Catherine LETENDRE and John BERRY (1881-1964).
In 1939 Marie (COURTEPATTE) HODGSON died in St Albert (buried in Villeneuve).
On Jan 30, 1959 Peter HODGSON died in BC.
Comments and queries at this link: FORUM DISCUSSING the PETER HODGSON FAMILY
======================= Family Details =======================
Children:
1. 1893 JOACHIM HENRI HODGSON (Died 1894)
2. Jan 1, 1895 JOHN EDWARD HODGSON (Died 1918)
3. Feb 25, 1897 CLOTHILDE MARIE HODGSON (m. Vital Victor CALLIHOO)
4. 1898 BERTHA OCTAVIE HODGSON (Died in infancy)
5. July 18, 1900 PIERRE TOBIE (PETER) HODGSON (m. Helena Victoria CUNNINGHAM)
6. Aug 31, 1902 CECILE MARIE HODGSON (m. Vance BERRY)
7. Nov 11, 1906 MARIE AGNES HODGSON (Died in infancy)
8. May, 1908 JOSEPH "JOE" TANCREDE ODILION HODGSON (m. Emma CUNNINGHAM)
9. Mar, 1910 GABRIEL HODGSON (Died 1929)
10. Jan 24, 1913 EMMA CLARA HODGSON (m. Charles BELLRICHARD)