HENRY CUNNINGHAM (1869-1955)
MARY RACHAEL ROWLAND (1874-1947)
(Last Updated: September 26, 2013)
Henry CUNNINGHAM was born Jan 1, 1869 in St Albert, Alberta, the youngest child of Rosalie L'HIRONDELLE and John CUNNINGHAM (1817-1870). He was christened by Father Albert LACOMBE (1827-1916), the man who gave St Albert its name. ** MORE ABOUT JOHN CUNNINGHAM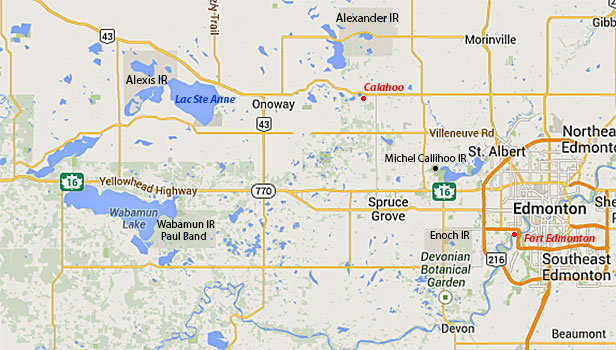 In 1870 Henry's father (John CUNNINGHAM) died when he was just a baby.
In 1881 Henry (age 13), his mother (Widow Rosalie) and his siblings were living  in Edmonton with his brother, Samuel CUNNINGHAM (age 33) who was married by then with three children of his own.
In 1885 Henry (of St Albert) claimed his Half-breed Scrip.
The 1891 Census recorded Henry CUNNINGHAM (age 22) as a Clerk in the St Albert establishment of Edmond BROSSEAU, a Merchant who was married to a Julie L'HIRONDELLE (probably somehow related to his mother, Rosalie L'HIRONDELLE).
Marriage to Mary Rachel ROWLAND
1899
Around 1899 Henry married Mary Rachael ROWLAND in St Albert, daughter of Sophie CHASTELLAINE and John ROWLAND (1834-1914) who was in his younger days an HBC voyageur, interpreter and trader.in the region.
In the 1901 Census Henry (age 32) and his wife Mary (age 27) were enumerated in St Albert. His mother, Widow Rosalie (age 72) was with them as well as an 'adopted boy named W COURTEPATTE (age 6) and his cousin, Roderick CUNNINGHAM (age 17).
On May 18, 1901 their first child, John Patrick was born in St Albert.
A Trader for Revillon FRERES – Wabisca
1904
In 1904 Henry took his family to Wabasca Lake, 250 miles north of Edmonton (NE of Lesser Slave Lake), where he was a fur trader for Revillon FRERES.  In 1903, Revillon set up a network of fur-trading posts in northern Canada to compete with the HBC (HBC). By 1909, Revillon had forty-eight stores in its Eastern Arctic division while HBC had fifty-two.
** MORE ABOUT REVILLON FRERES in WIKIPEDIA

In the censuses of 1906 and 1911, Henry and his family were recorded in St Albert (Emery Street); in 1911: Henry (age 42; wife Mary (age 36); children: John (age 10), Flora (8), Maria (5), Helen (3) and Dolphus (age 2).
Three more children were born: Bessie in 1911, Alexandria in 1915 (died 1918) and lastly, Delia in 1917.
In 1920 Henry's mother (Rosalie) died in St Albert at the age of 91.
In 1926 daughter Helena married Pierre Tobie HODGOSN in St Albert, son of Marie COURTEPATTE and Peter HODGSON (1867-1959). ** MORE ABOUT PETER HODGSON
In 1929 daughter Maria married Walter CUNNINGHAM, son of Mary Justine PAGE and Samuel CUNNINGHAM (1872-1944).
Perhaps around 1931 son John Patrick may have married Mary DONALD, said to be a daughter of Mary Rose PAQUETTE and Robert DONALD of unknown origins. ** More information needed to verify this.
Youngest daughter, Delia married Robert GRAY, son of Clarisse BELCOURT dit KARAKONTI (CALLIHOO) and Philippe GRAY (born 1861 at Lac Ste Anne).
By the time the Métis Association of Alberta was formally established in St. Albert on December 28, 1932, it had "at least 31 active locals" (Sawchuk, 1978:53). The first members of the executive were: Joe DION, president; Malcolm NORRIS, first vice president; Felix CALLIHOO, second vice president; Henry CUNNINGHAM, third vice president and Jim BRADY, secretary-treasurer. One of the first actions the association took was to abolish the term "Half Breed" and adopt the term "Métis."
Mary died in 1948 and Henry CUNNINGHAM died in 1955, both in St Albert.
Gravestone in St Albert RC Cemetery
(From Alison)
Comments and queries at this link: FORUM DISCUSSING the HENRY CUNNINGHAM FAMILY
======================= Family Details =======================
Children:
1. May 18, 1901 JOHN PATRICK CUNNINGHAM (m. Mary DONALD)
2. April, 1903 FLORA CUNNINGHAM (Died 1923, age 19)
3. Mar, 1906 MARIA CUNNINGHAM (m. Walter CUNNINGHAM)
4. June 18, 1907 HELENA VICTORIA CUNNINGHAM (m. Pierre Tobie HODGSON)
5. Apr 22l, 1909 ADOLPHUS (DOLPHUS) FREDERICK CUNNINGHAM (Died 1927, age 18)
6. 1911 BESSIE CUNNINGHAM (m. DRANEY)
7. 1915 ALEXANDRIA CUNNINGHAM (Died 1918, age 3)
8. 1917 DELIA (DELLA) CUNNINGHAM (m. Robert GRAY)