JOHN CUNNINGHAM (1817-1870)
JANE WORK (1817-1841)
MARGARET MONDION (1820-1845)
ROSALIE L'HIRONDELLE (1829-1920)
(Last Updated: January 18, 2014)
John CUNNINGHAM was born Feb 16, 1817 at Ile a la Crosse, son of Nancy BRUCE and Patrick CUNNINGHAM (1790-1831), an HBC voyageur and post master from Ireland. ** MORE ABOUT PATRICK CUNNINGHAM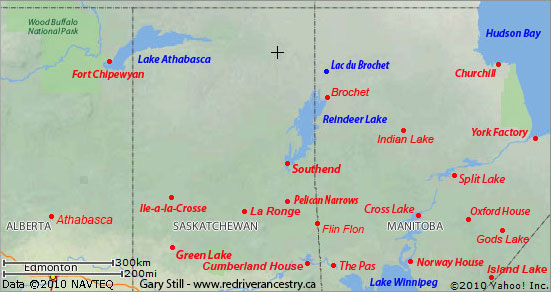 The CUNNINGHAM family travelled extensively as John grew to manhood. From 1823 to 1826 (John age 6 to 9) they were at Fort Chipewyan; 1826-27 at Fort Churchill (John age 10); 1827-29 in the Island Lake District (until John was 12).
In 1831 they moved to Fort Severn (on Hudson Bay to the east of York Factory) where that October his father, Patrick CUNNINGHAM died by drowning in the Severn River. His widowed mother then took her young family to Red River (Kildonan) when John was 14 years old.
Employed by the Hudson's Bay Company
1833
John was 16 years old in summer of 1833, when he was hired by the HBC at York Factory and was sent back to the Island Lake District to begin his apprenticeship as a labourer in familiar territory.
** MORE ABOUT JOHN CUNNINGHAM in HBC ARCHIVES
Fort Assiniboine – Saskatchewan District
Marriage to Jane WORK
1836-1840
In 1836 John was sent to the Saskatchewan District for another four years of apprenticeship at Fort Assiniboine (See map below).
Around 1837 John married Jane WORK, the daughter of a Red River woman (?) and JOHN WORK (1791-1862) from Ireland. ** MORE ABOUT JOHN WORK in DCBO

The only child by this marriage was daughter Jane who was baptized on 14 July 1838.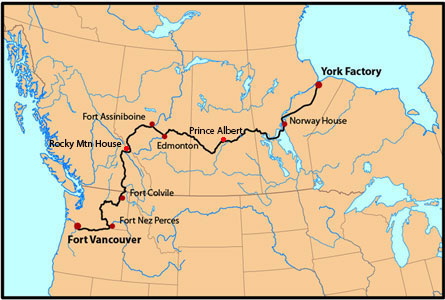 Route of the Columbia – Simpson's York Factory Express
Modern day political boundaries are shown.
Voyageur – Interpreter for Reverend RUNDLE
1840
From 1840 to 1845 John CUNNINGHAM worked as a voyageur (middleman). It was during this period that is mentioned several times in the journal of the Reverend Robert RUNDLE (1811-1896), for whom he acted as an interpreter, 1840-1848. During that period, RUNDLE spent the winter months at Fort Edmonton, Lesser Slave Lake and Fort Assiniboine, and travelled extensively during the summer, up the North Saskatchewan River to Rocky Mountain House and other locations in southwestern Alberta. (Notes in HBCA Bio). William ROWLAND (1827-1899) also acted as an interpreter for RUNDLE.
** MORE ABOUT ROBERT RUNDLE in DCBO

With the Sinclair Party of Settlers to Oregon
John and Margaret MONDION
1841
In 1841 the HBC organized a party of 23 families (names included John CUNNINGHAM) to immigrate to the Columbia River, hoping that, as settlers, they would strengthen British claims to the Oregon, then in dispute with the United States. They were led by James SINCLAIR (1811-1856), and the party was known as the Sinclair Party.
At Rocky Mountain House, John CUNNINGHAM married Margaret MONDION of unknown origins, possibly from the White Horse Plains of Manitoba (west of Winnipeg) where the immigrant families assembled before departing on their epic journey to Oregon. Their route began along the Assiniboine River to the Qu'Appelle River, past Fort Pelly and onward to Fort Carlton on the North Saskatchewan River, then to Rocky Mountain House. They crossed White Man Pass to Red Rock Gorge (Sinclair Canyon, B.C.), arriving at Fort Vancouver on Oct 13, 1841.
John FLETT (1815-1892) wrote several accounts of the journey. See this one that appeared in the Tacoma Daily Ledger in 1885: REMINISCENCES of JOHN FLETT
In FLETT's reminiscences he presents a List Party members who died (many names are misspelled) which includes a Mrs. CONEYHAM (this would be Mrs. CUNNINGHAM, John's wife, Margaret nee MONDION). Some references indicated that Margaret died in Washington County in 1845, and the HBCA indicates that John returned to Red River that year.
Saskatchewan River District – Lac Ste Anne
John marries Rosalie L'HIRONDELLE
1846
By 1846 John had returned to the Saskatchewan district. According to the HBC Archives, on September 15 that year he married Rosalie L'HIRONDELLE at Lac Ste. Anne (west of Edmonton). Rosalie is said to have been the daughter of Josephte PILON and Jacques L'HIRONDELLE (1759-1854).
** MORE ABOUT the L'HIRONDELLE FAMILY in HBC ARCHIVES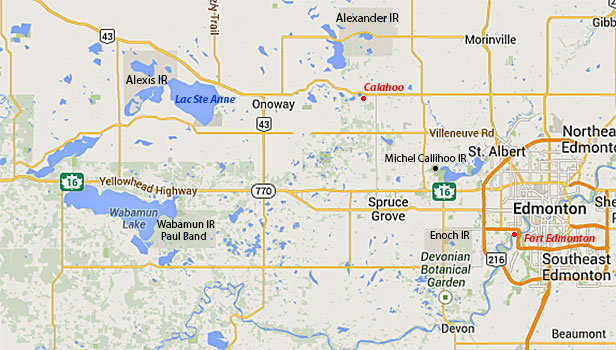 On Dec 18,1847, their first child, Catherine was born. **Rundle Journal: John is mentioned in the Journal of Rev. Robert RUNDLE, for whom he acted as Interpreter, 1840-48. The last reference is dated Jan 24, 1848: "On Saturday night, Johnny CUNNINGHAM's dead child (Catherine) brought & yesterday morning it was taken off to Lake St Anne's (now Lac St Anne, west of Edmonton).
In 1856 John was re-engaged by the HBC as an Interpreter. In 1857-58 he was in charge at Lac Ste Anne. From 1858 to 1867 he was a Postmaster and Clerk at Fort Edmonton.
In 1861 Father Albert LACOMBE (1827-1916) found Lac Ste Anne unsuitable as a central mission, so he selected a new location a short distance north of Fort Edmonton. He named it St. Albert in honour of his patron saint.
** MORE ABOUT FATHER LACOMBE in DCBO

From Hugh Dempsey's book, 'Crowfoot, Chief of the Blackfoot' (condensed)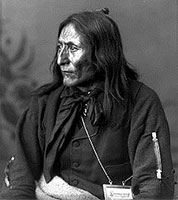 Chief Crowfoot
In the autumn of 1866 some Bloods and Piegans, who usually traded on the Missouri decided to go north to avoid conflict with the Americans.  Seen From Afar, head chief of the Bloods, sent a messenger to Fort Edmonton, asking for a trading party to be dispatched to his camp near Red Deer. In response to this request, John CUNNINGHAM led an expedition of 15 mixed-blood traders and 30 Red River carts to the Blood camp. As CUNNINGHAM approached the camp, they encountered a group of Blackfoot warriors who had attacked Fort Pitt the previous summer. He stopped in front of Seen From Afar's lodge. The Blood chief's pipe was circulated among the chiefs as a symbol of friendship. John noticed that the only chiefs who smoked were the Bloods, Piegans, some of the Sarcees, and Chief Crowfoot (1830-1890) of the Blackfeet. Big Swan, a hulking Blackfoot Chief, pushed his way through the crowd and gave a long speech attacking the traders and the Cree mixed-bloods in the party.
Realizing that further trading would be impossible, CUNNINGHAM began to repack the carts but was stopped by Big Swan, who claimed he had buffalo robes to barter. When the chief dropped two or three of them at the trader's feet, CUNNINGHAM picked one up, examined it, and dropped it in disgust. They were dirty, worn hides which had no value and were presented only to insult the trader. Big Swan pushed John aside and led his warriors to pillage the carts of their trade goods.
- - Seen From Afar intervened, and Crowfoot stepped from the crowd to join him in rebuking Big Swan, even though he was a fellow tribesman.
Taking advantage of the situation, CUNNINGHAM formed his caravan and, with an escort provided by Crowfoot and Seen From Afar, he took his empty carts back to Fort Edmonton.
Canadian Confederation
1867
On July 1, 1867 the British colonies in North America were united under the British North American Act to become the Dominion of Canada. Sir John A MACDONALD (1815-1891) became Canada's first Prime Minister.
During 1867-68, John spent his last year of service with the HBC as the clerk in charge at St Albert.
In 1869 eldest son Samuel married Suzanne GRAY at St Albert, daughter of Suzanne CALLIHOO and Joseph GRAY (1809-1889).
On Oct 12, 1870 John CUNNINGHAM died at Paint Cree, near Fort Edmonton.
In 1874 son John Jr. married Rosalie BRUYERE of unknown origins.
In 1875 daughter Nancy married George GAGNON at St Albert, son of Marguerite MARCEAU and Laurent GAGNON (1803-1878).
In 1878 son James married Mary HODGSON in St Albert, daughter of Mary ROWLAND & George HODGSON (1818 - 1891). ** MORE ABOUT GEORGE HODGSON
In 1881 Widow Rosalie (age 60) and most of her family were living in Edmonton with son Samuel.
Around 1882 son Albert married Justine BRELAND in Winnipeg, daughter of Maria GRANT and Pascal BRELAND (1811-1896). ** MORE ABOUT PASCAL BRELAND

In 1887 son Daniel married Virginia PAGE, daughter of Marguerite BRELAND and Elzear PAGE (1838-?).
On Feb 17, 1889, son Edward made his perpetual vows at Fort MacLeod, Alberta, and on March 19, 1890 he was ordained a priest at Saint Albert by Vital-Justin GRANDIN, Bishop of Saint-Albert. He was the first Metis priest.
** MORE ABOUT EDWARD CUNNINGHAM in OBLATES in the WEST
Around 1893 son Alfred married Amelia ROWLAND, daughter of Sophie CHASTELLAINE & John ROWLAND (1834-1914).
Around 1896 youngest son Henry married Mary Rachel ROWLAND, also a daughter of Sophie CHASTELLAINE & John ROWLAND (sister of Amelia who married his brother, Alfred CUNNINGHAM).
In 1901 Widow Rosalie was living with her son Henry in St Albert; in 1911 she was with son Alfred in Edmonton. In 1920 Rosalie died in St Albert. She would have been about 91 years old.
Comments and queries at this link: FORUM DISCUSSING the JOHN CUNNINGHAM FAMILY
======================= Family Details =======================
Child by Jane WORK:
1. 1838 JANE CUNNINGHAM
Children by Rosie L'HIRONDELLE: 
1. Dec 18, 1847 CATHERINE CUNNINGHAM (Died in infancy, age 1)
2. Apr 8, 1848 SAMUEL CUNNINGHAM (m1. Suzanne GRAY, m2. Betsy Catherine WILLIER)
3. June 23, 1851 JOHN CUNNINGHAM (m. Rosalie BRUYERE)
4. Feb 3, 1854 JAMES CUNNINGHAM (m. Mary HODGSON)
5. June 22, 1856 ALBERT CUNNINGHAM (m. Justine BRELAND)
6. Oct 6, 1858 NANCY CUNNINGHAM (m. Georges GAGNON)
7. July 6, 1862 REVEREND EDWARD JOHN CUNNINGHAM
8. June 24, 1864 DANIEL CUNNINGHAM (m1. Maria BEAUDRY, m2. Virginia PAGE)
9. July 15, 1866 RACHEL CUNNINGHAM (Died 1881)
10. Jan 11, 1868 ALFRED CUNNINGHAM (m. Marie Amelia ROWLAND)
11. Jan 1, 1869 HENRY CUNNINGHAM (m. Mary Rachael ROWLAND)
** MORE ABOUT HENRY CUNNINGHAM