PATRICK CUNNINGHAM (1790-1831)
NANCY ANN BRUCE (1794-1859)
(Last Updated: July 28, 2015)
Patrick CUNNINGHAM was born around 1790 in Sligo, Ireland, son of Nancy and Michel CUNNINGHAM.
** MORE ABOUT PATRICK CUNNINGHAM in HBC ARCHIVES
Patrick arrives at York Factory with the Second Party of Selkirk Settlers
1812
In 1812, according to the HBC Archives, Patrick CUNNINGHAM probably sailed to York Factory from Sligo Ireland aboard the ship Robert Taylor along with the second party of settlers recruited by LORD SELKIRK [DOULAS] (1771-1820) and led by Owen KEVENY.
** MORE ABOUT LORD SELKIRK in DCBO
** MORE ABOUT OWEN KEVENY in DCBO

When the KEVENY party reached York Factory, they were met by Miles MACDONELL (1767-1828), the HBC Governor of Assiniboia who would accompany them on their long trip to Red River by way of the Hayes River and Lake Winnipeg. In the fall of 1812 they arrived at the junction of the Red and Assiniboine rivers.
** MORE ABOUT MILES MACDONELL in DCBO
They spent the winter at Fort Daer (Pembina, ND), and in 1813 Patrick began to work as a Labourer in the East Winipic Dictrict (Winnipeg).  At that time Hugh HENEY (b-c1765) was the HBC man in charge of the district.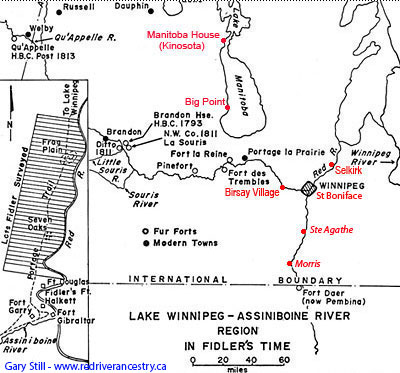 It was in 1813 that Peter Fidler (1796-1822) surveyed 24 river lots to accommodate the Selkirk Settlers
At that time the HBC rival North West Company (the Nor'Westers) dominated the fur trade in the Red River region, and the population was predominantly made up of French Metis buffalo hunters who saw the arrival of settlers as an intrusion. Patrick CUNNINGHAM soon found himself in the midst of a bitter conflict.
With the departure of HENEY in the fall of 1813, John McLEOD (1788-1849) and Bostonnias PANGMAN were left in charge of HBC operations in the district. ** MORE ABOUT JOHN McLEOD in DCBO
During the outfit year 1813-14 Patrick CUNNINGHAM was a Laborer at the Swan River Post, thusly he was removed from the conflict that would follow a Red River. In 1814-15 he began working in the Ile a la Crosse District (Saskatchewan), sometimes working in the capacity of a voyageur.
Marriage to Nancy Ann BRUCE
1816
Around 1816 at Ile a la Crosse, Patrick began a life-long relationship with Nancy "Anne" BRUCE, the eldest daughter of an Indian woman named Machida and Benjamin BRUCE (1770-1823), an HBC voyageur and trader from the Orkneys of Scotland. ** MORE ABOUT BENJAMIN BRUCE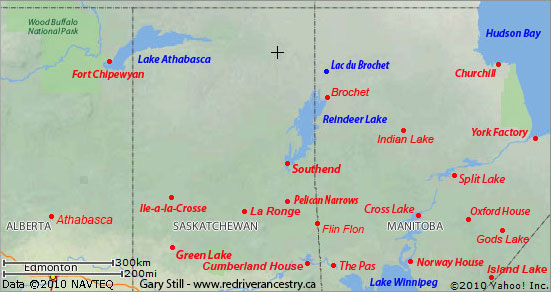 On Feb 16, 1817 their first child, John was born at Ile a la Crosse.
From 1817 to 1819 Patrick was based in the Lac La Pluie District (Rainy River-Fort Frances area, ON).  He was back in the Ile a la Crosse District again during 1820-1823.
A Duel with James DOUGLAS
1820
In 1820 Patrick was in a duel with James DOUGLAS (1803-1877) of the rival North West Company at Ile a la Crosse. DOUGLAS later became Sir James DOUGLAS. I have so far been unable to learn more details about this duel. If anyone has more info, please let us known on the Forum (link below). ** MORE ABOUT JAMES DOUGLAS in DCBO
Union of the North West Company with the Hudson's Bay Company
1821
In 1821 the union of the North West Company and the Hudson's Bay Company occurred, ending the years of bitter rivalry for dominance of the fur trade in Western Canada. George SIMPSON (1786-1860) became the HBC Governor of Rupert's Land.
Father-in-law Benjamin BRUCE dies at Ile a la Crosse
1823
McDougall: In addition to dealing with widows, there was also an issue of dispensing the deceased servant's estate and settling of debts that the Company felt it was owed. One of the more troubling local incidents, from the Company's perspective, was the death of Benjamin BRUCE. On the morning of 19 April 1823, "Old" Benjamin, a Company interpreter, left the Île à la Crosse post alone to hunt waterfowl. While out in the bush, a tree branch apparently fell, fracturing Bruce's skull and killing him. When BRUCE did not return that evening, his son and son-in-law, Patrick CUNNINGHAM, went out to search for him. Upon discovering BRUCE, the two brought the body back to the post where the rest of the family began preparations for the funeral and burial that were to take place the following day. According to Company records, the elder BRUCE's children were inconsolable at the sudden loss of their father. The men of the establishment took turns sitting with BRUCE's remains throughout night as part of the pre-burial customs. At the funeral, the men in attendance were given two drams of rum to toast the deceased, one at the Company's expense and the other at CUNNINGHAMs. The Company's act of supplying rum might have been an informal Company policy, but it might also have been interpreted by the people of Île à la Crosse as the act of a good relation and benefactor. Patrick CUNNINGHAM's motive was clearly to honor his wife's father, a man to whom he was economically allied as a fellow employee of the Company, and a demonstration of the family's generosity to those who came to honor the deceased. There is no reason to believe that the Company's actions would have been viewed any differently – it was behaving as required.
Patrick was certainly well travelled. From 1823 to 1826 he Archives have him as a 'Boat Guide' at Fort Chipewyan in the Athabasca District, then as a Postmaster at Fort Churchill during 1826-27; in the Island Lake District and at Fort Severn between 1827 and 1831.
Patrick Drowned in the Severn River
1831
On October 15, 1831 Patrick drowned, while returning from an unsuccessful effort to bring a boat to shore in the Severn River. It was while superintending the rebuilding of Ft Severn, which had been destroyed by fire. Alexander CHRISTIE (1792-1872), Governor of the Northern Department, wrote:  By this melancholy and unhappy occurrence, the Hon'ble Company are deprived of a most Zealous faithful Servant, and a poor helpless family, of their only Stay, and support.
Widow Ann, pregnant with their last child, then moved to Kildonan (Winnipeg) with her young family, which in 1831 would have consisted of John Patrick (age 14), Edward (12), James (9), Mary (6) and Jane (age 1). On March 10, 1832 her last child, Catherine was born.
In 1833 eldest son John began an apprenticeship with the HBC in the Island Lake District and later in the Saskatchewan River District where in 1837 he married Jane WORK, daughter of a Red River Woman and John WORK (1792-1861) from Ireland, a Chief Trader who was in charge of coastal trade in the Columbia District at the time.
** MORE ABOUT JOHN WORK in DCBO
In 1834 son John Edward began to work for the HBC at Fort Churchill. In 1940 he died in the Swan River District; only 21 years old.
In 1846 at St John's (Red River), daughter Mary married Thomas WHITE (1807-1888) from Ireland. That same year, daughter Nancy married Angus MORRISON (1819-1875), a retired HBC Blacksmith born in Scotland.
In 1847 son James married Sarah ROSS, daughter of Sally HOW-HOW and Alexander ROSS (1783-1856) from Scotland. ** MORE ABOUT ALEXANDER ROSS in DCBO

In 1849 youngest daughter, Catherine married John SUTHERLAND, son of Sarah (Indian) and James SUTHERLAND (1777-1844), a retired HBC Chief Factor who was born in the Orkneys. ** MORE ABOUT JAMES SUTHERLAND
After the great flood of 1852 Widow Ann moved her family in 1853 to Headingly for 10-12 years, then went to Poplar Point for a time; later Headingly again; and back to Poplar Pont.
On Nov 28, 1859 Nancy (nee BRUCE) CUNNINGHAM died at the home of her son on the Assiniboine River.
Comments and queries at this link: FORUM DISCUSSING the PATRICK CUNNINGHAM FAMILY
======================= Family Details =======================
Children:
1. Feb 16, 1817 JOHN CUNNINGHAM (m1. Jane WORK, m2. Margaret MONDION, m3. Rosalie L'HIRONDELLE)
2. Aug 28, 1819 EDWARD JOHN CUNNINGHAM (Died age 21)
3. Nov 20, 1822 JAMES CUNNINGHAM (m1. Sarah ROSS, m2. Letitia PRITCHARD)
4. Feb 25, 1825 MARY CUNNINGHAM (m. Thomas WHITE)
5. 1827 NANCY "ANNE" CUNNINGHAM (m. Angus MORRISON)
6. 1830 JANE CUNNINGHAM
7. Mar 10, 1832 CATHERINE CUNNINGHAM (m. John SUTHERLAND)