BENJAMIN BRUCE (1770-1823)
MATHILDA (Cree Woman) (1778-)
(Last Updated: March 04, 2016)
Benjamin BRUCE was born Oct 10, 1770 in Walls, Shetland or Orkneys, Scotland, son of Margaret WILSON and William BRUCE (born c1731).
Hudson's Bay Company – York Factory
1789
In 1789 Benjamin began his service with the Hudson's Bay Company (HBC) in the York Factory District as a labourer and canoe man (voyageur).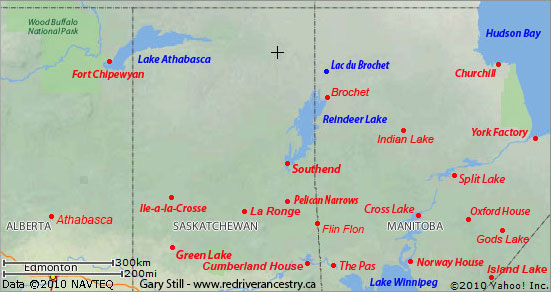 In the spring of 1790, Peter FIDLER (1769-1822) and David THOMPSON(1770-1857) moved to Cumberland House where they trained as surveyors under Philip TURNOR (1752-1799). In the summer of that year FIDLER was taken on a two year expedition to locate a new water route linking Hudson's Bay to the Great Slave and Athabasca lakes. It is said that Benjamin BRUCE accompanied FIDLER on that trip as a hunter. ** MORE ABOUT PETER FIDLER
An Indian woman named MATHILDA
1794
By about 1794 Benjamin had an Indian wife named Mathilda. Daughter Nancy Anne was born around that time, son William around 1795.
Saskatchewan District
1799-1816
In 1799 Benjamin was assigned to the Saskatchewan District as a steersman.
In 1801 Benjamin is mentioned as one of the men with Peter FIDLER when he built Chesterfield House. It is also mentioned that one of his children (James) was born there that year. Chesterfield House was located at the junction of the South Saskatchewan and Red Deer Rivers.
Ben's last children were daughters Margaret, Mathilda and Jane, born about 1802, 1805 and 1808 respectively.
Around 1814 eldest son William married Francoise ALLARY, daughter of Francoise (Cree) and Michel ALLARY (1765-1814).
Assistant Trader at Ile a la Crosse
1816-1823
In 1816 Benjamin began to work as an Assistant Trader at Ile a la Crosse in the Saskatchewan District. That year his eldest daughter Nancy Ann married Irishman Patrick CUNNINGHAM at Ile a la Crosse, son of Mary DUGGAN and Michel CUNNINGHAM (1760-1836). ** MORE ABOUT PATRICK CUNNINGHAM
Around 1821 daughter Margaret married John Stewart McFARLANE (born Mar 28, 1800 in Edinburgh, Scotland).
Benjamin BRUCE dies at Ile a la Crosse
1823
On April 18, 1823 Benjamin BRUCE died at Ile a la Crosse
McDougall: In addition to dealing with widows, there was also an issue of dispensing the deceased servant's estate and settling of debts that the Company felt it was owed. One of the more troubling local incidents, from the Company's perspective, was the death of Benjamin BRUCE. On the morning of 19 April 1823, "Old" Benjamin, a Company interpreter, left the Île à la Crosse post alone to hunt waterfowl. While out in the bush, a tree branch apparently fell, fracturing Bruce's skull and killing him. When BRUCE did not return that evening, his son and son-in-law, Patrick CUNNINGHAM (1790-1831), went out to search for him. Upon discovering BRUCE, the two brought the body back to the post where the rest of the family began preparations for the funeral and burial that were to take place the following day. According to Company records, the elder BRUCE's children were inconsolable at the sudden loss of their father. The men of the establishment took turns sitting with BRUCE's remains throughout night as part of the pre-burial customs. At the funeral, the men in attendance were given two drams of rum to toast the deceased, one at the Company's expense and the other at CUNNINGHAMs. The Company's act of supplying rum might have been an informal Company policy, but it might also have been interpreted by the people of Île à la Crosse as the act of a good relation and benefactor. Patrick CUNNINGHAM's motive was clearly to honour his wife's father, a man to whom he was economically allied as a fellow employee of the Company, and a demonstration of the family's generosity to those who came to honour the deceased. There is no reason to believe that the Company's actions would have been viewed any differently – it was behaving as required.
Upon his death, Benjamin BRUCE left a will distributing his property to his heirs, but according to the Company – the administrator of both the will and assets that he had at the time of his death – BRUCE had nothing to leave. George KEITH observed that BRUCE had invested £300–400 ($1500–2000) with an Orkney speculator who went bankrupt, leaving the BRUCE family destitute and the Company to determine their fate in the English River District.The details of the Company's decision are not revealed in the records, but because there are no substantial records for a BRUCE family in the English River District after this time, it might be surmised that the widow and her children relocated to Red River or elsewhere.
Around 1823 daughter Margaret married John Stewart McFARLANE who was born 1800 in Scotland.
In 1825 daughter Matilda married Donald McKENZIE in St Andrews, son of a Native woman & Donald McKENZIE SR (1783-1851) from Scotland.
A good topic for discussion is that of daughter Jane who many sources indicate is the same as Jane PRINCE who married before 1827 to George TAYLOR (1800-1844). Many genealogical sources conflict in this regard and it would be nice if someone has a convincing argument for that premise.
** MORE ABOUT JANE PRINCE and GEORGE TAYLOR
In 1828 son James married Mary McNAB at St John's, daughter of Jennie COOK and John McNAB (1780-1814).
Comments and queries at this link: FORUM DISCUSSING BENJAMIN BRUCE AND HIS DESCENDANTS
======================= Family Details =======================
Children:
1. 1794 NANCY ANNE BRUCE (m. Patrick CUNNINGHAM)
2. 1795 WILLIAM BRUCE (m. Francoise (Frances) ALLARY)
3. 1801 JAMES BRUCE (m. Mary McNAB)
4. 1802 MARGARET BRUCE (m. John Stewart McFARLANE)
5. 1805 MATILDA BRUCE (m. Donald McKENZIE)
6.  1808 JANE BRUCE (or PRINCE?) (?m. George TAYLOR)