ANGUS MORRISON (1819-1875)
NANCY "ANN" CUNNINGHAM (1829-1891+)
(Last Updated: April 03, 2017)
Angus MORRISON was born about 1819 in Stornoway on the Isle of Lewis (Scotland), son of Catherine McCRIMMON and Norman MORRISON (1795-1853).
Hired by the Hudson's Bay Company
Swan River District
1841
In 1841 Angus was hired by the Hudson's Bay Company (HBC), first as a labourer and then as a blacksmith in the Swan River District (Fort Pelly).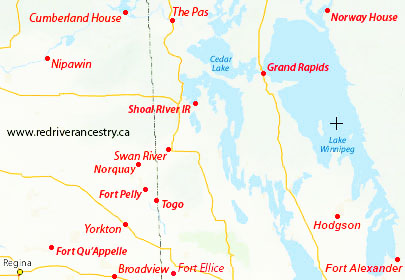 Marriage to Nancy CUNNINGHAM
1846
On June 13, 1846 Angus married Nancy "Ann" CUNNINGHAM at the Upper Church (St Johns) in Red River, the daughter of Ann BRUCE & Patrick CUNNINGHAM(1790-1831). On Apr 3, 1847 son Norman was born at Fort Pelly.
** MORE ABOUT PATRICK CUNNINGHAM
Angus Retires to Headingly Parish
1850
In 1849 Angus retired from the HBC and in 1850 he settled in Headingly Parish.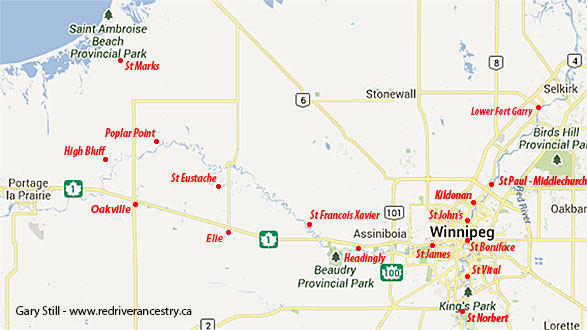 Canadian Confederation
A Red River Rebellion
Manitoba becomes a Province
1867-1870
On July 1, 1867 the British colonies in North America were united under the British North American Act to become the Dominion of Canada.  Sir John A MACDONALD (1815-1891) was appointed as Canada's first Prime Minister. William McDOUGALL (1822-1905) became the Minister of Public Works, and he began negotiations to acquire Rupert's Land from the HBC; surveyors were sent to Red River to prepare the way for an expected influx of settlers.
In 1868 son Norman married Charlotte SMITHin Kildonan, daughter of Mary SWAIN and William Robert SMITH (1795-1869). ** MORE ABOUT WILLIAM ROBERT SMITH
On Oct 11, 1869, Louis RIEL (1844-1885) placed his foot on the surveyors' chain to tell them their work was finished! This marked the beginning of the historic Red River Métis Rebellion. RIEL began to organize resistance to the anticipated transfer of the North-West to the Dominion of Canada without prearranged terms.His strongest and most ardent and outspoken opponents among the English speaking population were Dr. John Christian SCHULTZ (1840-1896) and Thomas SCOTT (1842-1870).
Under the leadership of RIEL, the Métis soon afterestablished their National Committee of the Métis of Red River. Then, on Nov 2, 1869 he and 120 armed men took control of Upper Fort Garry.
Son John becomes a prisoner – Witnesses the Execution of Thomas SCOTT
SCHULTZ fortified his house and store ("Fort Schultz"), and recruited about 50 followers as guards, but on Dec 7, RIEL captured and imprisoned the occupants in Fort Garry, including SCHULTZ and SCOTT. On Dec 10 the Métis raised a flag of the future Provisional Government over Fort Garry to the sound of musket and cannon fire. They continued to arrest 'Canadians' wherever they could find them. Among the prisoners was Angus' 16 year old son, John Black MORRISON.
On March 3, 1870, with the sanction of RIEL, members of an ad hoc Métis tribunal tried and convicted Thomas SCOTT of insubordination. The death penalty was invoked and he was executed by a firing squadthe next day J.B. MORRISON, being a boy, was not watched as closely as the grown up prisoners and was given "the run of the fort". He managed to peep through a window and witness the court-martial of SCOTT. On the day of the execution, he saw SCOTT led out, having on a death-cap drawn down to his shoulders. He heard SCOTT's good-bye through a partly-opened door.
** MORE ABOUT the EXECUTION of THOMAS SCOTT in DCBO
After SCOTT's execution, whatever support RIEL may have had from the people of the English speaking communities waned. A large body of men assembled and marched to Kildonan where they demanded the release of the prisoners who were still confined in Upper Fort Garry. Messages were sent to RIEL and the prisoners were released.
On July 15, 1870 the Rebellion ended when RIEL's Provisional Government accepted the terms of the Manitoba Act and Manitoba became the fifth province of Canada.
Census of 1870 in Headingly Parish (Lot 28): Angus MORRISSON, age 51; wife Ann, age 43. Children: John (age 18), James (16), Benjamin (14), Angus (12), Catherine (10), Edward (7) and Margaret (age 4). Son Norman(age 24) is on Lot 29 with his wife and two children.
On Aug 24, 1870, Colonel Garnet Joseph WOLSELY (1833-1913) and his soldiers arrived, forcing their way into Upper Fort Garry. A warrant is issued for the arrest of Louis RIEL, who, having learned that the soldiers were planning to lynch him, fled just a few hours before they arrived. He took refuge at St Joseph's Mission, about 10 miles south of the border in Dakota Territory.
On March 17, 1874 Angus MORRISON died in Headingly, MB.
In 1875 Scrip was claimed by widow Ann of Headingly for these children: Angus, Catherine, Edward William and Margaret
In 1877 son James John married Mary Elena CORRIGAN, daughter of Sarah Jane McMILLEN and William John CORRIGAN (1827-1888) from Ireland.
In 1878 daughter Catherine married Donald Murray DENNISON, son of Alice Ann McKAY & William DENNISON (1820-1875) from England. 
Census of 1881 in Assiniboia: Widow Ann MORRISON, age 54. Children: Benjamin (age 24), Edward (17) and Margaret (age 14).
Around 1885 daughter Margaret married John Robert LAMBERT, son of Sophia FIDLER & Joseph LAMBERT (1834-1920).
Census of 1891 in Elm River: Widow Ann MORRISON, age 62. Children: Benjamin (age 34), Edward (25) and Catherine (age 8). ** Note: Catherine b-1883 is actually her granddaughter, daughter of Catherine MATHIESON and son John Angus (b-1859).
Sometime after 1891 Ann (nee CUNNINGHAM) MORRISON died in Headingly, MB.
In 1902 son Benjamin married Mary Jane SMITH in Selkirk, said to be a daughter of Elizabeth MOORE and John Lee Lewis SMITH (1820-1910). ** MORE ABOUT JOHN LEE LEWIS SMITH
In 1909 son John Black married in Winnipeg to Jean WEBSTER from Rhynie, Scotland.
Comments and queries at this link: FORUM DISCUSSING DESCENDANTS of ANGUS MORRISON
========================== Family Details ==========================
Children:
1. Apr 3, 1847 NORMAN MORRISON (m. Charlotte SMITH)
2. 1848 PATRICK MORRISON (Died in infancy, age 2)
3. 1851 MARY ANN MORRISON (Died in infancy, age 3)
4. Mar 28, 1853 JOHN BLACK MORRISON (m. Jean WEBSTER)
5. May 11, 1855 JAMES JOHN MORRISON (m. Mary Elena CORRIGAN)
6. Jun 21, 1857 BENJAMIN MORRISON (m. Mary Jane SMITH)
7. July 1, 1859 JOHN ANGUS MORRISON
8. Sep 29, 1861 CATHERINE MORRISON (m. Donald Murray DENNISON)
9. Feb 1, 1864 EDWARD WILLIAM MORRISON (m. Molly)
10. Nov 20, 1866 MARGARET MATHESON MORRISON (m. John Robert LAMBERT)
11. 1871 ANN MORRISON (Died in infancy)