NORMAN MORRISON (1847-1915)
CHARLOTTE SMITH (1842-1922)
(Last Updated: August 22, 2017)
On Apr 3, 1847 Norman MORRISON was born at Fort Pelly, SK (baptised Jun 4, 1847 St Johns (Winnipeg), son of Nancy CUNNINGHAM and Angus MORRISON (1819-1874). ** MORE ABOUT ANGUS MORRISON
Canadian Confederation
A Red River Rebellion
Manitoba becomes a Province
1867-1870
On July 1, 1867 the British colonies in North America were united under the British North American Act to become the Dominion of Canada.  Sir John A MACDONALD (1815-1891) was appointed as Canada's first Prime Minister. William McDOUGALL (1822-1905) became the Minister of Public Works, and he began negotiations to acquire Rupert's Land from the HBC; surveyors were sent to Red River to prepare the way for an expected influx of settlers.
Marriage to Charlotte SMITH
1868
On Jan 23, 1868, Norman married Charlotte SMITH in Kildonan, daughter of Mary SWAIN & William Robert SMITH, Englishman (1795-1869). ** MORE ABOUT WILLIAM ROBERT SMITH
On Oct 11, 1869, Louis RIEL (1844-1885) placed his foot on the surveyors' chain to tell them their work was finished! This marked the beginning of the historic Red River Métis Rebellion.
** Refer to the ANGUS MORRISON Page for more details about the MORRISON family's involvement in the Rebellion.
On July 15, 1870 the Rebellion ended when RIEL's Provisional Government accepted the terms of the Manitoba Act and Manitoba became the fifth province of Canada.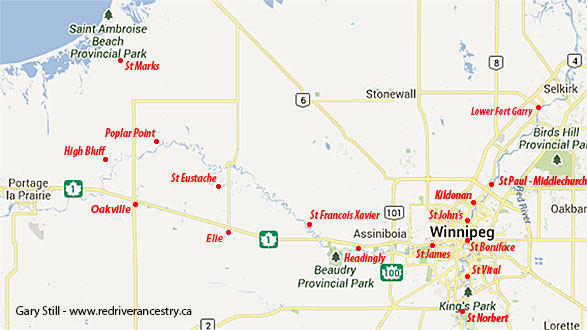 Census of 1870 in Headingly Parish (Lot 29): Norman MORRISSON, age 24; wife Charlotte, age 28. Children: Mary Ann (age 2) and Catherine Elizabeth (age 1). ** Norman's father (Angus) and his siblings are on Lot 28.
In 1875 Scrip was claimed by both Charlotte & Norman (of Portage la Prairie) for themselves, and for their children (Marie Ann & Catherine Elizabeth).
RM of Dufferin
1881
Census 1881 in the RM of Dufferin (near Graysville, west of Carman): Norman MORRISON, age 34; Charlotte, age 29. Children: Mary Ann (age 12), Catherine (10), Sarah Jane (8), Angus (6), John James (3) and William Robert (age 1).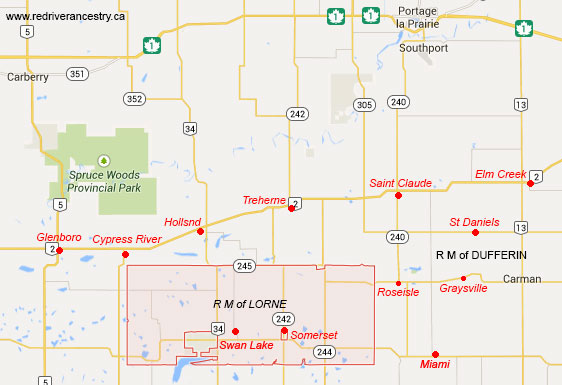 In 1890 eldest daughter Mary Ann married Reverend Frederick William DAFOE in Dufferin, son of Armanda WILLIAMSON and James Conrad DAFOE (1844-1894).
Almassippi Post Office History: Almassippi lay north-west of the present site of Graysville and was known locally as "Scrubtown". This settlement was originally located in the RM of Elm River; in 1890, it became part of the RM of Dufferin. Homesteads were filed in the region from 1881. The land was covered with bush and heavy scrub with sandy soil and some low-lying swampland.
Census of 1891 in RM of Elm River: Norman MORRISON, age 44; wife Charlotte, age 48. Children: Catherine (age 20), Sarah (18), Angus (16), John (13), William (11), Norman (9) and Benjamin (age 5).
In 1894 daughter Catherine married James Bowles GREEN in Dufferin, son of Margaret Ann CARR and Gabriel GREEN (1839-1887).
Census of 1901 in Dufferin: Norman MORRISON, age 54; wife Charlotte, age 59. Children: Sarah (age 29), Angus (26), John (23), William (21), Norman (18) and Benjamin (age 15). Adopted daughter Ella May (age 4).

In 1902 daughter Sarah Jane married Joseph William BRIDGE in Dufferin, son of Emma ASPINALL and William BRIDGE (1813-1871).
Also in 1902 son John James married Jane Watson COATES in Brandon (MB). Jane of uncertain origins, born in Quebec.
In 1905 son Angus married Catherine Jane Matheson PARRES in Dufferin, daughter of Henrietta SALTER and James PARRES (1850-1944) from Denmark. ** MORE ABOUT JAMES PARRES
Three sons move to Rainy River
In 1906 son William married Martha Irene WARD in Rainy River (Ontario), daughter of Julia KEARNEY and Edward WARD (b-1850).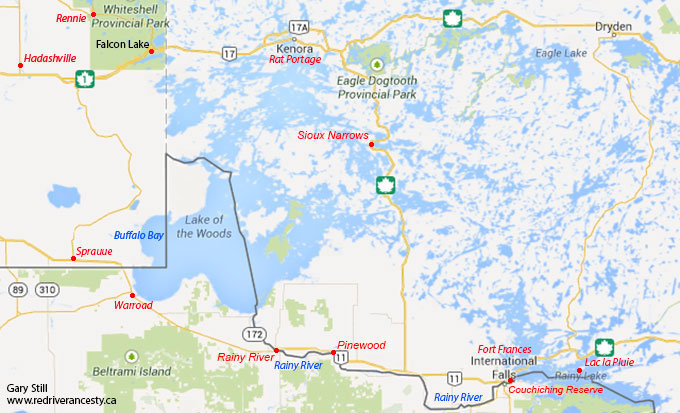 About Rainy River (from Wikipedia): Rainy River is a Canadian town situated on the Ontario-Minnesota border, along the eponymous Rainy River opposite Baudette, Minnesota, USA, and southeast of the Lake of the Woods. It is at the western terminus of Ontario Highway 11. - - It was incorporated as a town in 1904. - - The town grew rapidly because of the thriving lumber industry and its two large Mills and bolstered by the Railway.
Census of 1906 in Graysville (2-7-6-W3): Norman MORRISSON, age 60; wife Charlotte, age 63. Children: Norman (age 26), Edward/ Benjamin (21) and Ella May (age 9).
In 1907 son Norman Jr. married Esther TURNER in Rainy River, daughter of Mary WRIGHT and Thomas TURNER (1849-1922).
In 1910 son Benjamin married Florence Ada STONE in Rainy River (Ontario), daughter of Ada Louise WOODWARD and Ephraim STONE (1865-1909) from England.
Norman & Charlotte in Battleford, Saskatchewan
1911
Census of 1911 in Battleford, Saskatchewan: Norman MORRISON, age 64; wife Charlotte, age 68, and daughter Ella (age 14).
World War I
1914-1918
On Aug 4, 1914 Great Britain (Canada on Aug 5) declared war on Germany and Austria-Hungary to uphold treaties with France and Belgium which were under German attack. This marked the beginning of World War I.
On Dec 4, 1915 Norman MORRISON died. He was buried in Carman, MB.
Census of 1916: Charlotte MORRISON (age 74) with son Angus in North Battleford district.
November 11,1918, Armistice Day (Remembrance Day) marked the end of the First World War.
In 1922 Charlotte (nee SMITH) MORRISON died and was buried in Speers, SK (east of North Battleford).
Comments and queries at this link: FORUM DISCUSSING the NORMAN MORRISON FAMILY
========================== Family Details ==========================
Children:
1. Nov 13, 1868 MARY ANN MORRISON (m. Frederick DAFOE)
2. Oct 20, 1870 CATHERINE ELIZABETH MORRISON (m. James Bowles GREEN)
3. Oct 25, 1872 SARAH JANE MORRISON (m. Joseph BRIDGE)
4. Nov 16, 1874 ANGUS MORRISON (m. Catherine Jane Matheson PARRES)
5. Aug 28, 1877 JOHN JAMES MORRISON (m. Jane Watson COATES)
6. Dec 20, 1879 WILLIAM ROBERT MORRISON (m. Martha Irene WARD)
** MORE ABOUT WILLIAM ROBERT MORRISON
7. Apr 17, 1882 NORMAN MORRISON (m. Esther TURNER)
8. Oct 28, 1885 BENJAMIN EDWARD MORRISON (m. Flora STONE)
** MORE ABOUT BENJAMIN MORRISON
Adopted:
1. Feb 20, 1897 ELLA MAY MORRISON