BENJAMIN EDWARD MORRISON (1885-1920)
FLORA STONE (1897-1973)
(Last Updated: May 26, 2015)
On Oct 28, 1885 Benjamin Edward MORRISON was born near Graysville in the RM of Dufferin, Manitoba, the youngest son of Charlotte SMITH and Norman MORRISON (1847-1915). ** MORE ABOUT NORMAN MORRISON
Benjamin grew up in Graysville, and in the 1906 census he was recorded with his parents there as 21 years old and single. It wasn't long before he followed his older brothers (William & Norman) to Rainy River, Ontario.
Marriage to Flora STONE in Rainy River
1910
On Dec 19, 1910 son Benjamin married Florence Ada STONE in Rainy River (Ontario), daughter of Ada Louise WOODWARD and Ephraim STONE (1865-1909). Florence born Aug 14, 1897 in Leighton Buzzard, Bedfordshire, England, and came to Canada in 1907 with her parents.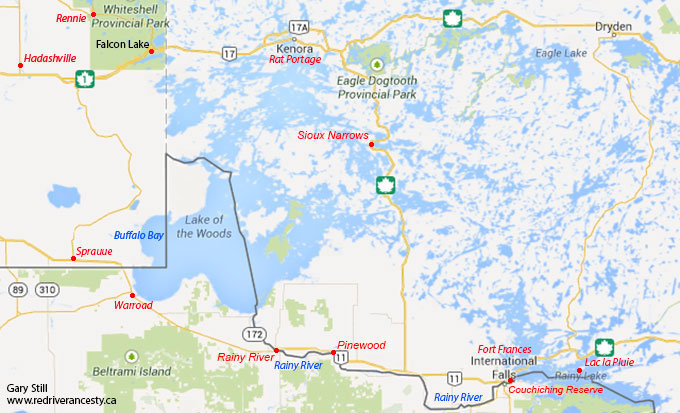 Census of 1911 in Dilkie Township (Rainy River District): Benjamin MORRISON, age 26; wife Flora, age 15. Dilkie is located near Pinewood, east of Rainy River.
World War I
1914-1918
On Aug 4, 1914 Great Britain (Canada on Aug 5) declared war on Germany and Austria-Hungary to uphold treaties with France and Belgium which were under German attack. This marked the beginning of World War I.
Census of 1916 in the Village of Speers, Saskatchewan:Benjamin MORRISON, Drayman, age 30; wife Florrie, age 20. Children: Benjamin (age 4), James (3) and William (age 1). The Village of Speers is located east of North Battleford on Hwy 40.
November 11, 1918, Armistice Day (Remembrance Day) marked the end of the First World War.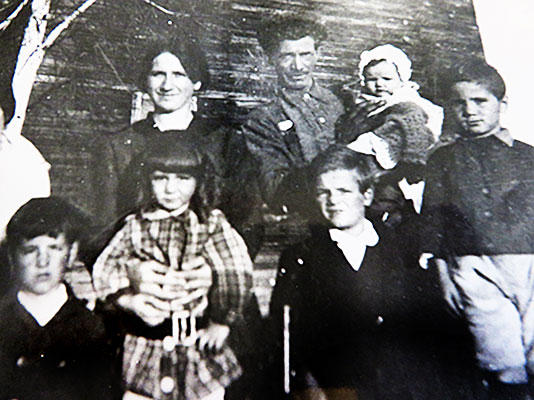 Thanks to Maddy Morrison for this picture. Her description below.
Maddy: In this picture are Florrie (STONE) and Benjamin Edward MORRISON. The kids from left to right: James Alfred, Gordon Norman, Benjamin Ephraim Orton and William Robert. My grandfather (Benjamin Edward) is holding Ruby Thelma. Grampa Ben was killed shortly after this picture was taken.
Benjamin dies in Winnipeg at the age of 36
1920
On May 29, 1920 Benjamin Edward MORRISON died in Winnipeg at the age of 36.
From the Manitoba Morning Free Press, Monday, May 31, 1920: Benjamin MORRISON of Pinewood, Ontario, died at the General Hospital on Saturday last. While operating a saw-mill a sharp piece of wood flew up from the board he was working upon and entered his eye also penetrating his brain. Medical aid was summoned and he was hurried to the General Hospital, accompanied by his brother and sister. The deceased was 36 years of age and is survived by his wife. Thomson's have forwarded the remains to Carman for internment.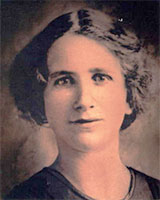 Flora (nee Stone) Morrison (From Morrison/ Manko Family Tree)
Census 1921 in Dilkie (Rainy River District): Widow Florrie MORRISON, age 25. Children: Benjamin (age 9), James (8), William (6), Gordon (4) and Ruby (age 2).
In 1934 son Benjamin married Violet Amelia JOHNSON, daughter of Emily BARDEN and Joseph Henry JOHNSON.
Youngest son Gordon married Minnie Madeleine MANKO in Winnipeg, daughter of Caroline JURKOW and Nicholas MANKO (1886-1948), a Russian immigrant.
Only daughter Ruby married Aime GAUDRY of uncertain origins.
On June 26, 1973 Florence Ada (nee STONE) MORRISON died in Rainy River.
Comments and queries at this link: FORUM DISCUSSING the BENJAMIN MORRISON FAMILY
========================== Family Details ==========================
Children:
1. Aug 23, 1911 BENJAMIN EPHRIAM MORRISON (m. Violet Amelia JOHNSON)
2. Feb 28, 1913 JAMES ALFRED MORRISON
3. Apr 21, 1915 WILLIAM ROBERT MORRISON
4. Jan 18, 1917 GORDON NORMAN MORRISON (m. Minnie Madeleine MANKO)
5. May 10, 1919 RUBY THELMA MAY MORRISON (m. Aime GAUDRY)